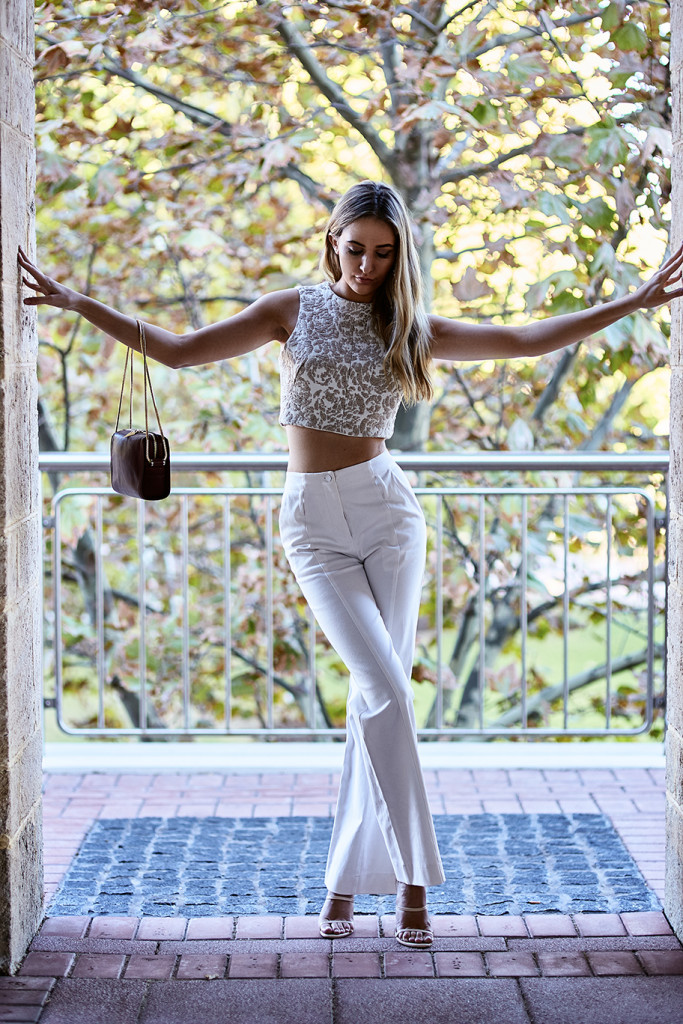 There are always people who are keen to see you fail, those who are indifferent and those few gorgeous souls who will support you unconditionally, push you to do better and ultimately drive you forward.

Janna Jones
LM
What is the philosophy behind your label?
JJ
The J A N N A J O N E S brand aims to bring the strength, styling and sophistication of European luxury leather goods to the international market (from an Australian base).
The Australian market is unique. Unlike Europe we are unwilling to pay thousands of dollars for a trend item that we will wear a handful of times and then archive. Nor do we pack away our S/S wardrobe and then pull out a completely different A/W one.
The fashion conscious Australian public want quality pieces that have the ability to stand alone, work with the latest trend and can also be styled with much of what they already possess in their wardrobe.
JANNA JONES strives to facilitate the luxury experience by ensuring the provision of high quality leather, silk satin lining and matching dust bag, pressed branding, customised hardware, authentication cards and eternal style at a more accessible price point.
LM
What is the inspiration behind your label?
JJ
Accessories are limitless; I pull inspiration from culture, architecture, art, various design mediums, music, engineering etc. Handbags in particular are the ultimate attainable luxury. They are resilient of seasonal trends, and irrepressible by variations in location, climate, culture, politics, religion, diet and age. That in itself deserves global adoration.
LM
Who do you admire within your industry?
JJ
I really admire the work of Aurelio Costarella. With over 30 years in the industry, a recent presentation as part of Paris Fashion Week and the opening of a flagship store in The Como Treasury, Perth. I love contrast and Aurelio does this beautifully with delicate luxe fabrics, detailed drape and master tailoring. He's also a very passionate advocate of charity work, human kindness and compassion. I have nothing but respect for those who pursue what they love, and stay humble, kind and decent human beings in the process. I truly love what I do, so a lifetime of just that would make me eternally happy.
LM
What do you think of today's street fashion?
JJ
I find it interesting, there's more risk taking with fashion now, which makes people watching a lot more fun. It shows character, I like that. But there is a notable difference between fashion and style.
LM
What advice would you give to aspiring fashion designers?
JJ
Work hard, believe in yourself and there is nothing you can't achieve. Learn from everyone who's done it before you. Volunteer at fashion week, take initiative, prove yourself. Your work ethic is just as important as your drive and talent.
LM
What is your advice to young women and the way they dress?
JJ
Dress for yourself! Wear what makes you feel good, do not worry about impressing anyone else (although you will just by having that attitude!). Ultimately you want to have fun with it!
LM
What influence do you think social media has on our current fashion industry?
JJ
It's incredible. Local brands like myself, have a platform for global outreach. Social media can now be directly linked to online sales. I love hearing customers tell me that they've been eyeing off a particular bag for a while, and follow all of my social media profiles. I've been stopped in the street by someone that follows me on Instagram (crazy because it's very much about my brand, not me… but she recognised my bag!). This was a nice moment!
LM
What is your favourite social media platform?
JJ
Instagram.
LM
What age bracket do you design for?
JJ
All ages: girls carry handbags quite young! I think I was twelve, and then they carry your life around with you for the rest of it .. so they may as well be beautiful.
LM
Why do you think this country has so few men's designers?
JJ
I think that in Australia we feel that we require an event in order to dress up. I studied in Italy, and when men here realise that a linen blazer, beautifully cut jeans or chinos and a button up shirt are perfectly acceptable for a casual Sunday brunch and shopping … menswear designers would be much more prominent.
Men are great shoppers too! They find something they like, and buy it in every colour. Unfortunately many tend to have more of a penchant towards the fast fashion styling here.
LM
When your designs are photographed, how do you like to see them represented and on whom?
JJ
Strong, stylish, elegant women with a bit of edge (who doesn't like contrast!). I design with detail, and beauty in mind, but each piece has been well thought out and executed to ensure that it has something to offer the wearer. I like to see them fitting seamlessly into the lives of the wearer.
LM
Do you rely on fashion bloggers to spread the word about your label and how serious an effect do you think they have on our industry?
JJ
Yes and no. Its great when the influencers love what you do, as they see so much of the industry. They are the new type of industry VIP I suppose. However I do not currently rely on them in my own business as such. I think all strong, independent women who are trying to make something of themselves have merit and we can all help each others business regardless of the # of followers you have. Sometimes I will engage bloggers in photo shoots… but not necessarily because I want to capture the attention of their followers or social status, but mostly because I love their style and what they are putting out into the world.
LM
How important do you believe is the role of the fashion blogger?
JJ
I think that any role in the public eye is important as it comes with certain responsibilities. Social media is a very important marketing tool for brands, and influencers definitely support that more than anyone else in the industry. I would love to see more of the inspirational mixed in with the aspirational; I think that's very important in life and in business. Anyone that can find that balance has my utmost respect!
LM
What is the most challenging thing about being a young, emerging designer?
JJ
I think quite similar to most entrepreneurs. Taking on so many different roles. You get caught up managing different things all at once. It can be quite overwhelming. You really need good people around to keep you grounded, sane and tell you when you are being ridiculous.
There's a fun quote that springs to mind here "Entrepreneurship is like jumping off a cliff and assembling a plane on the way down."
LM
Do you think our obsession with youth and only directing fashion to the very young has created a restricted playground for designers at large?
JJ
No not at all. I think fashion has always been directed at the young as it should be. They are more playful in dressing, they take more risks, change their minds and their style regularly. I think style is something very different to fashion and it evolves and develops with you. Fashion and trend tend to fall away from your radar at times. Designers will always find a way to make what we adore, translate for the public. There are plenty of ways to play with design, and stay creative regardless of your demographic, that's the beauty of what we do. Forever daydreamers.
LM
How hard have you found it to show your collections and make connections overseas?
JJ
I've spent most of my fashion career working internationally and having studied in Milan, I have actually found that I receive a lot more recognition outside of Australia.
LM
Do you feel that the industry as a whole helps you to succeed or do you feel alone in your quest?
JJ
I don't think the fashion industry is all that different to others (or life in general) in this. There are always certain people who are keen to see you fail, those who are indifferent and those few gorgeous souls who will support you unconditionally, push you to do better, be better and ultimately drive you forward.
LM
Why do you think so many designers have gone broke in the last 10 years?
JJ
Again, I don't think that the changes in retail over the last 10 years are limited to the fashion industry. The industry is a constantly churning machine. Unfortunately not all change is for the better. I don't really think I am in a position to make comment on the decisions or strategies of others, but I love what I do. Every single moment of it (even the chaotic parts). It would break my heart to have to stop. So I spend a lot of time on risk management and business continuity.
LM
What can we do to change this? How could you be better supported?
JJ
I think there is a lot of support in terms of grants for designers and the arts. I think we tend to use a lot of it in the wrong way. When we study design, we do not learn about business, finance, human behaviours etc. but they are a huge part of what we do. We should look to more education around those things. I guarantee most designers reading this will never have assessed the risk in their business and put in place mitigating controls for business continuity. That is probably something we should work on. It's the age old adage "teach a man to fish".
LM
How do you feel about the levels of support for the fashion industry?
JJ
I think it's actually quite good. The Department of Culture and Arts in WA does a lot for designers. The Fashion Council WA and Telstra Perth Fashion Festival are also really great to work with. I am a Perth girl, so you'll have to forgive my ignorance of some of the other states! I think the more work you do across the industry, the more avenues you will find. The industry itself is not always overly transparent; it is still very much based on personal relationships rather than a simple google search away.
LM
Yes. Support for emerging designers is very good in Western Australia.  It would be wonderful to see this translate to the other states in Australia which are still very much lagging behind. Hopefully this will start to change soon!
LM
What designers do you love in Australia? Overseas?
JJ
Aurelio Costarella is my favourite Australian designer. I also love all that Kim Ellery produces. Dion Lee's use of lines and textures is inspiring. Internationally the late Alexander McQueen was my all time favourite rule breaker. Valentino Garavani, Pheobie Philo, Haider Ackermann, Helmut Lang.
LM
Do you think that as a population we dress well?
Yes, I would like to think so… I just do not think that we dress up very often. But we should definitely do it more; after all, life is not a dress rehearsal.
LM
Who do you think dresses the best, men or women?
JJ
Men just need to put on a well-cut suit in a great fabric and they nail it! For women it takes a fair bit more. The confidence that goes with beautiful attire is also very important.
LM
What would you change about what's trending right now?
I'm not sure if it's trending but dresses that are mostly made up with nude mesh like a body stocking with beads or strips of opaque fabric. Call me old fashioned, but I dislike seeing everyone's underwear when I go out. Sometimes just because there is fabric there, does not mean its adequate.
LM
What do you think about the prevalence of tattoos? piercings?
JJ
I think it's a form of self-expression. The key word here being "self".
LM
Are we becoming more modest or less modest in our self-expression?
JJ
Less… have you seen snapchat? There's always an endless supply of selfies on show. You'd never usually see pictures of your friends getting ready in the bathroom. Is that really self-expression though?
LM
What advice would you give someone moving into fashion design?
JJ
Make sure you are doing it for the right reasons. Is it what you love to do? Its not easy. There will be times when you question everything. If you love every moment of it, it's worth the struggle.
LM
Who are your favourite bloggers?
JJ
Jiawa Liu @beigerenegade … Also love the styling work created by Shauna Voon @jshnaaa
LM
How important is the role of a stylist to a fashion designer?
JJ
The stylist is the translator of the fashion industry. They who convey your vision and dreams to the world in perfect visual harmony. They tell the story. Styling is a form of art in itself. The best stylists also have the ability to take your collection to heights you hadn't imagined.
LM
How important is runway exposure when offering a new collection?
JJ
Designing handbags makes runway less important for me, but the showing of the collection to the industry is definitely important. It is your opportunity to generate sales through buyer approach, media contacts, schedule sample release for editorial.
LM
What do you feel the fashion industry needs to offer which it is not?
I think there is always opportunity for everyone to do more.
LM
Amen!
Until next time,
Jade xx
Accreditations |
Designer | Janna Jones | Janna Jones Instagram | Janna Jones Facebook |
Photographer | Tristan Jud Instagram | Tristan Jud Facebook |
HMUA | Simone Lee Instagram | Simone Lee |
Model | Jacqueline Baker |