Now you will feel no rain, for each of you will be shelter to the other. Now you will feel no cold, for each of you will be warmth to the other. Now there is no more loneliness, for each of you will be companion to the other. Now you are two bodies, but there is one life before you. Go now to your dwelling place, to enter into the days of your togetherness. And may your days be good and long upon the earth.

– Anon.
Well. For those of you who know me well, you will be aware that I recently got married to my darling sweetheart heart-throb. Miss Label Ministry is now Mrs! Not being of the fashion blogging world, he wishes to remain somewhat anonymous … here is the long awaited Label Ministry wedding post, Love & Nuptials …
It was the most beautiful day, almost surreal because it is blurred by happiness, adrenalin and disbelief at the sheer abundance of beautiful moments experienced.  The heavens shed tears for our happiness, and the beautiful blanket of grey misty sky blessed us with a veil of quietness and serenity and saw that the trees were the most beautiful green hues ever seen.
It is the time in one's life when you truly stop for a moment and give gratitude for one's blessings. All beautifully gift wrapped in the form of wonderful family, exceptional friends, unspoken alliances, and forever lasting bonds which seem to know no time or space.
Ours was a morning wedding. An 11 am church ceremony meant that we had an early start and a lunch time reception. My journey to the church was spectacular in a beautiful vintage Daimler, loaned to us for the special day, courtesy of Richard Rolfe.  My two beautiful bridesmaids dressed in white lace Lover dresses slipped into a shiny new Mercedes. We were all adorned in Natalie Barney fine jewels.
We arrived at the church to the sound of bells tolling. My heart rippled with love and excitement as I walked towards the church draped in the magnificent silk lustre of the eponymous Australian designer, Johanna Johnson.
The Canberra Chamber of Music string trio started to play …………… our moment had arrived. The church ceremony was full of tears and happy people and the ceremony, magnificent and serene.
The rest my dears is pure joy!
Until next time,
Jade xx
I love you, not only for what you are, but for what I am when I am with you.

Elizabeth Barrett Browning
I awoke at 4am. Excitement had overtaken sleep. In the preceding, chaotic weeks, everything else that needed my attention meant that I had still not finished my speech. The beautiful quiet, reflective moments of the early morning was the perfect time to finish the articulated sentiments that needed to be shared in the coming day.
My dear friends and bridesmaids talked about the coming day as we lay about waiting for the morning to dawn, and before we knew it, it was 7am, and our hairdresser had arrived!
We were greeted with champagne, fruit and yoghurt to start the day and much chit chat in the midst of a flurry of white dressing gowns and excited girls. Our expert styling hairdressers, Aqua Hair of Canberra, were patient, and professional.  The platinum tones of my own hair were accomplished by the gorgeous Susie, from Sydney hairdressing salon in North Sydney, Platinum Blonde Hair. Most importantly, our hair was amazing!
At 8.30am, we were greeted by Canberra's most talented makeup artist, Andrew Cannon. Some of you may know him by the name of Andrew James Makeup \\ Millinery.
An independent Australian artist and design label. A true professional, Andrew literally transformed our faces for the day! Andrew resides in Canberra but frequently travels for his work.
Once our hair and makeup was done. It was time to adorn ourselves in our chosen fabrics and gowns. For my gorgeous bridesmaids, the choice was the lace Halo Sheath Dress by Lover The Label in snow. The dresses were beautifully showcased by the amazing spray tan that we had organised the day before our arrival by well know Sydney beautician Rebecca Colalillo and her amazing product, GlowByBeca. As I am sooo pale, I don't often resort to the spray tan, but Rebecca assured me that I would delighted with the result and I was!
The all important men of the bridal party looked very handsome indeed. Their suits were from Peppers Formal Wear, and they chose the Eton suit and matching vest in an elegant dark blue. They teamed it with a navy blue tie, with large white spots, crisp white self patterned shirts from Calvin Klein, and a high shine brogue from Florsheim.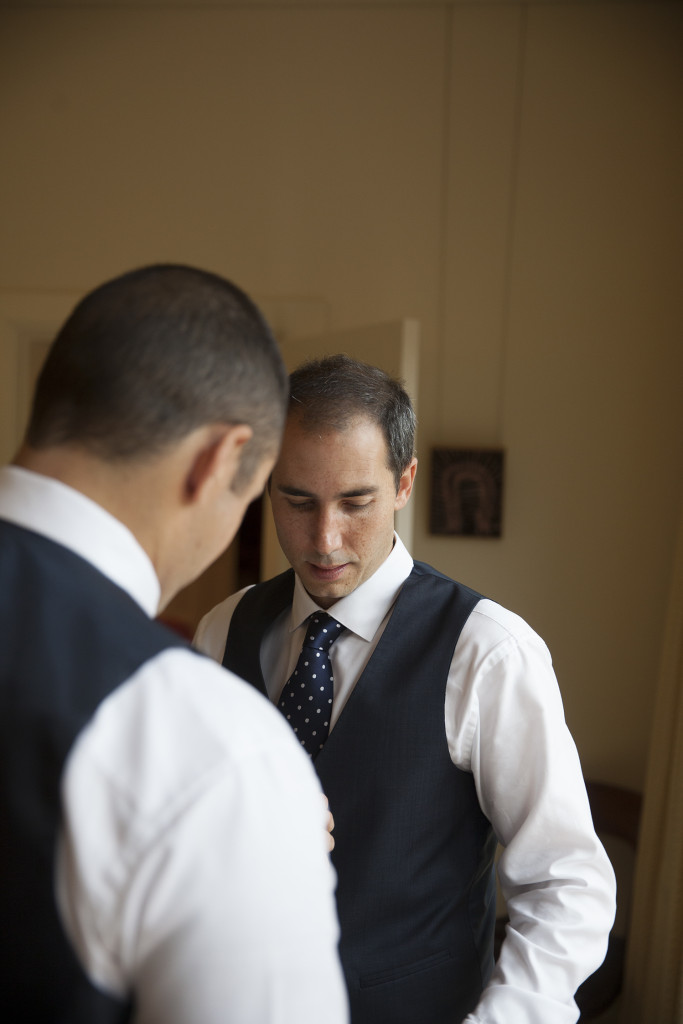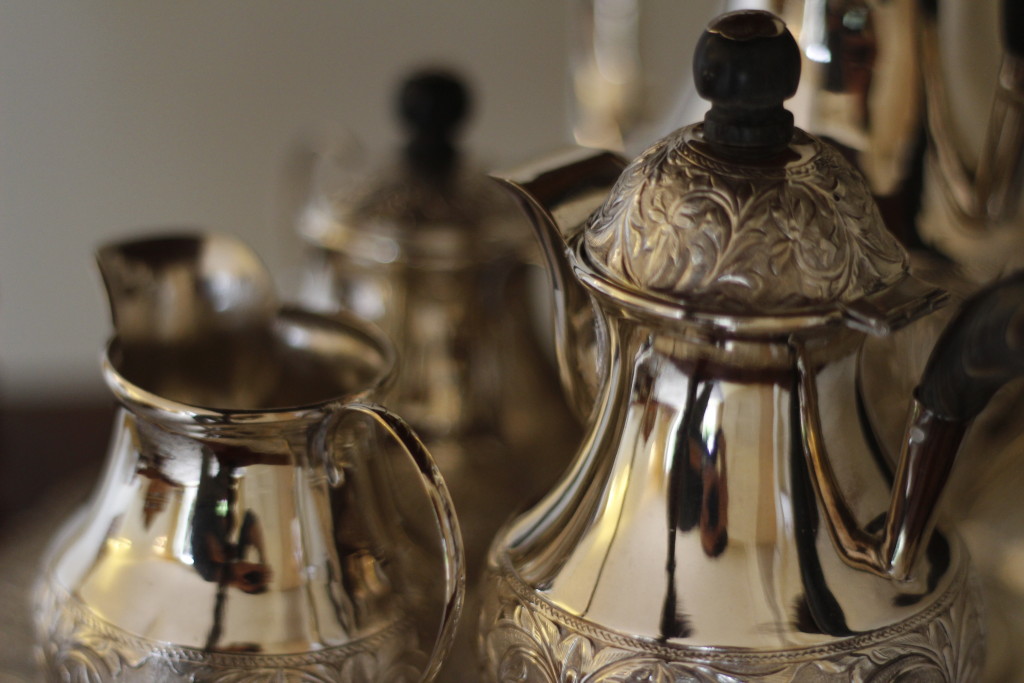 And now, the time had arrived.
The dress I had been waiting to climb into.
I wore the Johanna Johnson, Golding Dress from her Hero collection. Certainly the most amazing silk that has ever found it's way into my hands. Heavy, soft, luxurious, and full of the deepest pearlised lustre. Strapless by design, with a train, I wore a chantilly lace cape over the dress as I decided that 12 degrees needed a little something extra, to keep me from freezing! November! Who would have thought? Visible through the magnificent french lace, was the diamante belt which adorned my waist, and it's intermittent sparkle was the perfect touch.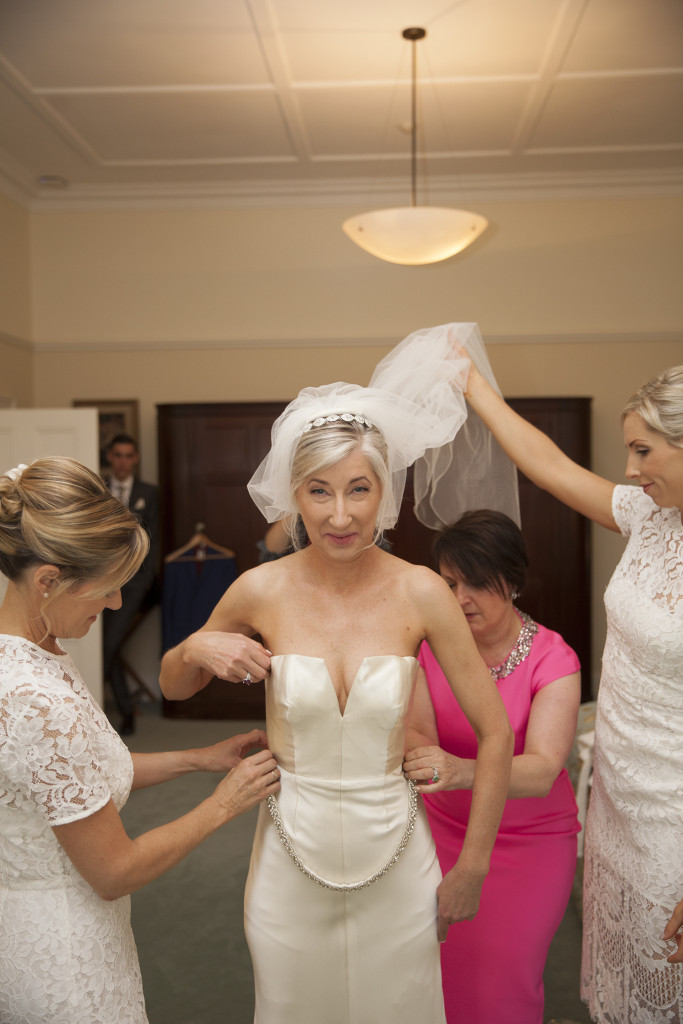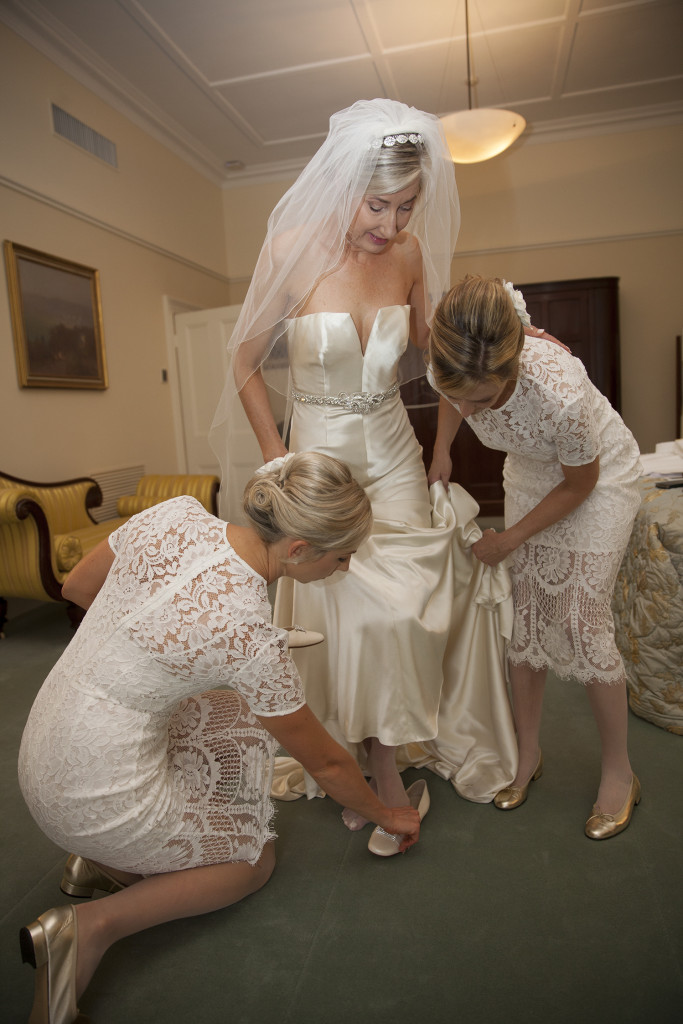 Veil from Marry Me Bridal, Mosman. Diamond hair piece from Fashions by Farina, Dymocks Building, Sydney. Golding Dress from the Hero Collection, by Johanna Johnson. Custom made diamante belt from Tessuti Fabrics and diamante belt centrepiece by Marry Me Bridal, Mosman. Bridal ballet flats with diamante buckles by Antonio Barbato from Dominique's Shoes, Chatswood. Bridesmaids dressed in the Halo Sheath Dress in Snow, by Lover the Label. Bridesmaid gold ballet flats by Dominiques Shoes, Chatswood. Stockings, Collette Dinnigan. Bridesmaids white flower hair piece by Peter Trends from Peter Trends Bridal store, Roseville.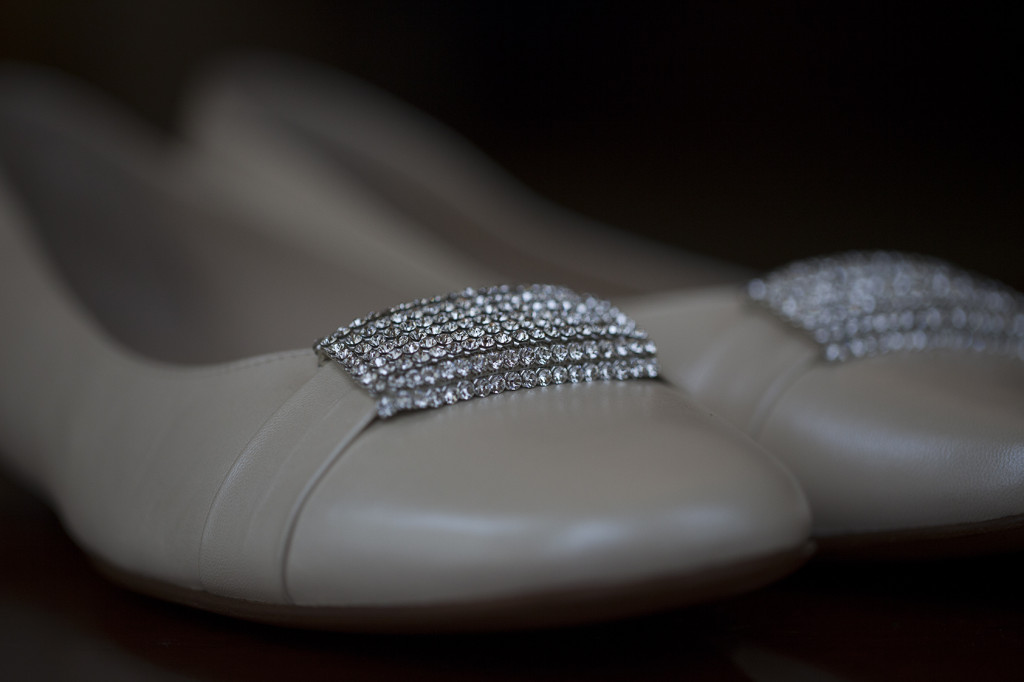 Antonia Barbato's ballet flat with diamante detail.
I was almost ready. All but the jewellery. Stunning fine jewels supplied by Natalie Barney Jewellery of Neutral Bay. A sapphire and diamond platinum necklace was the chosen neckpiece, drop diamond earrings for my ears, pearl earrings for the bridesmaids.
A few final touches, congratulatory kisses, tears of happiness and excited giggles … we were ready.
Well almost. It would not have been the incredible day it was without our phenomenal Canberra photographer, Sam Kibbey.
Sam is one of those rare people who can take a million photos of you, but somehow possesses the magical ability to always be quietly in the background as well as being able to keep everyone calm! He is a true professional and the quality of his work speaks for itself. If you are in need of a wedding photographer …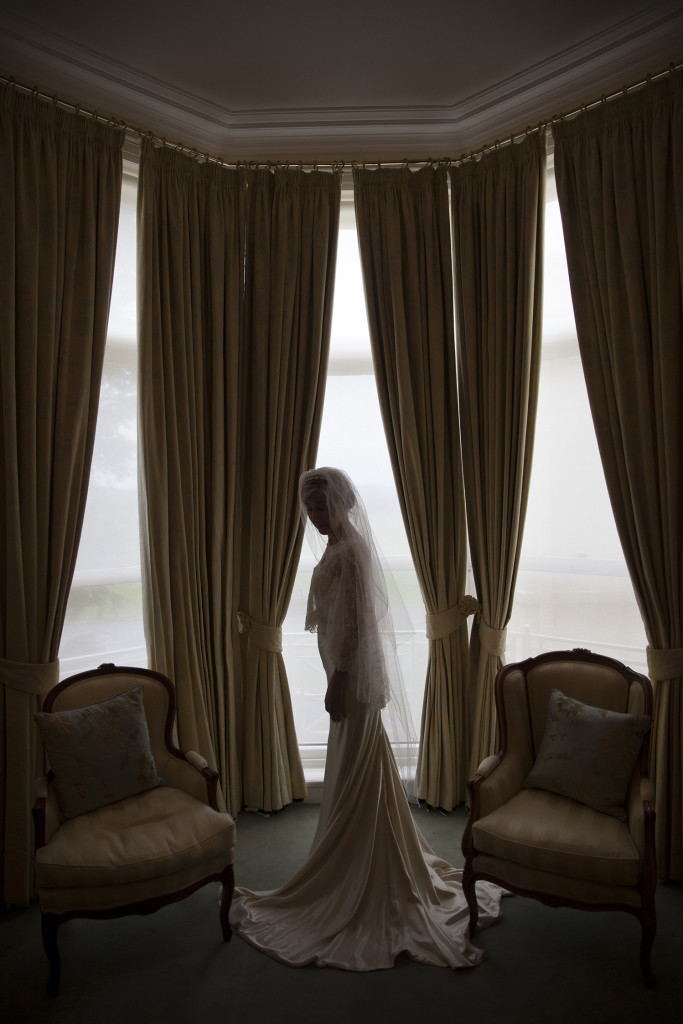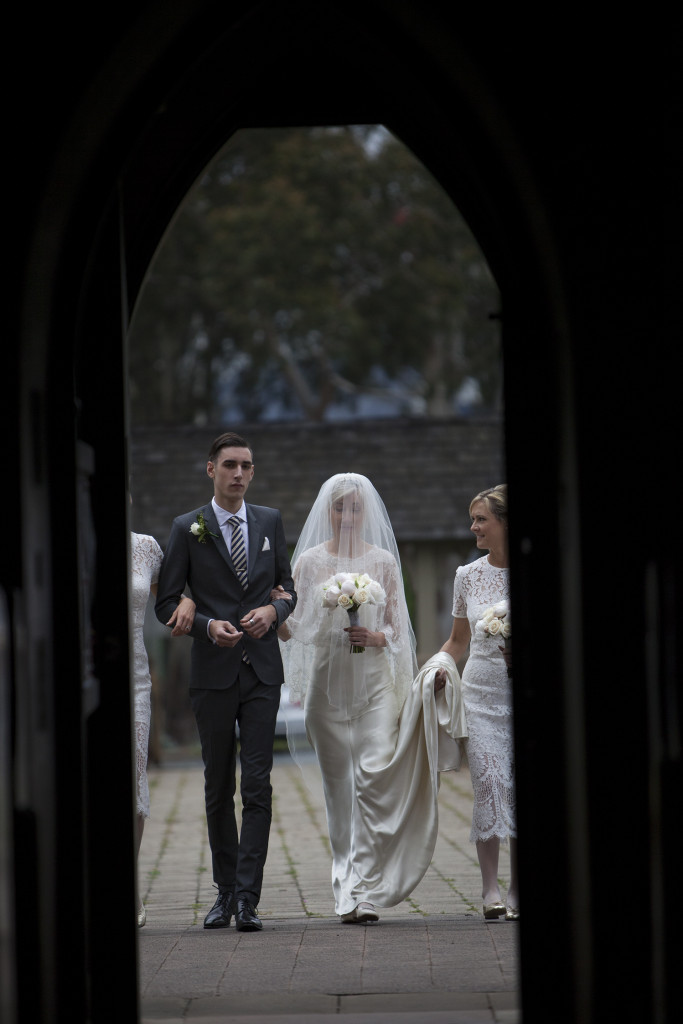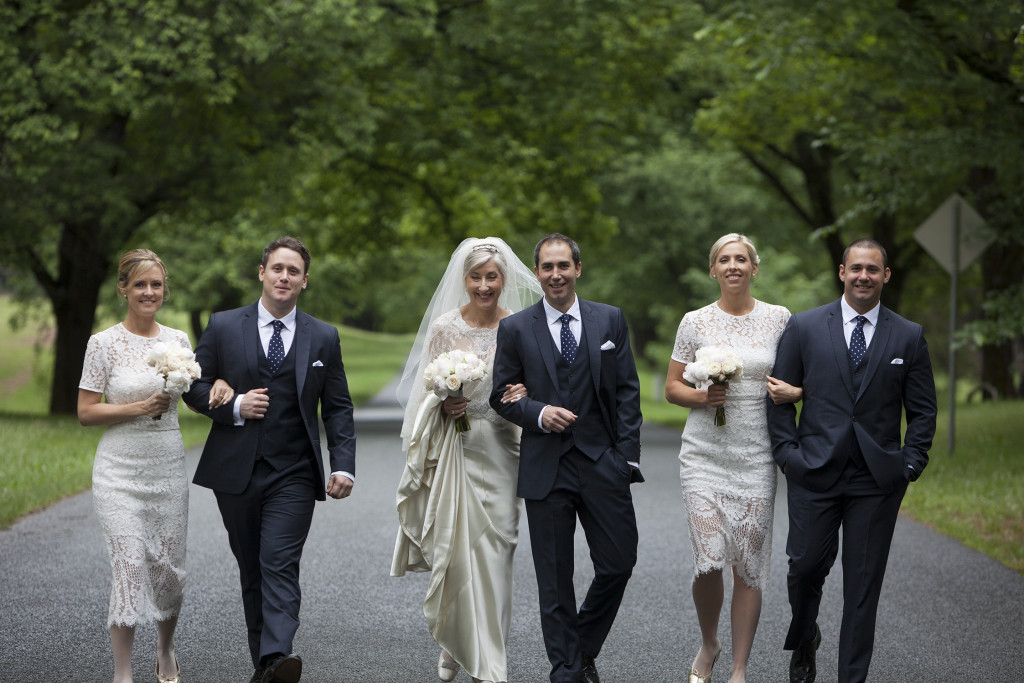 My beloved speaks and says to me: "Arise, my love, my fair one, and come away; for now the winter is past, the rain is over and gone. The flowers appear on the earth; the time of singing has come, and the voice of the turtledove is heard in our land. The fig tree puts forth its figs, and the vines are in blossom; they give forth fragrance. Arise, my love, my fair one, and come away.

Song of Solomon
Until next time,
Jade xx