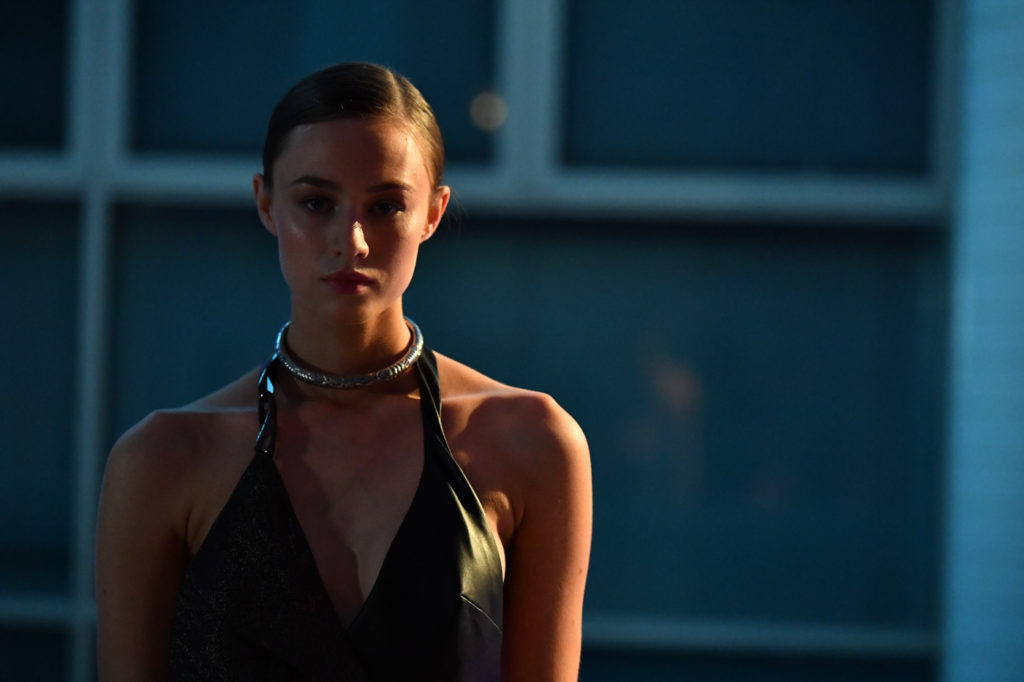 Forget restrictions. Forget modesty. Explore the freedom of sexual expression through couture swimwear with no rules. We didn't come here to be sensible.

Emma Standen, Handsy Swimwear.
Last week I had the absolute pleasure of attending the Fashion Design Studio 2016 Graduate Runway Presentation at The Spine, Sydney TAFE.
Like each and every year, FDS seems to be able to churn out the most incredible fashion talent and this year was certainly no different.
Of course FDS, Fashion Design Studio, formerly East Sydney Tech is no stranger when it comes to churning out amazing creative talent. In it's 61st year, it is the home of many a famous Australian designer whose names have well and truly commanded the respect and admiration of all within the industry both locally and internationally. And, stay there. Have they what! Akira Isogawa, Dion Lee, Nicky Zimmermann & Christopher Esber.
As I was only telling someone last night … yes, I am still banging on about my dearest passion.
At least I'm consistent!
It is the sole reason Label Ministry was created as an online platform.
To tell THE WORLD that we are simply the best!
Australian designers rock! I don't believe there is a country in the world who can match the fashion talent we continuously unleash to the world at large, and quite frankly, I don't believe there ever will.
We have "something".  Intangible. Unmistakably ours.
A freshness that identifies as Australian. Our fabrics, our designs, and the way in which we wear our clothes demonstrate our acceptance of diversity and imagination. Fuelled by the blessing of unlimited sunshine, white sands and royal blue oceans which stretch as far as the eye can see.
Yep. No-one can touch us and that's a fact.
One of the things that caught my attention last night was the vibe. The excitement of newness, the hype that can be found around those will full hearts and the pursuance of their greatest dreams.
I loved that I saw the emergence of all categories. Menswear, womenswear, traditional, unisex, glamour, street wear, swimwear, the feminine, the girlie and the quirky.
Naturally I could not get to every designer to tell them how wonderful I think they are so this post will have to do, at least for now.
As and when I can I will showcase these emerging designers in line with the Label Ministry vision.
For now I wish to congratulate each and every one of them for the contribution they have made to the industry, to which I am so devoted, and which I know, brings so much pleasure to so many.
Here is the amazing talent of 2016.
Enjoy xx
Xin Ing Chan |X.I | X.I Instagram |
X.I is about creating pragmatic design for the modern woman. The collection is about up-cycling the vintage garment due to the increasing awareness of waste within the fashion industry. Inspired by the deconstruction of old classic garments and vintage utilitarian menswear. X.I is the epitome of femininity and masculinity, functionality in harmony with timelessness.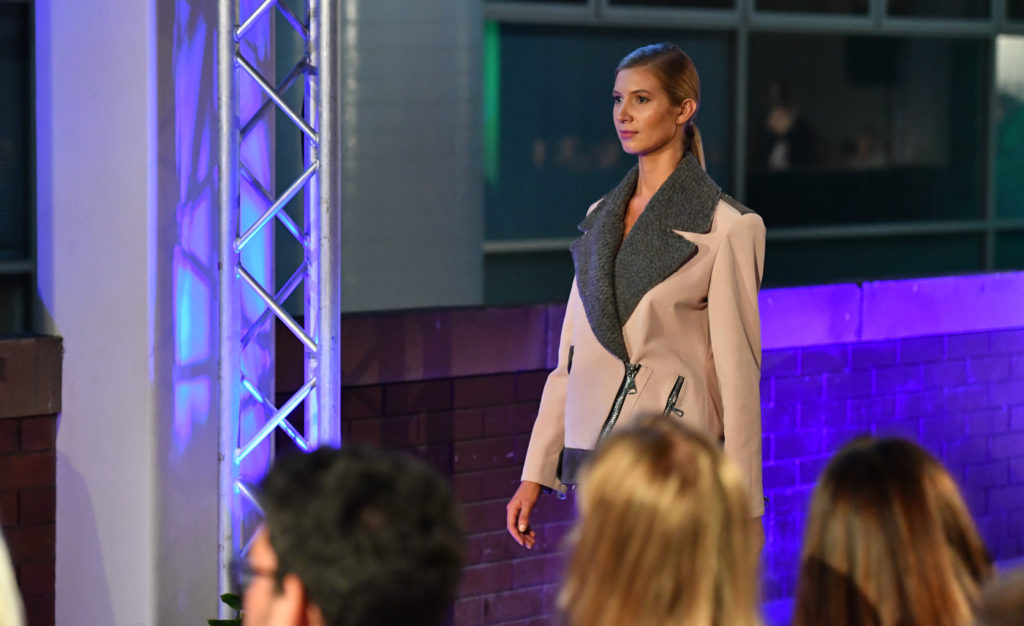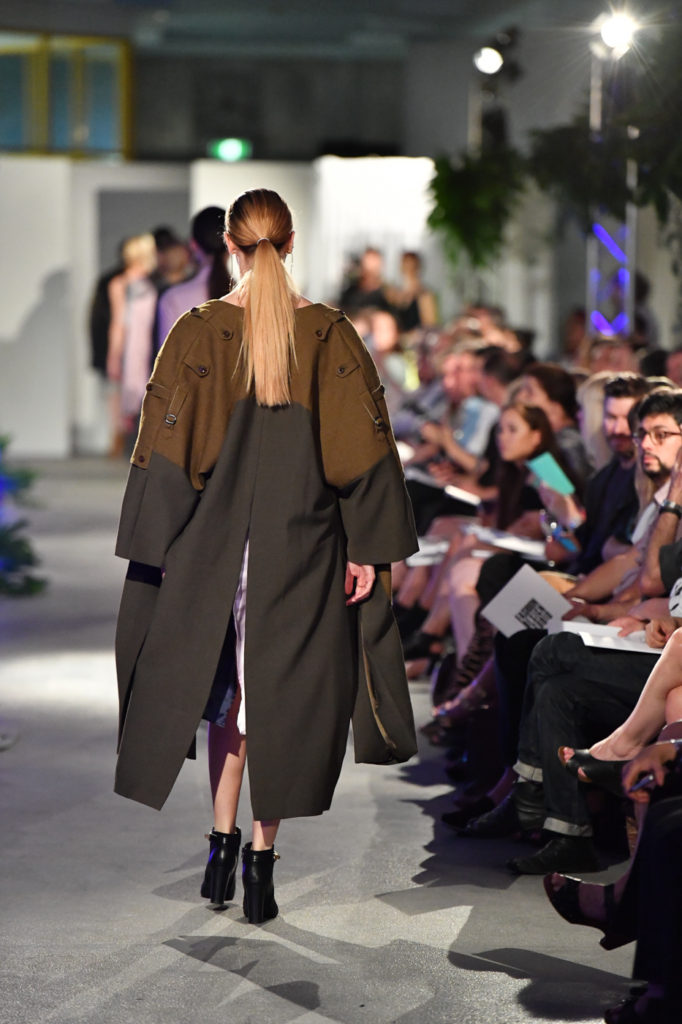 Felicity Chew & Japheth Viceno | Chaste + Vice Instagram |
Felicity Chew and Japheth Viceno of CHASTE + VICE celebrate both the intricate craftsmanship of couture with fashion's current democratic mood. Seeking to refine texture and silhouette as the basis of the label, opposites and contrast in their aesthetics serve as inspiration. The label's first collection – "Fancy a Shag?" is an exploration of fashion as identity, sexuality and familiarity, inspiration drawn from street gangs, youth tribes and 1960s hustlers, through to art installations by Gabriel Dawe and Pierre Le Riche, deconstructing fabric and the intricate connections made to create the bigger picture. Developing contrasts and contradictions to create an exhibition of amazing things coming together, a collision of chaos and simplicity, exploring what is CHASTE and what is VICE.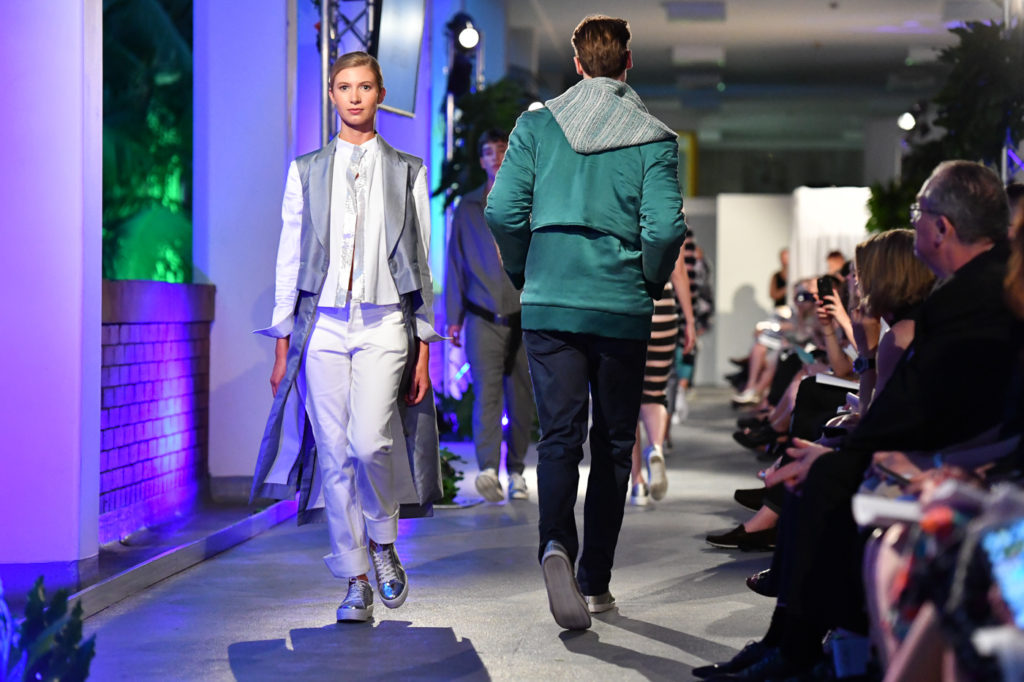 Aydin Huseyin | Aydin Was Here | Aydin Was Here Instagram |
Aydin Huseyin's gender neutral collection was inspired by the dynamic energetic gestures found in the works of the great expressionist artists Jackson Pollock, Robert Motherwell, Franz Kline, and Conrad Marca-Relli.
Studying the artists process, Aydin developed prints and details in his collection by adopting the same techniques used by these greats.
Frustrated by the over digitised and automation of the Australian fashion industry, Aydin went on to further develop his print concepts without the aid of digital software. Experimental hand printed screen prints feature in the garments representing the importance of valuing handwork of artisans.
Aydin's alternative aesthetic developed as a result of the imperfections of urban surroundings. In particular the graffiti lanes around home. The collection was also heavily inspired by Aydin's passion for working with wool, traditional tailoring, and sportswear.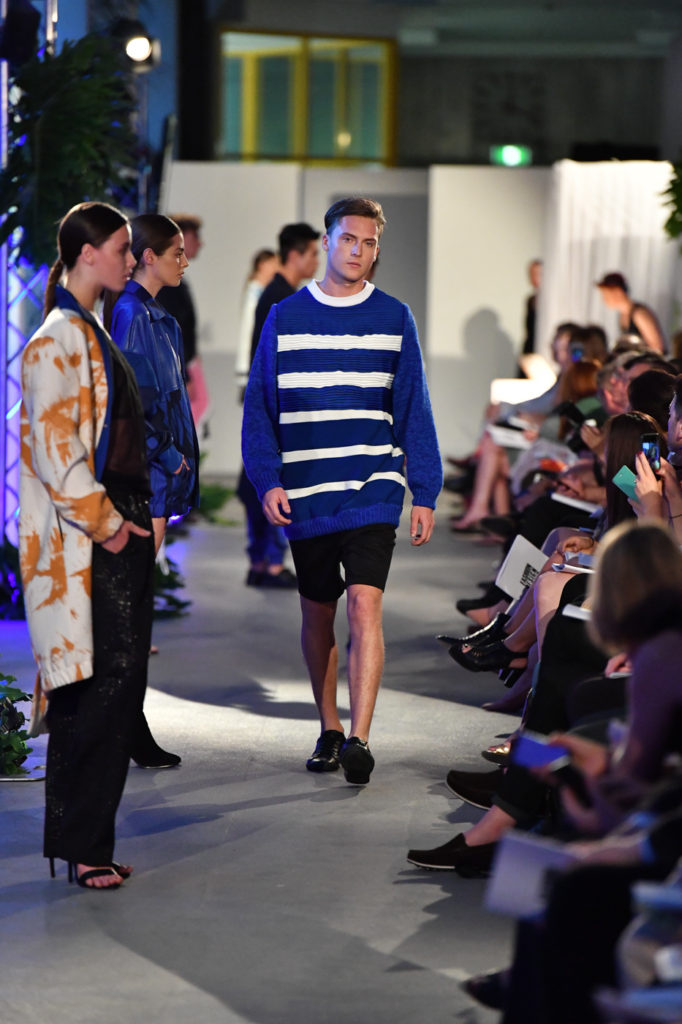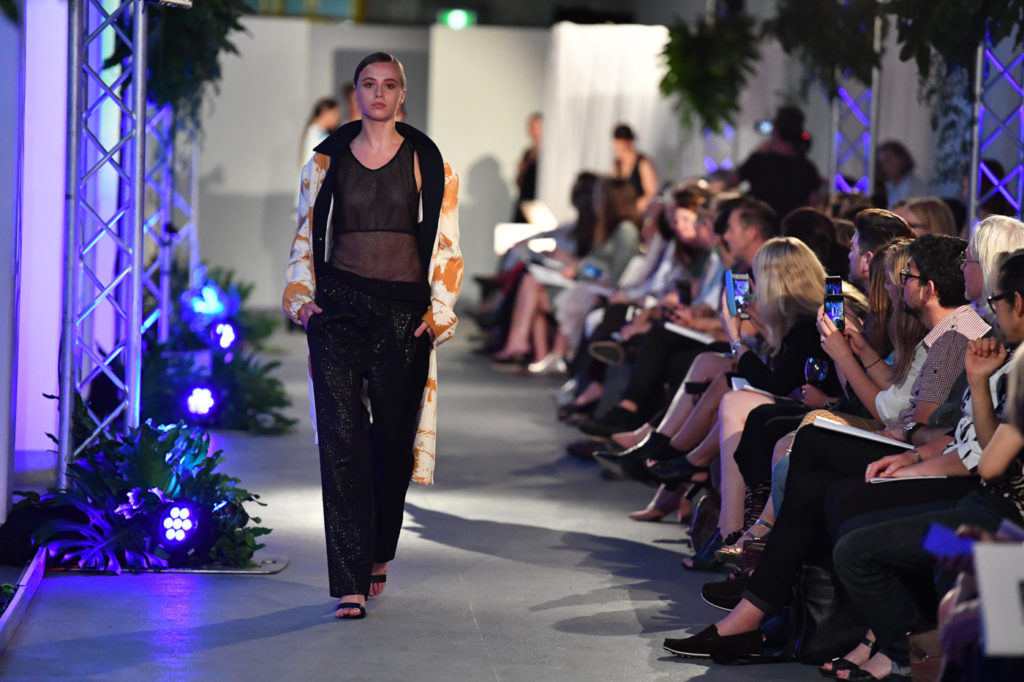 Olivia Johnston | Mox Label | Mox Label Instagram |
Creating a distinct style through the use of top-notch fabrics and the highest level of design aesthetics. The collection features a simple clean play on proportion, texture and form. Accompanied by a variety and diverse range of fabrications and textiles. The collection has a strong essence of sophistication and quality accompanied by sinister and eerie under tones.
Møx uses innovation to impress and stand out in the Australian Market. Through complex combinations of fabrication and texture, the collection tells a story in order to draw feeling and emotion from the audience.
The collection has an individual story that consists of a range of garments which represent different personalities and emotions. Bridging the gap between theatrics and style, beauty and emotion was important as well as combining classical elements of fashion with innovation.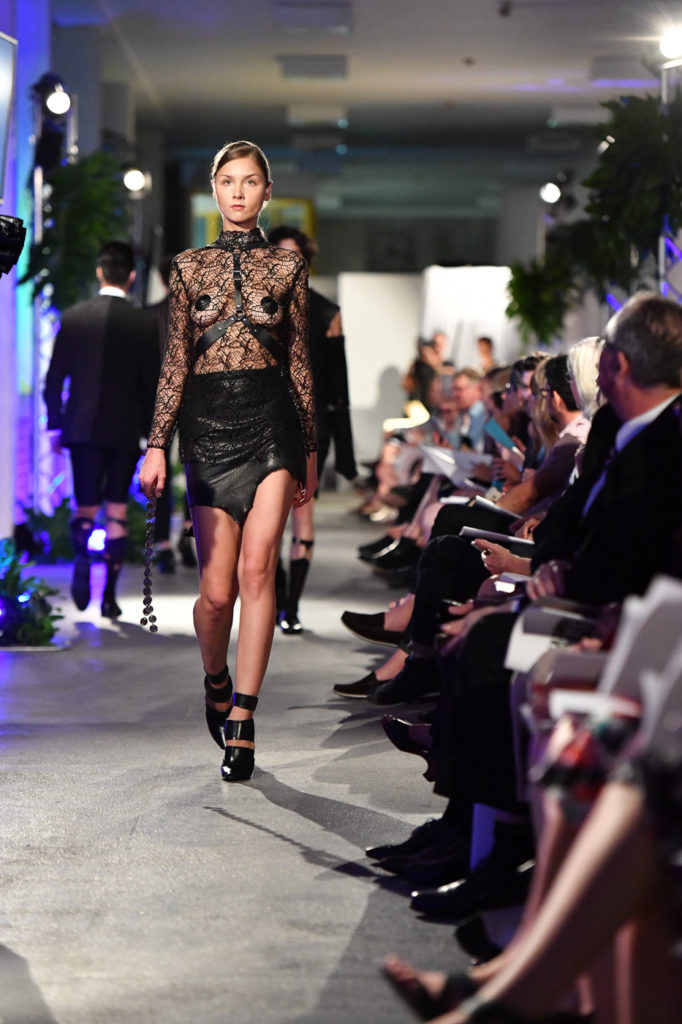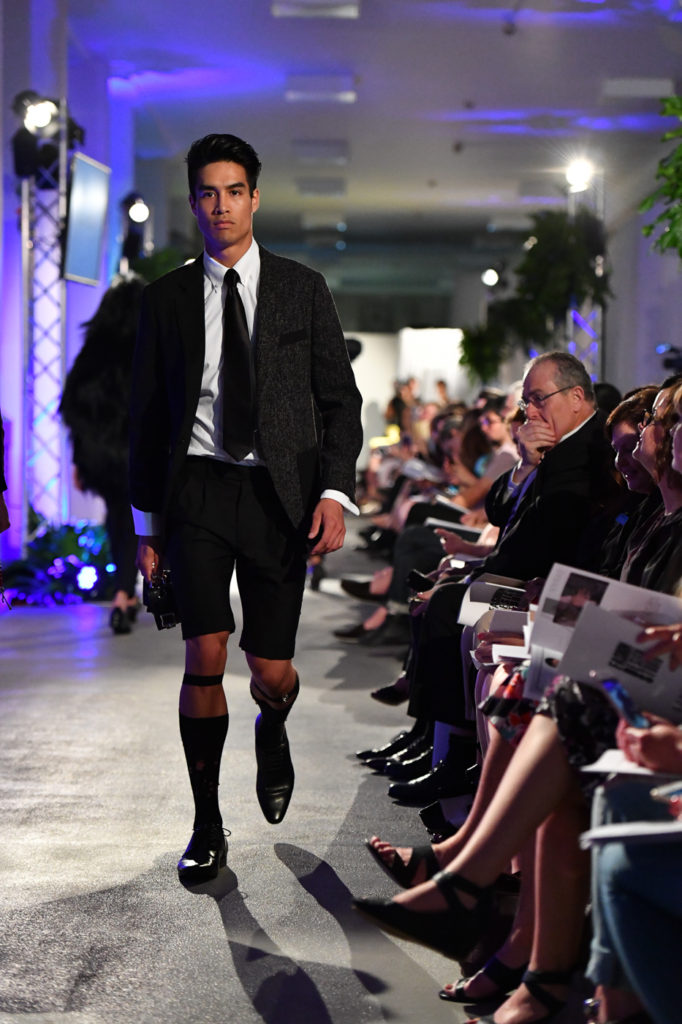 Charlotte Lawrence | Charlie Bex | Charlie Bex Instagram |
The Charlie Bex range was inspired by surrealism and in particular surrealist photography and art by Rene Magritte. A Belgian artist well-known for witty and thought-provoking images which challenged the observer's pre-conditioned perceptions of reality. 
Drawing on the recovery of girlish femininity with focus on the creation of  clothing that evokes a strong sense of humour, fun and quirkiness. Up-cycling of crochet and applique by hand-dyeing as a means of bringing back traditional fabric manipulations. A tribute to the past ideals of "womanhood" and celebrating our inner little girl. 
Charlie Bex aims to encapsulate everything playful, amusing and fun about fashion, incorporating cute silhouettes, audacious colour combinations and exclusive fabric details and manipulation.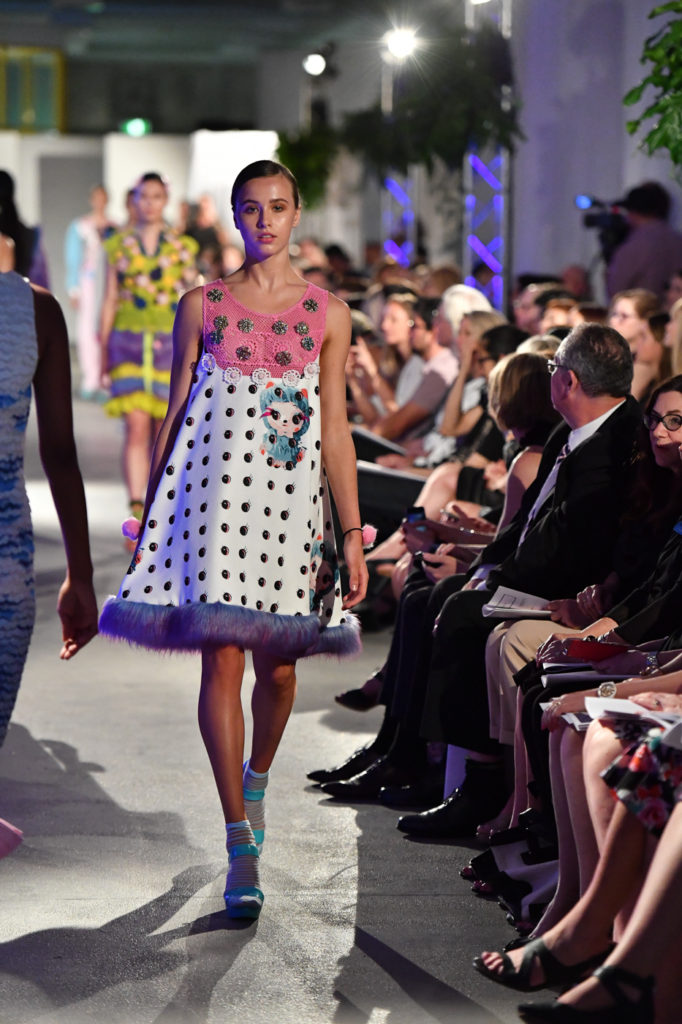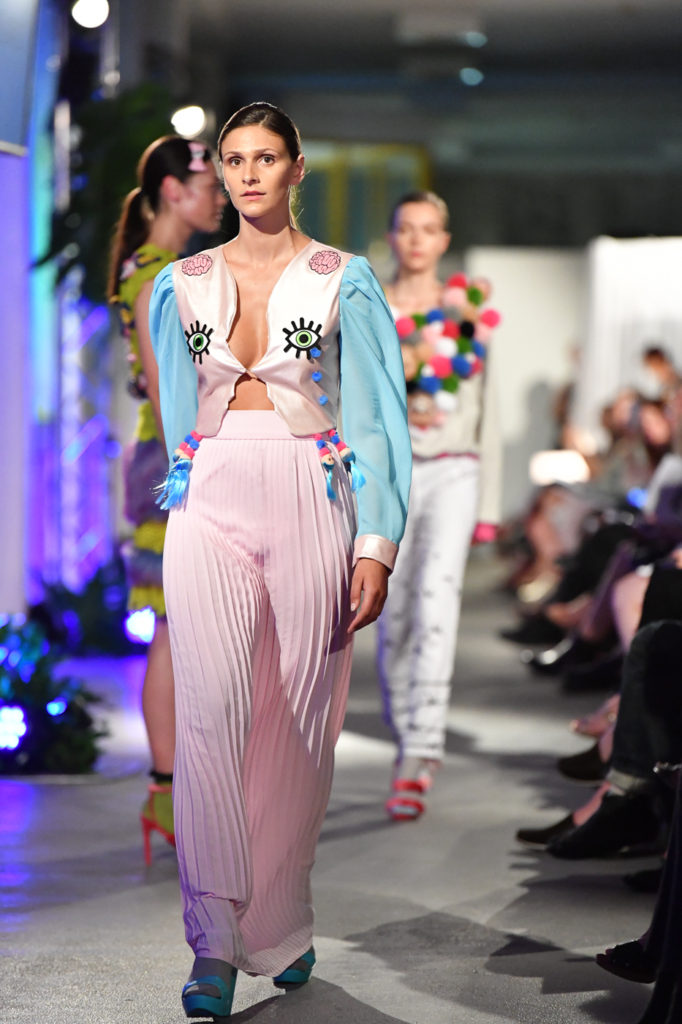 Emma Standen | Handsy Swimwear | Handsy Swimwear Instagram |
Forget restrictions. Forget modesty. Explore the freedom of sexual expression through couture swimwear with no rules. We didn't come here to be sensible. 
Passionate about designing swimwear, and experimenting with the 'bending the rules'. A relatively restricted genre of fashion with a fascination with emerging technologies. Specifically, 3D printing. The exploration of couture swimwear, losing the restrictions of functionality, and exploring the potential of innovative design.
Why can't a swimsuit be made out of laser cut panels of leather sewn onto mesh or hard, 3D printed body moulds? This ideology, fused with underlining tones of sexual promiscuity and empowerment, became the Handsy Swimwear brand.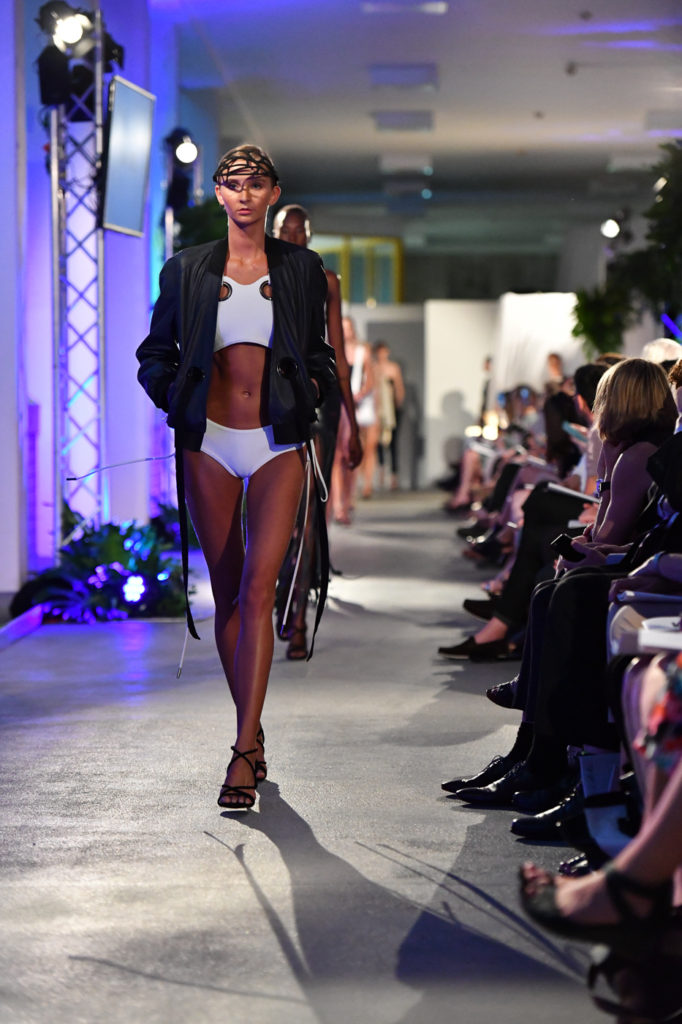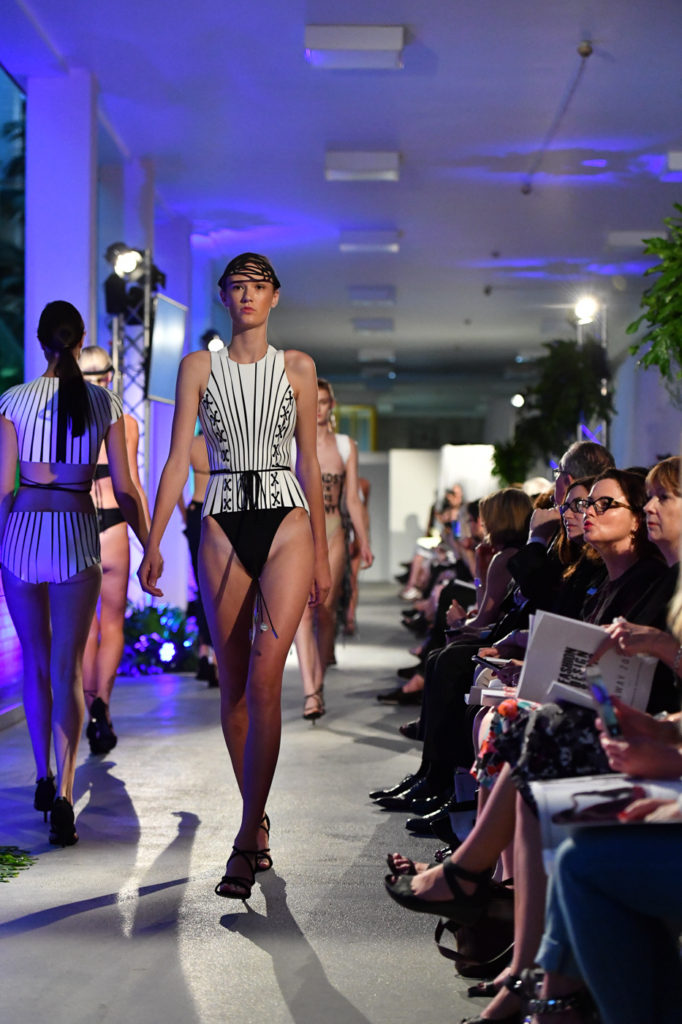 Stephanie Todorovska | eStod | eStod Instagram |
Estod is a label for women who desire to express their inner confidence through the way they dress. An elegant, yet sexy range that emulates the sensuality of our surroundings and showcases a diverse wardrobe for a range of women. Edgy and flowing, with feminine elements extracted from nature and the female form.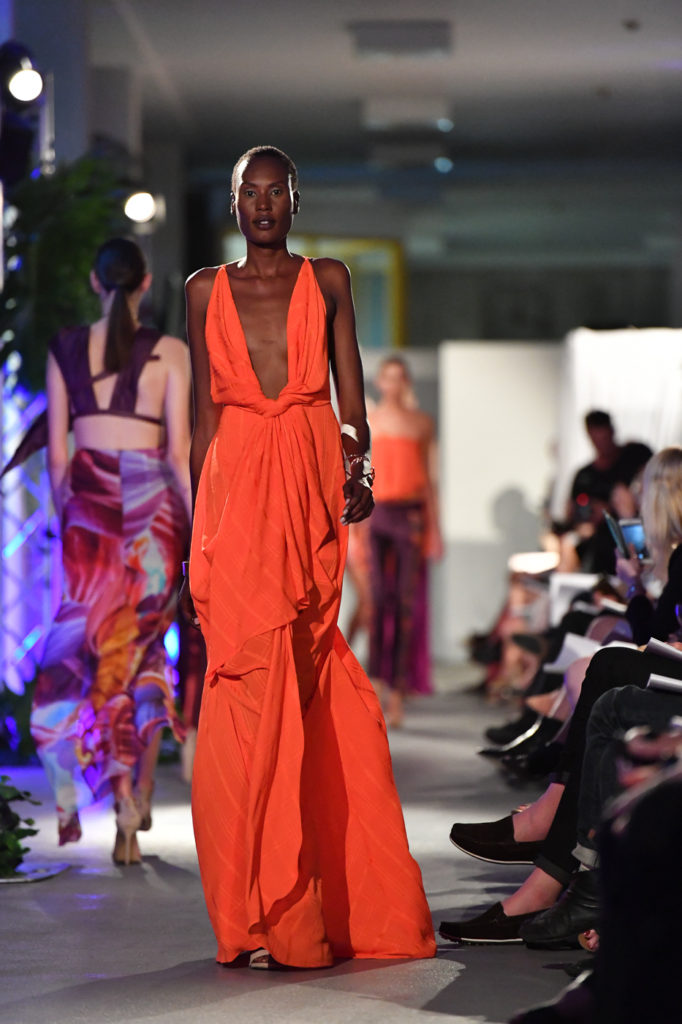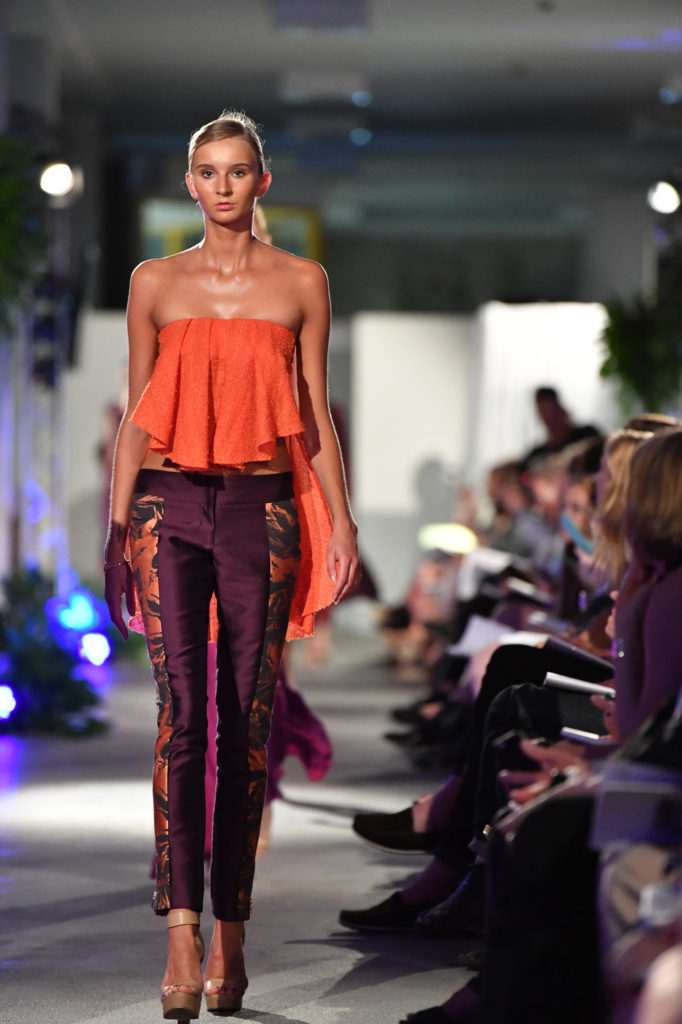 Cassandra Hewitt | CASEA The Label | CASEA Instagram |
"Eurasia", the collection, explores the fusion of the chaotic, industrialised western world and traditional, oriental craftsmanship – the hybridisation of these cultures through an explosion of graphic print, texture and rich colour palette. 
This multicultural blend allows many audiences to see something familiar, something recognisable but also something new. "Same, Same but Different". It is that point of difference within the familiar that makes this collection relatable and memorable.
As an emerging designer we should challenge the misconception that "fast fashion" is the only future for this industry. Quality and craftsmanship diminishes the trend of expendable fashion, replacing it with treasured heirloom pieces.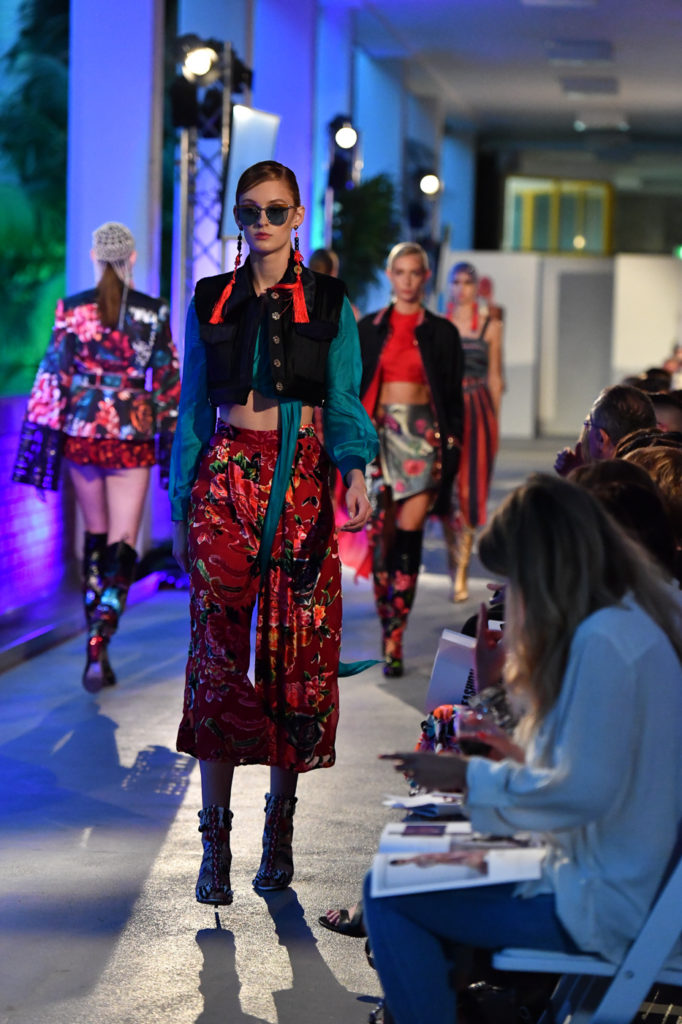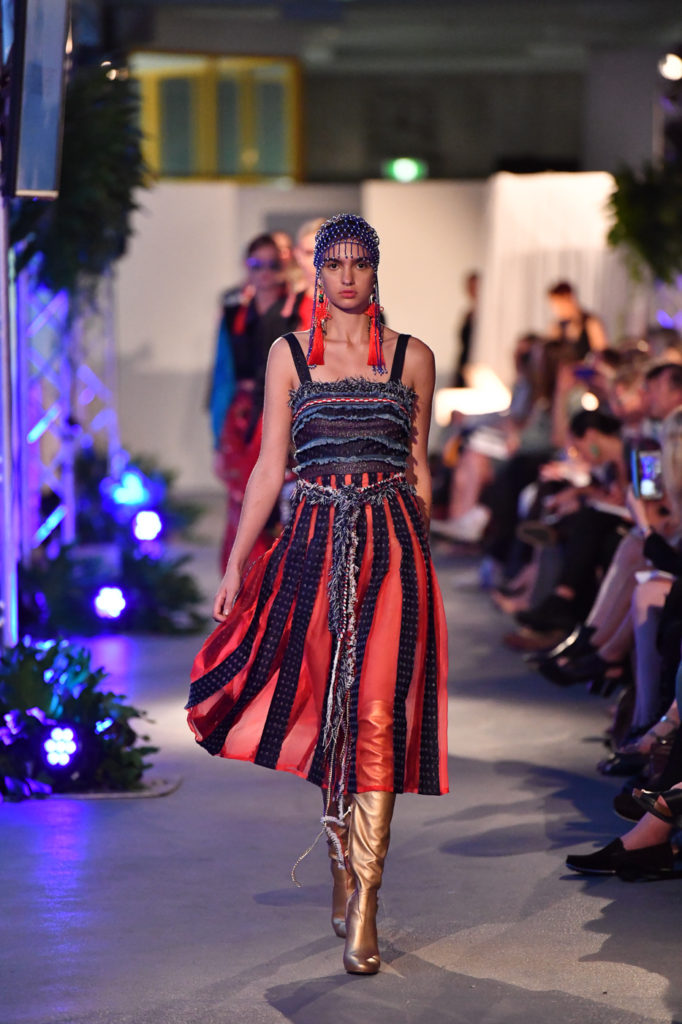 Recently ranked #23 in the Business of Fashion's Global Fashion School Ranking, Fashion Design Studio offers a range of creativity focused design qualifications across both Fashion and Textiles that immerse students in every aspect of professional design practice.  The programs emphasise artisanal approaches through actual hands on engagement aided by advanced technology to support innovation and industry relevance. The FDS education is based on the premise that creativity is enhanced when the designer has strong command of all the technical aspects of design development.  Graduates leave as creatives with deep knowledge of the discipline, excellent technical skills and the ability to apply creativity and a sense of entrepreneurship to the professional practice.  The FDS Fashion Design program is extremely rigorous and is recognised broadly as the college of choice because graduates posses the creative ability and technical knowledge to engage in all aspects of the industry.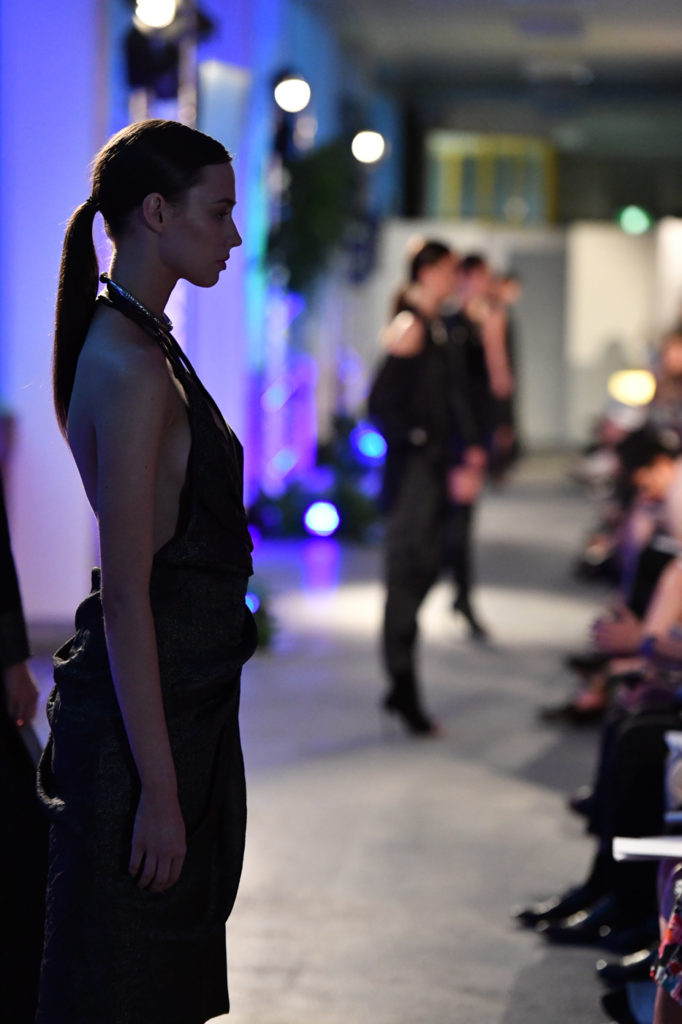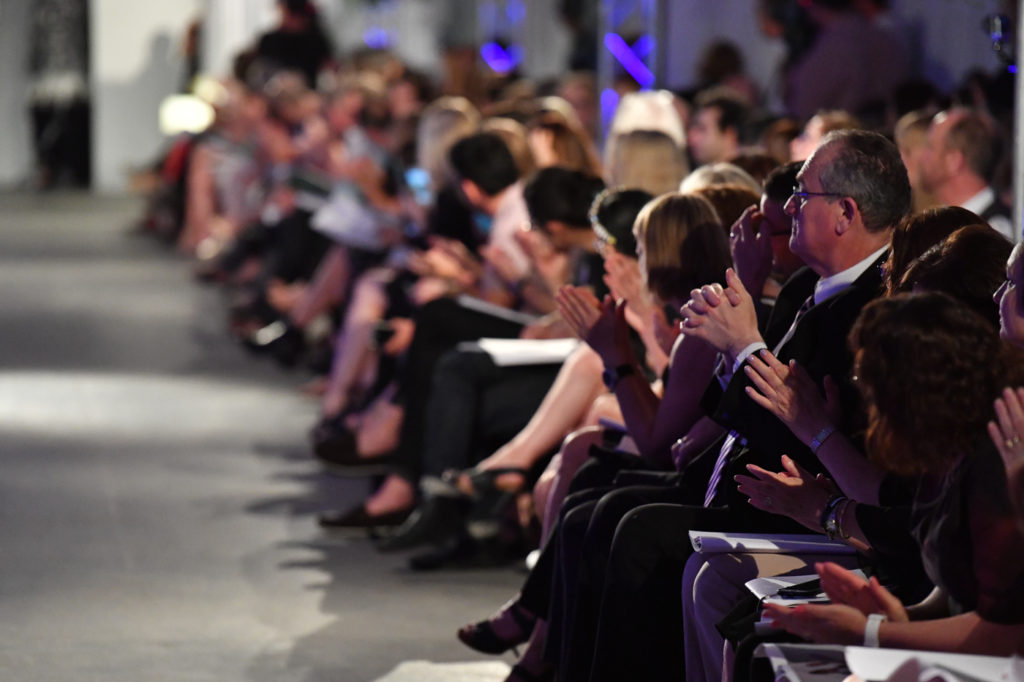 There is SO much talent, it is impossible to write an article which includes all the designers and the people behind the scenes! Congratulations FDS on another amazing year!
If you would like to get in touch |
Fashion Design Studio | Fashion Design Studio Facebook | Fashion Design Studio Instagram |
Photography | Alex Roberts |
Until next time,
Jade xx