Welcome to Hump Day at Mercedes Benz Fashion Week.  Traditionally, Wednesday is the day where the emerging talent hits the runway. They usually do it with incredible impact, and trust me when I tell you, this year will be one of their best. The Innovators are a group of young, full-hearted fashion fledglings who know nothing other than the sheer passion which drives their creative process and is the fuel upon which their dreamy aspirations rely. They are the most recent fashion graduates of FDS, the acronym for Fashion Design Studio, Ultimo TAFE. It is the eponymous fashion school of excellence which is quite simply, now, and historically, the birth place of so many of Australia's incredible designers.  It has been fashion home, until his recent departure to pursue other incredible fashion endeavours, of the infamous Nicholas Huxley, about whom I will report in the coming months and whom I am privileged to know and share fabulous and funny fashion tales. Sophie Drysdale, Alex Zehntner and Laura Washington, and Kam …. quite literally move mountains with their passion, dedication and experience. FDS is, and always has been a whole lotta fabulousness all in one place, and this fabulousness is quite literally transferred to all the students who have the good fortune to walk through their doors.
Whose careers you might ask were birthed at FDS?
Well. Where should I start?
Dion Lee, Karla Spetic, Nicole Banning (Ephemera), Zimmermann, Akira Isogawa, Alex Perry, Ginger and Smart and Romance Was Born, to name but a few. Impressive eh?
But today we are concentrating on the up and comers who appear below, and I have no doubt, that just like their predecessors "up" and "come" they shall, as history has always proved such.
Such raw talent needs to be admired, respected and embraced.
They are the future of our local fashion industry and their creative visions will ripple out locally and globally with our support.
Make the applause loud for these legends.
Very, VERY LOUD XX
Zsófia Mátrai
"MATRAI is an Avant-garde Couture Womenswear label launched by Zsófia Mátrai for her graduate collection in 2017. The brand is known for the expression of combining traditional tailoring with couture craftsmanship, creating innovative ready-to wear womenswear looks.
Her vision is to create the most radical garment construction by utilizing 3D printed techniques. Zsófia not only uses 3D garment construction building but also specialises in textile design, laser cutting and embroidery to express her artistic vision.
 The range combines traditional tailoring and couture techniques with innovative craftsmanship inspired by European architecture particularly through an analysis of  its inner structure.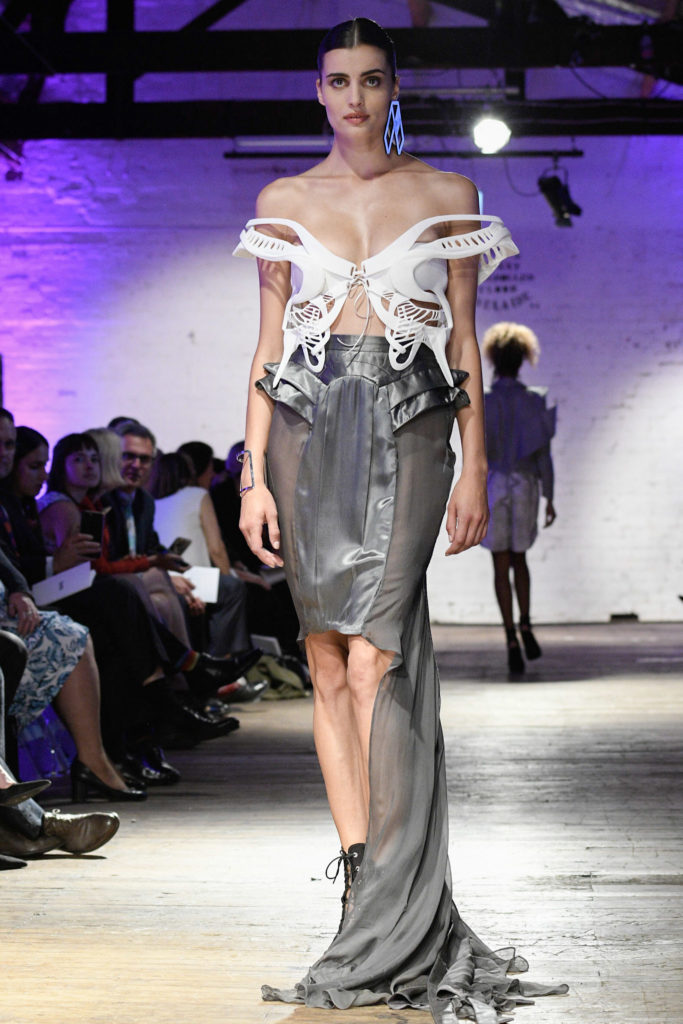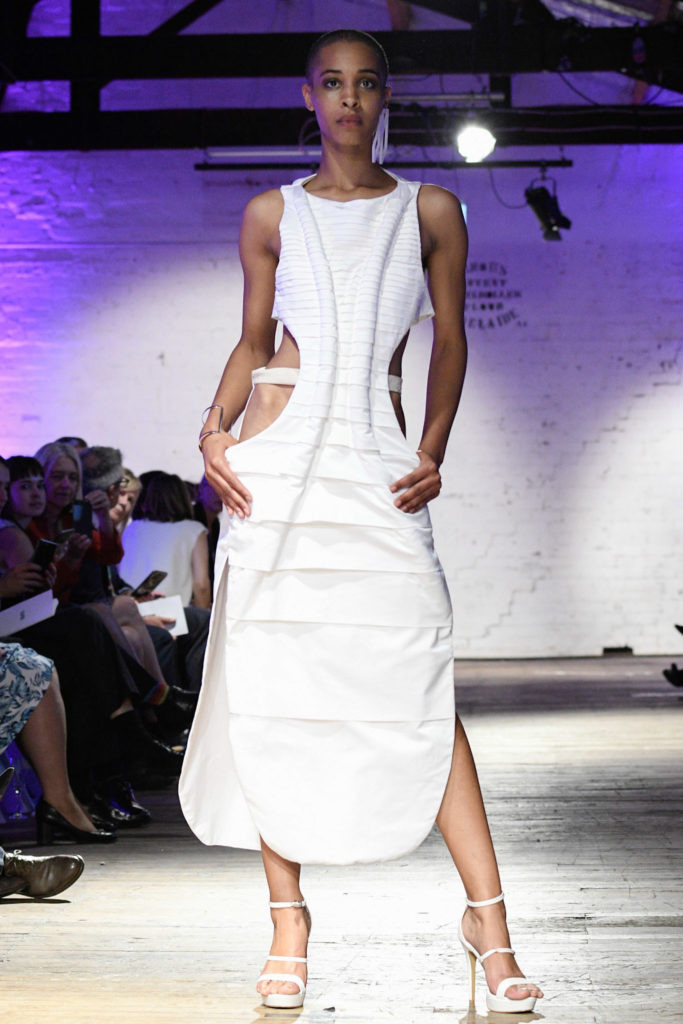 Dana Lock
The Ballina raised designer moved to Sydney in 2015, she proceeded to study at the prestigious Fashion Design Studio in Ultimo (graduating 2017) and interned under respected Australian designer, Akira Isogawa.
Dana Lock is a label that eradicates the constructs of normality with heavy reference to subjects that shock and disturb modern train of thought – eliciting reaction to counteract social standards and taboos. This is an extremist label that investigates the human condition, the interplay between imprisonment and freedom and most importantly the beauty that can be found in the most grotesque of places – physical or imaginary.
 These key conceptual dogmas are brought forth via the introduction of the avant-garde into daily life with sculptural silhouettes, unusual textures and consistent reference to traditional BDSM. Dana Lock is harsh yet empowering, eliciting the rawest form of vulnerability in the wearer via the ability to instigate change.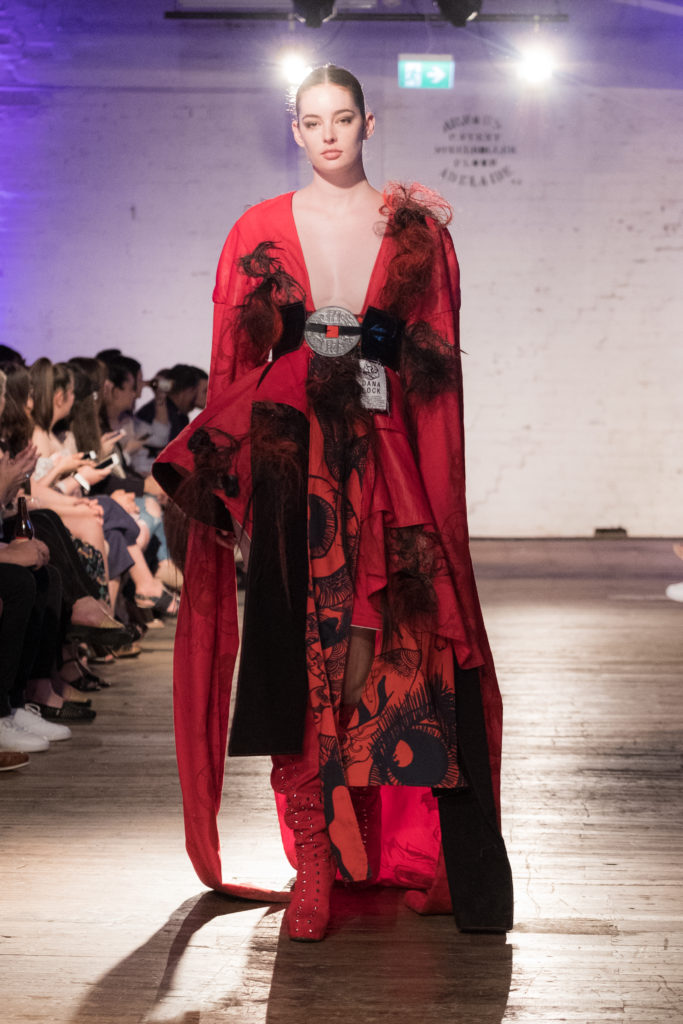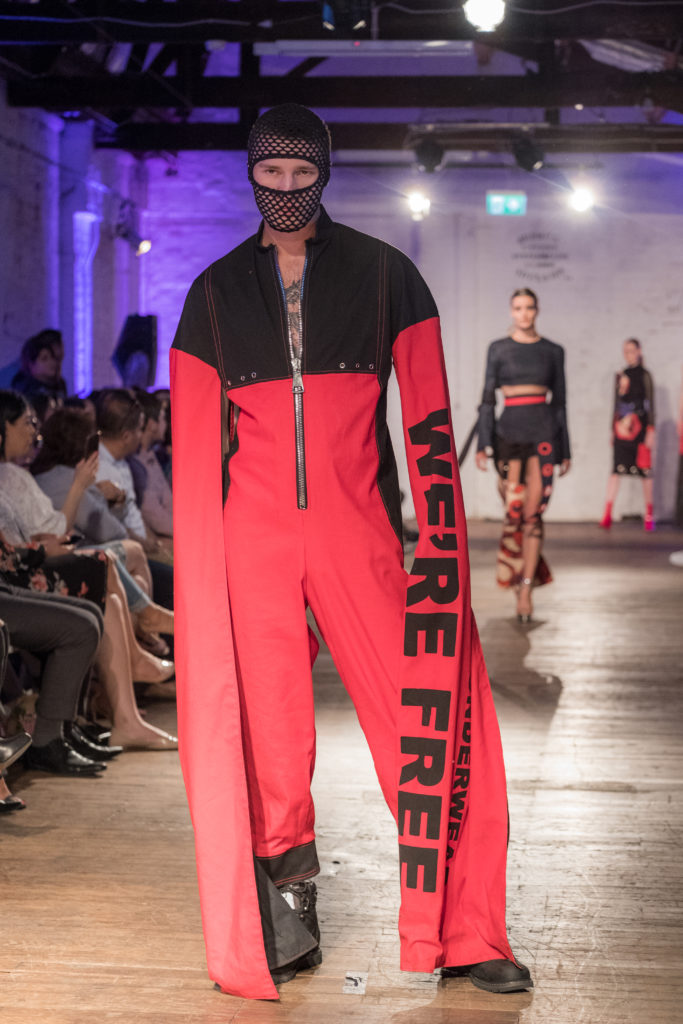 Gillian Garde
Gillian Garde is a 2017 Fashion Design Studio graduate and women's wear designer. Her work fuses the old with the new, creating feminine, modern design while acknowledging the past. History is brought to the forefront through traditional garment detailing and silhouette, but is modernised through quirky colour combinations and graphic prints. All of these elements combine to tell a story, which is the basis of all of the designer's work. Through storytelling the audience is engaged on a personal level, which makes the wearer feel connected to each piece in the collection.
The story that is told through her graduate collection "Bloodline" is deeply personal and pays homage to her adopted Norwegian roots, while also questioning the importance of genetic heritage in order to belong in a society. Using the enchanting Nordic landscape that grew to define her childhood and the traditional folk costumes of Norway as her inspiration, she shares a part of her own journey of personal identity and belonging in what once was a foreign country to her. The collection bears some melancholic undertones, but ultimately is an ode to a place she now considers one of her two homelands.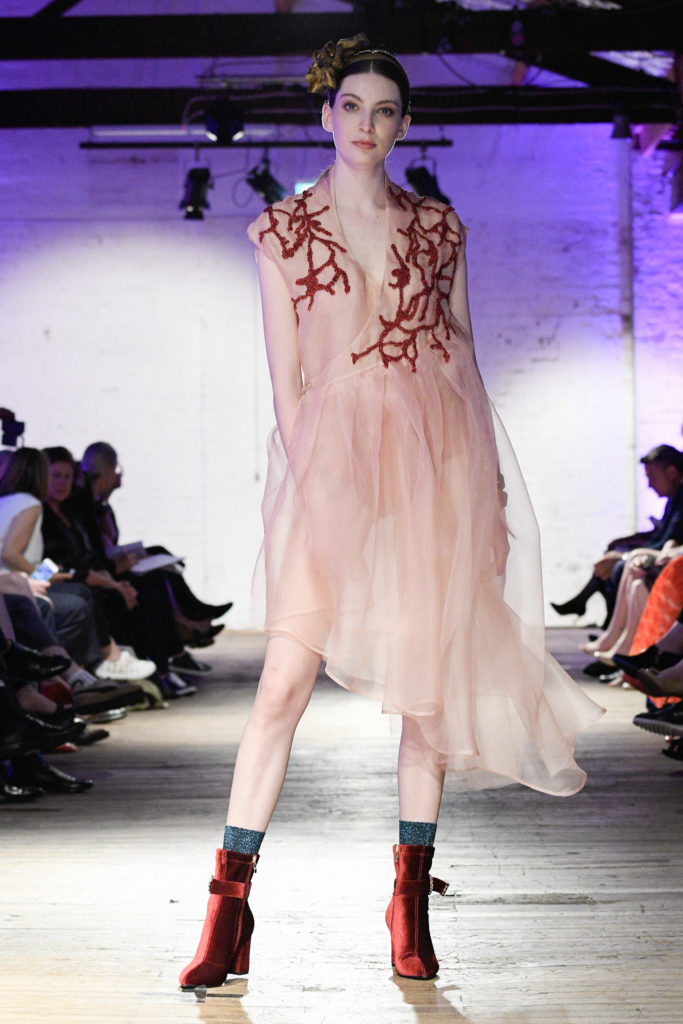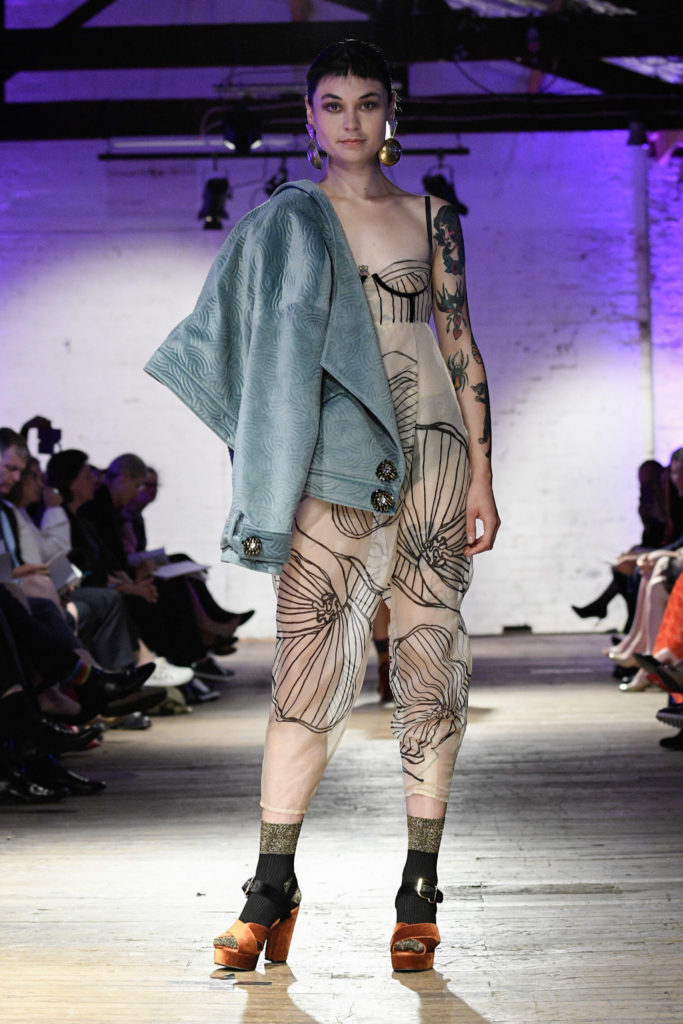 ODD by Anna Jacobsen
ODD is a brand that is unafraid. Created by fashion design graduate Anna Jacobsen in 2017 as part of her graduate collection, Anna set out to create a brand that was both audaciously bold, inspired confidence in the wearer and empowered women to dare to be different. Traditional tailoring techniques and a diversity of art forms are morphed with clever experimental manipulations and treatments, resulting in unique, quality and enduring garment designs.
ODD is unafraid of expressing individuality and difference, even if they are idiosyncratic, peculiar or unconventional. Some of us like to outwardly show this by the clothing we wear as a way to express and embrace our differences.
Anna wishes to embrace and encourage those that are highly confident in themselves, who seek a brand that makes a statement, defies mainstream trends and enables the wearer to stand out in the crowd.
Her collection aims to provide well made, quality garments that have a quirky, unconventional humour and a classic transcending style. By pushing conventions she achieve designs that are eccentric and humorous and that have an energy and boldness. The range is characterised by its bright colours, interesting and experimental shapes, tailoring elements and superior quality of materials and make.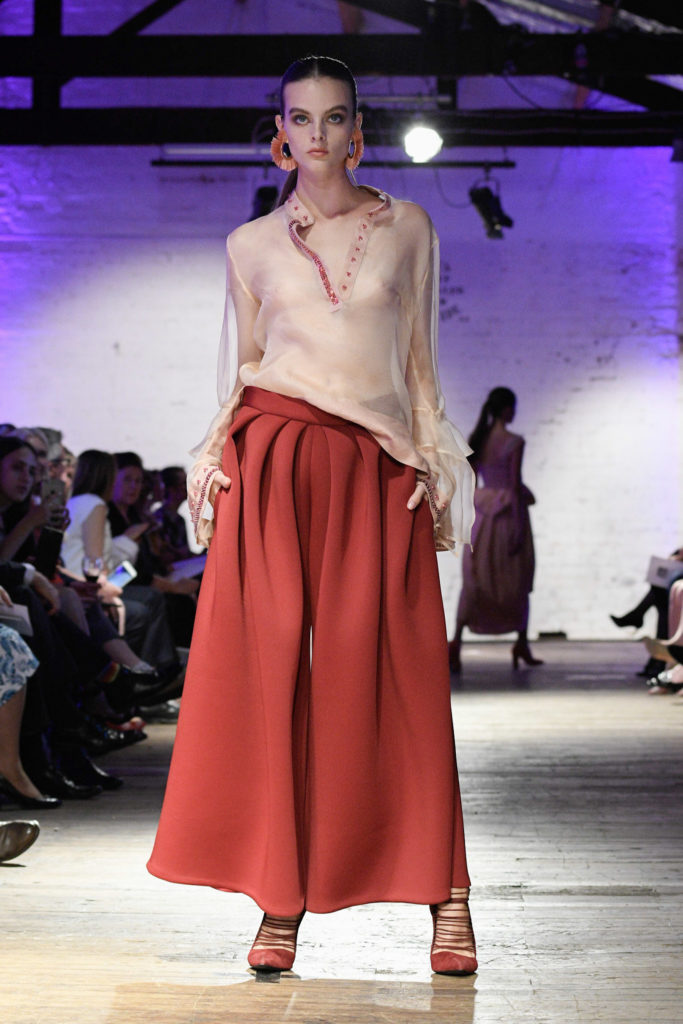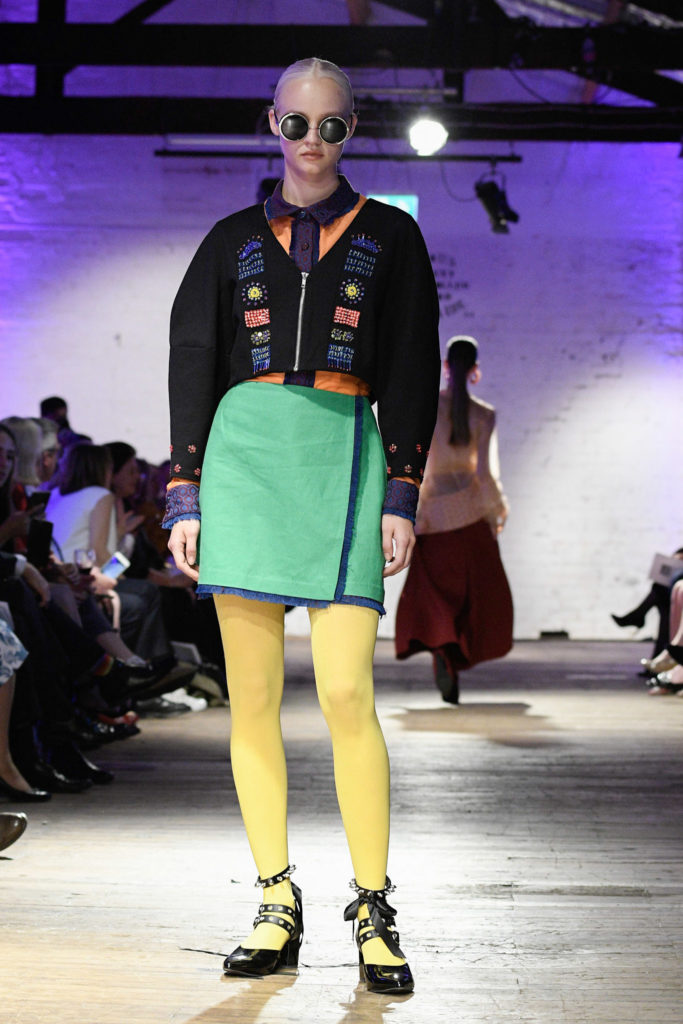 Shroud The Label
 'Shroud' entails the symbolic idea of concealing or blanketing the body in a way in which clothing does. In doing so, conveying one's personality in a manor beyond that of audible conversation.
A brand that was created for the future thinkers. The powerful, intellectual, artful, political minds who aim to make a statement with what they wear. We aim to not buy into the inefficiencies of unethical and unsustainable behaviour in order to make a quality honest product. A sensual nostalgic romance meets an alternative warped reality of titillating shock tactics and political undertones in its aim find where the two opposites meet. Giving birth to romantic modernity and protest. A satirical contradiction on societal norms presented in a manner of severe proportion manipulation. The brand presents a unique mixture of wearable must-haves and wearable art.
Shroud was founded by designer Jessica Carter-Kite in early 2017 as part of her graduating collection from Sydney's leading fashion institution The Fashion Design Studio, TAFE NSW. She has since been selected as a finalist for the DIA's Graduate of the Year Award and has showcased her garments in countless editorials. Shroud will be presenting it's first collection at Mercedes-Benz Fashion Week 2018.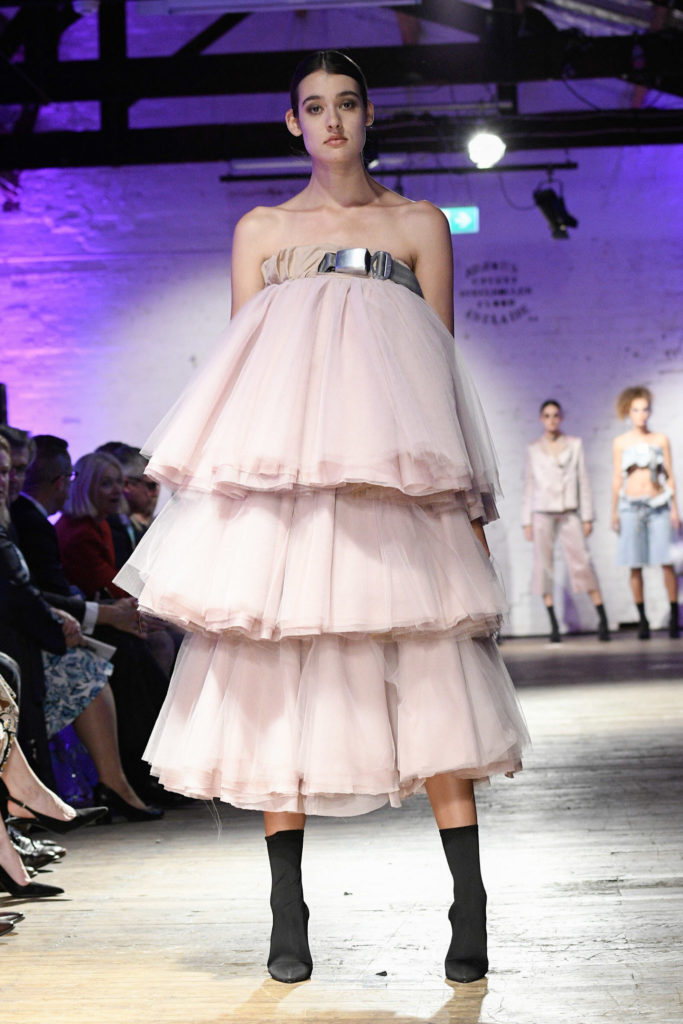 ZRD by Ruby Zhang
Ruby Zhang is the founder of the fashion brand ZRD. Her designs reflect positive energy and creates a world that is limitless. Following her arrival in Australia in 2010, a passion for design led her to enrol in a design foundation course at UNSW. There, she found her forte in fashion and pursued it as her career path.
Ruby's previous studies in music inspired her to create her garments. Sound can be created to a visual display of fashion. Since she was young, the link between the visual and music has been an important one. Fashion took Ruby overseas and Milan was the source of inspiration that changed everything. It propelled what was possible from what was taught in Australia and updated her standards on what fashion is. She returned to Australia and bought back her new ideas of fashion which would successfully assist her gaining her Bachelor's degree at Sydney's Fashion Design Studio, TAFE NSW.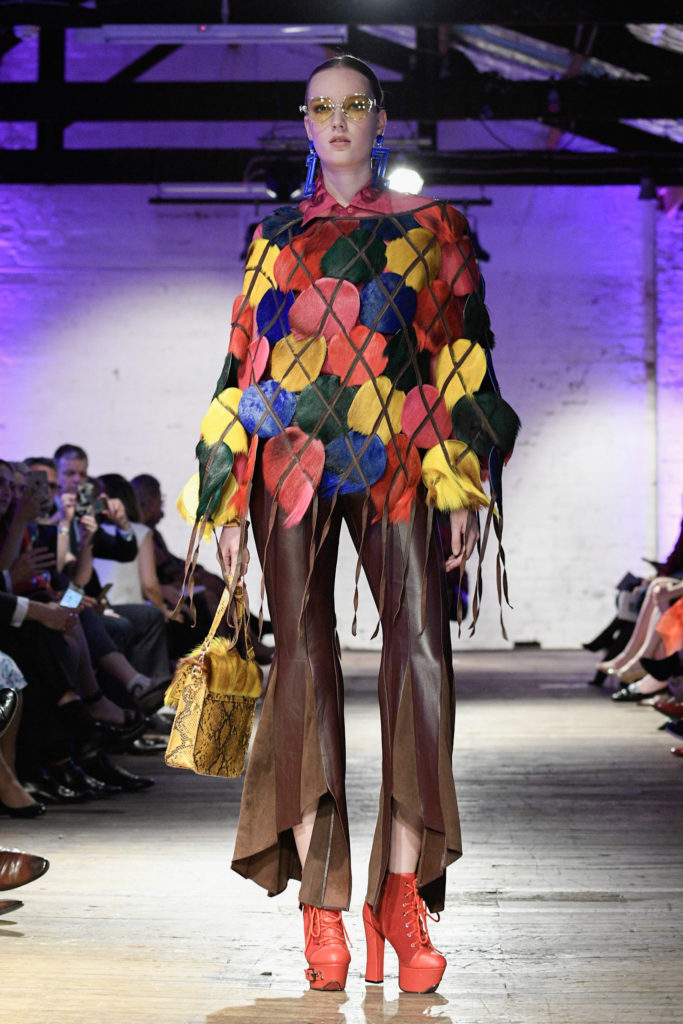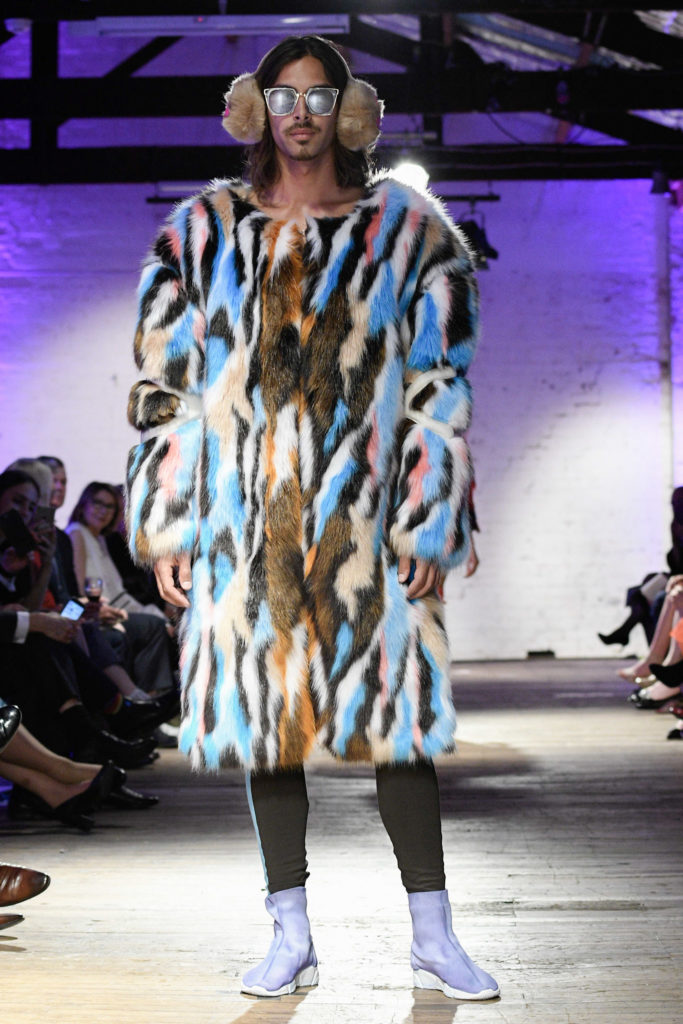 Whitehart by Danielle Soole
Whitehart is the 2017 Graduate collection of Danielle Soole. Originally hailing from Dubbo in regional NSW, she moved to Sydney to complete her studies in the Bachelor of Fashion Design. The label Whitehart showcases streetwear with a distinctive foundation in historical reference and inspiration.
Whitehart aims to create pieces that draw from the individualistic and highly wearable nature of streetwear, while combining the decorative and exaggerated embellishment of historical costume to create a distinctive modern flavour.
Whitehart brings to life a collection that is creatively considered and beautifully crafted, balancing femininity with rich historical context to create contemporary garments. With the intention to create a highly wearable, yet enduring collection that embodies a relaxed, effortlessness style with a distinct street culture aesthetic.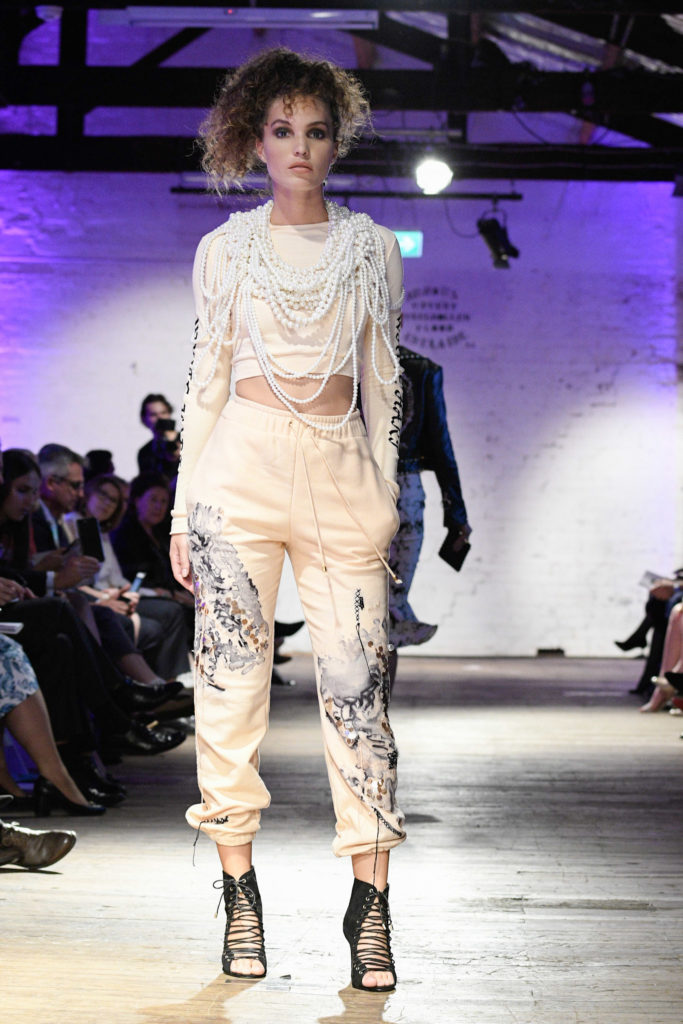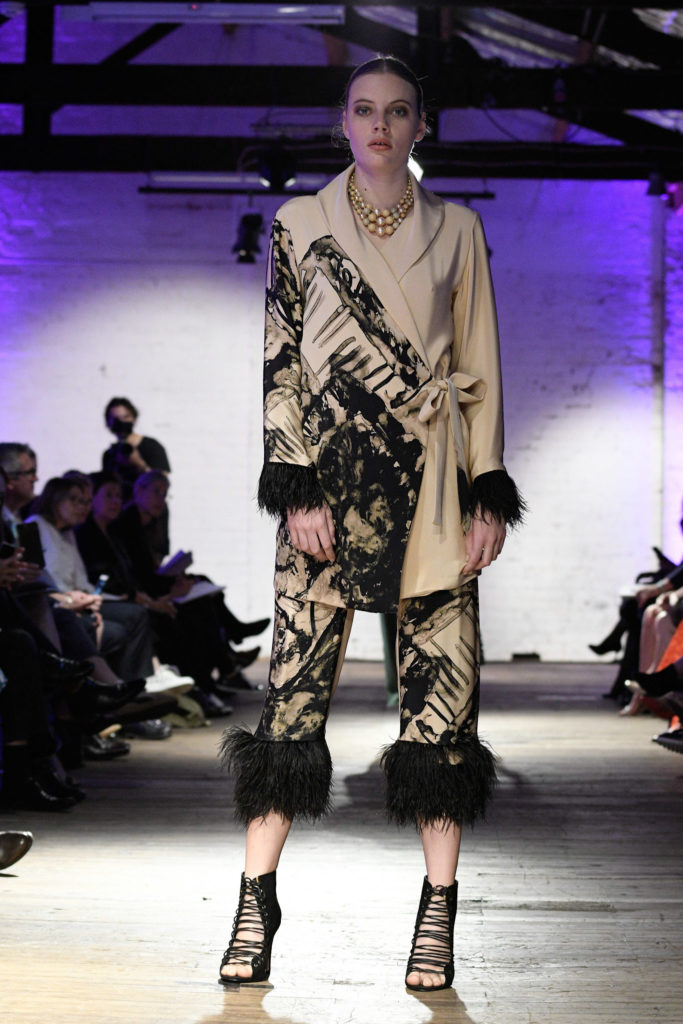 ZELLA MAY by Kamila May
Founded by designer and artist Kamila May, ZELLA MAY has captured the imagination of women who identify with a dreamy, sensual and evocative aesthetic. 
Designs are firmly based in historical techniques such as hand embroidery, pleating and smocking, brought into the 21st century by their adaption to modern fabrications such as tulle, machine lace and cast plastics. 
There is always a dose of the dreamy, brought out in this collection by the hand painted soft fabric figures that drape across garments. Juxtaposing this is edgy deconstructed suiting, demonstrating the duality of softness and strength. ZELLA MAY is for the modern woman; feminine, strong and free.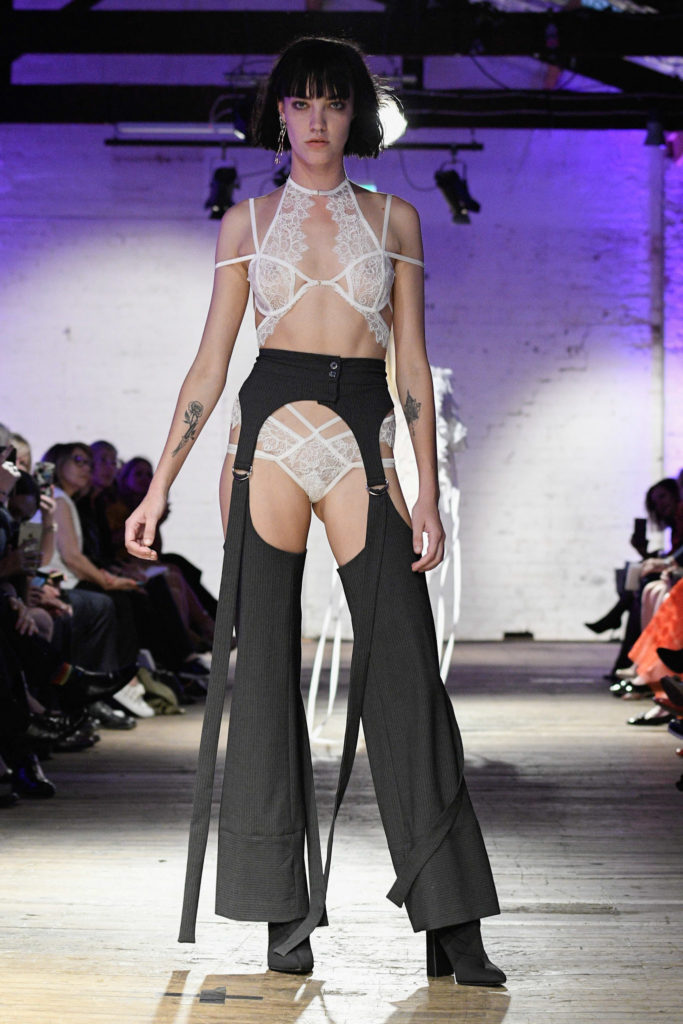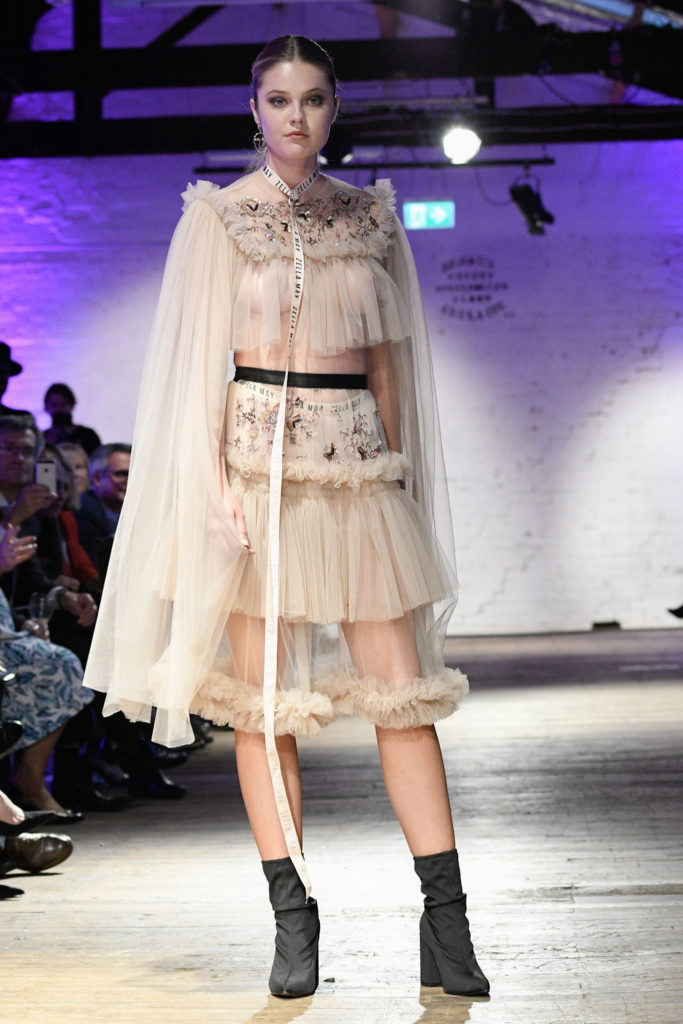 Until next time,
Jade xx