From the editor's desk …
Last year in April, I met a lovely vivacious woman in the Star Lounge at Mercedes Benz Fashion Week in Sydney, by the name of Rebecca Colalillo. As we exchanged the usual chit chat that one does when meeting someone new, she filled me in on what connected her to Australian fashion week, and the vision of her burgeoning dreams. MBFW 2015 for Rebecca, meant the exclusive tanning of the runway models for Australian Sydney fashion designers/sister duo, Summer and Liberty Watson, known as Watson X Watson and their show, Day Walker at Carriageworks.
Bec is the brains behind the amazing product, GlowbyBeca. A natural tanning product, 100% natural DHA combined with animo acids.  It is not absorbed into the body and is non-toxic. This ensures that a healthy product is sitting on the skin. Her product and services can now be enjoyed at her newly opened tanning salon in Paddington.
Bec recently worked her tanning magic on me, and my bridesmaids for the highly anticipated Label Ministry wedding, Love & Nuptials.  Having very fair skin, I was a little worried that I would look anything but myself. It was essential to me that the result looked natural. Beautifully subtle but effective, Bec promised me that I would be ecstatic with the result. She was right. I was!
We caught up recently.  And this is her story.
Until next time,
Jade xx
It's More Than Just A Tan .. it's a confidence booster! Life is too short not to be glowing through it!
LM
How did you start out in the beauty industry?
RC
I have always had a passion for the beauty industry. From a young age my Mum would take me along to her appointments and I always knew that was the field I would work in. I did an apprenticeship with my local Day Spa and worked with them for three years before I received an opportunity to open my own salon within a hairdressing salon in Horsely Park. The Beauty Lounge opened it's doors in December 2005. To this day it is still running successfully with a team of three therapists.
LM
What inspired you develop GlowbyBeca?
RC
I had a vision of creating a product that would allow people to feel confident so they could put their best foot forward in the healthiest way possible!
I personally tan weekly. It instantly makes me look good and feel confident. How incredible would it be to take GlowbyBeca world-wide and give both men and women the healthy option of a sunless summer glow?  It's More Than Just A Tan .. it's a confident booster! Life is too short not to be glowing through it!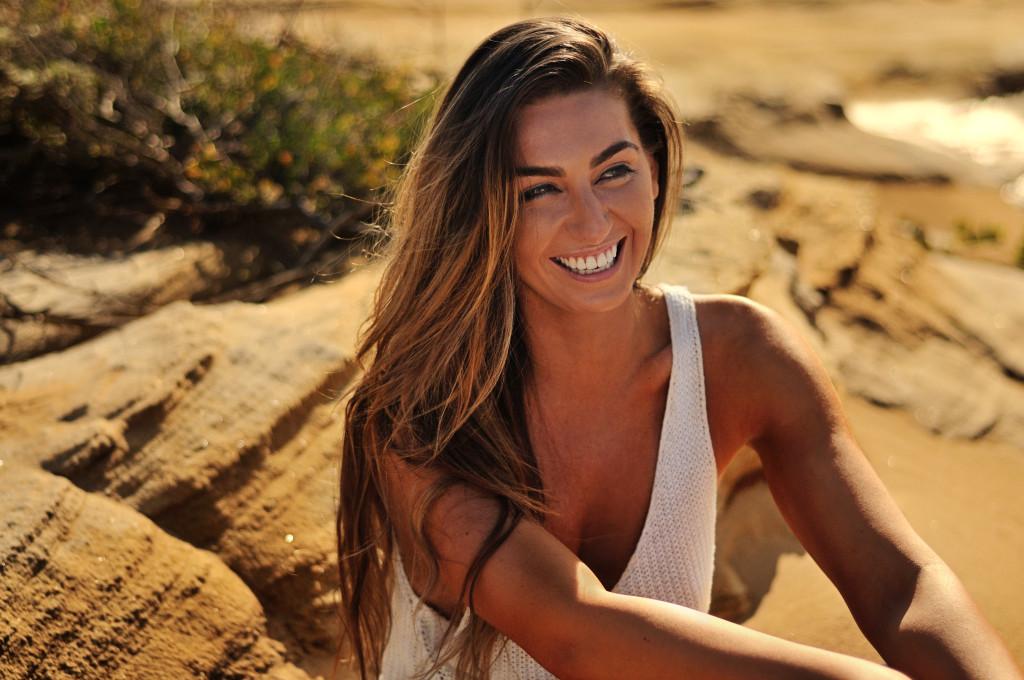 LM
What is the secret behind a great spray tan?
RC
Colour is key! A lot of testing was required to find that perfect blend.
LM
Spray tans seem to be more popular than ever.  Why do you think that is?
RC
Well, first of all they are instant!  We are all becoming a lot more aware of the harsh effects of the UV rays. Gone are the days of trying to get super dark by baking.
We all want to live a long and youthful life and spray tanning is the safest tanning option. Enjoying a little sunshine with SPF protection is always good for the soul!
LM
Do your clients have spray tans for special occasions only, or has it become part of their natural beauty routine?
RC
It has absolutely become part of their beauty routine.
LM
Are your clients mostly women or do you have men also?
Both!!
LM
Have you seen an increase in how much women spend on themselves on a regular basis over the years? Why do you think we are seeing this trend develop?
RC
I feel women have always really spent the same on themselves, however the increase for men over the years is almost becoming equal to women. I think this is great and that we should all invest in ourselves.
Our unique blend is what actually sets GlowByBeca apart from the others.  And it delivers. The product offers more hydrated skin, no stickiness, and no odour at all. It is a long lasting, rapid tan.
LM
I believe your product is 100% natural DHA. What does this mean exactly?
RC
Yes! 100% natural DHA is combined with animo acids to form the brown colour. It is non-toxic to ensure that a healthy product is sitting on your skin.
LM
How do  you feel your product differs from others in the market?
RC
As I mentioned before, colour is key!
Our unique blend is what actually sets GlowByBeca apart from the others.  And it delivers. The product offers more hydrated skin, no stickiness, and no odour at all. It is a long lasting, rapid tan.  GlowByBeca is presented in a clean and fresh way and appeals to both men and women. I specifically wanted to develop a product that was not just engineered for women.
I have always been interested in changing the perceptions around fake tanning and providing a healthy option.
LM
I believe you have recently travelled to Miami for the Nookie Swim Presentation as the official sponsor? How exciting! How long did you go for and what kept you busy?
RC
Yes! I did! And I loved it!  I was there for five days and I arrived three days before the show. I stayed at The Mondrian in South Beach. It was the place to be! I spent my days by the pool sipping on Mango Madness, a mocktail, and chatted with local bloggers who wanted to talk about about my glow! I attended the WildFox Event, which hosted live DJ's, cocktails, fashion and models … definitely a night to remember!
The Nookie Swim Showcase was a hit!!  The models were glowing. It was a point of realisation for me … the success of my product had begun! The vibe, atmosphere and people were amazing. I was so grateful for the support I received.
LM
What are your favourite events to work on?
RC
Tanning in Miami does top it!
Honestly? I love it all! From tanning my clients in the studio to the runway.  It's all super exciting and I love making people tanned and feel great!
LM
Will you be involved in Mercedes Benz Fashion Week 2015?
RC
Nothing is locked in just yet. But I will keep you posted!
LM
I believe you have just opened a tanning studio in Paddington. Please tell us more …
RC
GlowByBeca Tanning Studio is located on Oxford Street. Every tanning session is tailored to meet your personal needs. We'll offer you advice on how to take care of your tan, and we're committed to ensuring you have an enjoyable, uplifting experience. Walk out glowing with confidence!
LM
Is your studio in Paddington just for spray tanning? Do you offer other services?
RC
We're also specialists in brow shaping. Our team will ensure you leave with a more refined look that will enhance your facial features and contours. We believe that eyebrow shaping and design can dramatically transform your overall appearance.
Her advice for female entrepreneurs?

Follow that  buzz inside of you … have such clarity with your goals that you believe it is possible.  Feel what it would be like to be there. Travel one step at a time and don't hesitate!
LM
Where would you like to see yourself in five years from now?
RC
Have GlowbyBeca well established in salons in Australia, the United Kingdom and the United States. I would love to write a book, live by the water, get married and have a child …
LM
What do you love most about Australia?
RC
I love the sight of the endless seas. The view of  the country side and the beaches. This I feel can only be understood once experienced. I'm super proud to be Australian where I have the freedom and opportunity to live the life I desire.
LM
Who is your favourite Australian designer?
RC
I love Samantha Wills. Bondi girl making it big! I adore all her designs. Hearing her speak about her achievements was really inspiring and made me admire her more.
LM
Do you feel that we support our Australian fashion industry and the creatives within it?
RC
To be honest, I am pretty new to the fashion industry.  However, I absolutely love fashion! Since GlowByBeca launched, it has opened many doors and I'm enjoying meeting new designers all the time.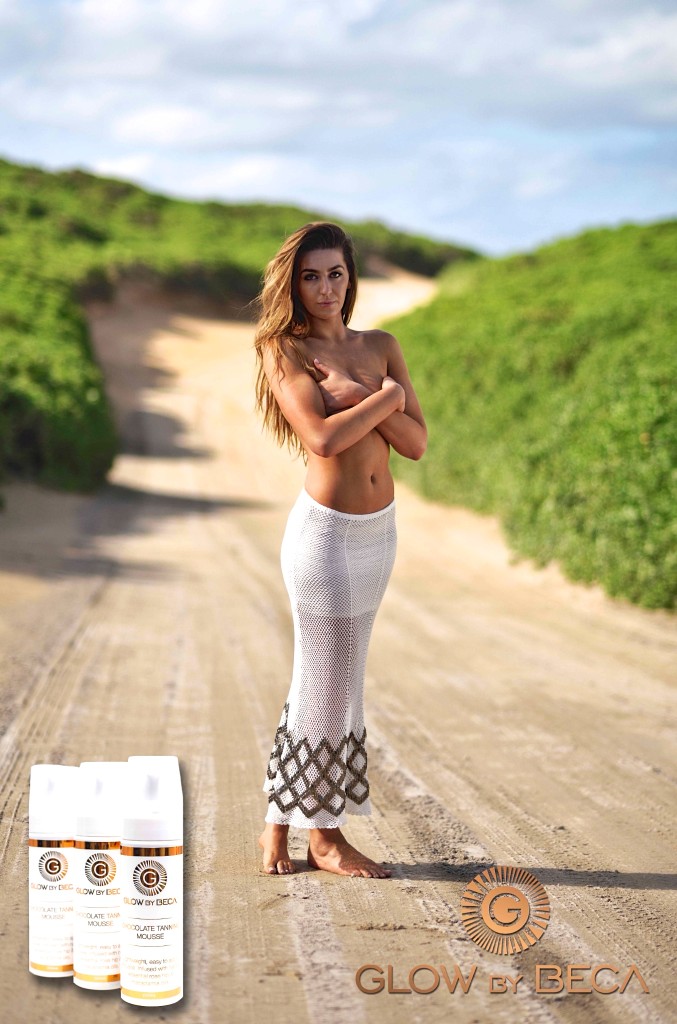 LM
What is your greatest dream?
RC
A home living by the water with a jetty. Running my business from home so I can be there for my kids and family. Having the freedom to travel the world. And of course, to experience a safari in Africa!!
Until next time,
Jade xx