I have a lot in common with Stevie. We're both relaxed in our styling but we're also conscious of elements like form and texture. I love the idea of being friends with Stevie. She's a cool chick!
One of the most exciting things about attending Mercedes Benz Fashion Week this year was the opportunity I had to interview the designer behind Stevie May, Cassie Vecchione.
Cassie who lives in Byron Bay, travelled to Sydney to unveil her first collection for the label, Stevie May admist the hype of fashion week.
I had the privilege of meeting the team behind Stevie May before their show at Carriageworks at their studio in Redfern. Cassie excitedly explained the philosophy behind the label which, if my opinion is anything to go by, I believe will see a rise to fame in the not so distant future.
It seems to have that easy feeling about it – beautiful luxurious fabrics, interesting wearable prints, and a kind-of "girl next door" identity. Importantly, it also sits at an affordable price point.
It struck me on the afternoon that I met with Cassie that the collection I stood admiring was very much an integrated version of the woman with whom I was speaking. A tall, elegant and effervescent woman, clearly intelligent and self confident it was almost as though these values had automatically integrated themselves into the fabric of the collection she has birthed.
I took the opportunity backstage, before the show, to take some pics and to ask Cassie a few questions about Stevie May …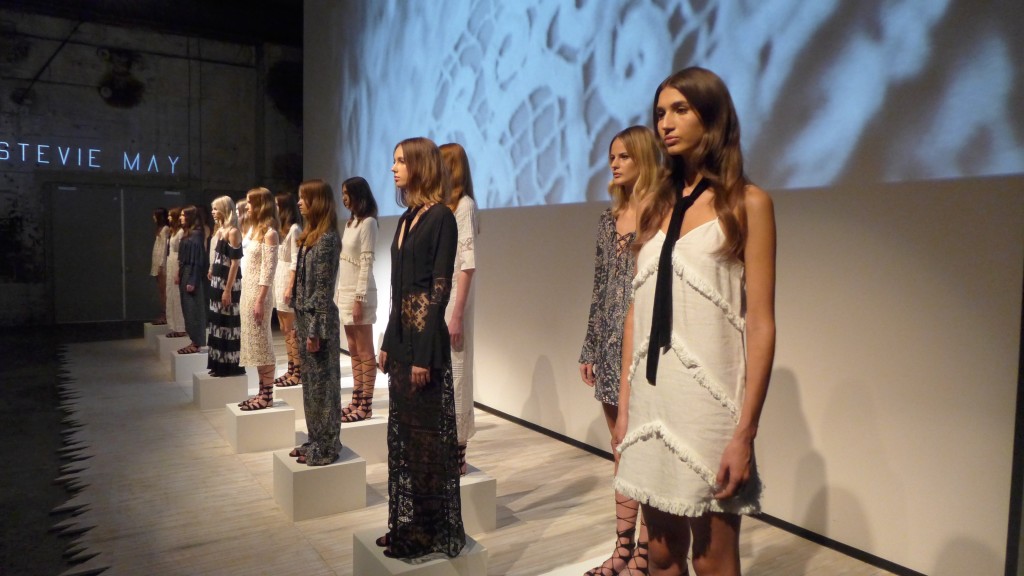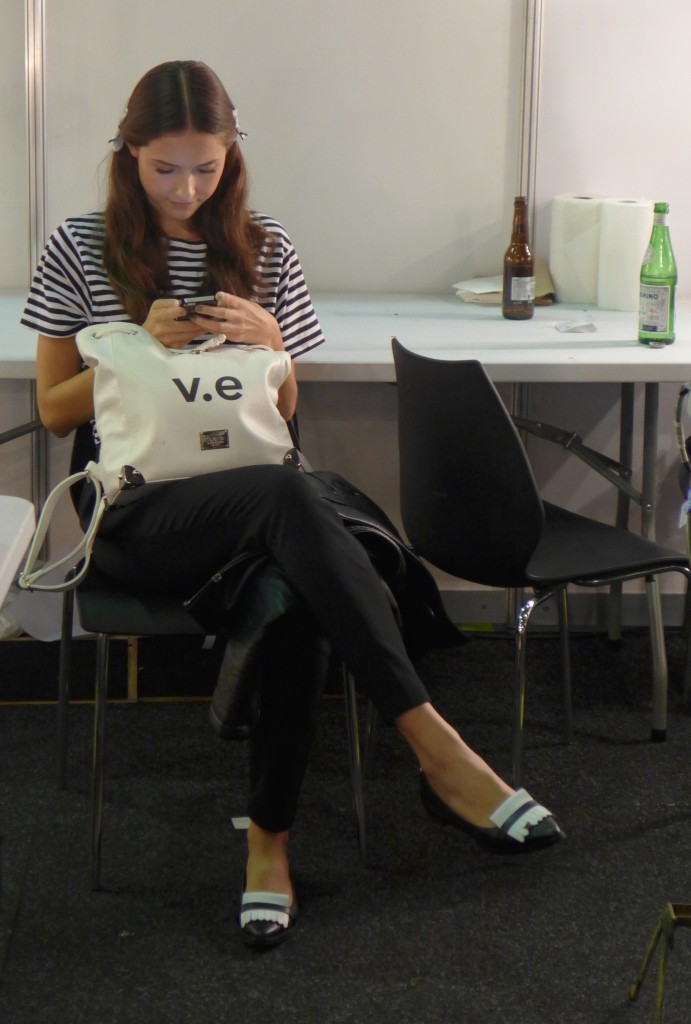 LM
What it is about Byron Bay that inspired your collection?
SM
The landscape. We reference the landscape around Byron Bay quite a lot in our collections. In our latest collection we were looking at the raw luxury of rock walls and the texture of cliff faces around the area. In particular it was the notion of texture that we were interested in.
LM
How was the collection received at MBFW 2015?
SM
We were thrilled with how the collection was received. We wanted to do something a little different to your average runway show and we also wanted to give guests the opportunity to have a closer look at the pieces. I think this was a really good approach for a first collection and the feedback we received from both buyers and media reflected this.
LM
When we viewed the collection on the night you were very touched by everyone's response. What emotions arise for you around your job as a designer?
SM
As a designer, it's always nerve wracking showing people your work. This was my first time as a part of MBFWA and as it's such a prestigious platform, the nerves were certainly there! I think because of this, guests' responses were all the more affecting. It was really humbling to have such well respected people in the industry express their love of the collection.
LM
Your use of fabrics is intriguing and refreshing. What inspires your choice of fabrics?
SM
With the spring and summer collections, fabrics were often chosen based on the theme of texture that we've been working with. For that reason there's an eclectic mix of fabrics this time around. We're using raw cottons, brushed silks, everything has an interesting texture and works with the over all look and feel of the collection.
As well as this though we're always thinking about the Stevie May woman who we are designing for. Fabrics have to feel luxurious and drape well over the body. We're well aware that if we keep making clothing that makes women feel confident, then they'll keep coming back season after season.
LM
Who is the Stevie May woman?
The Stevie May woman has a relaxed style. She's confident and intelligent and her wardrobe reflects this. She's the kind of woman who's a traveller at heart: she's an old soul who is completely comfortable in her own skin.
SM
Do you see Stevie May in yourself?
Haha, yes! It's an ongoing joke in the design room that I have a lot in common with Stevie. We're both relaxed in our styling but we're also conscious of elements like form and texture. I love the idea of being friends with Stevie. She's a cool chick!
LM
See? I knew you were gonna love this designer … and Stevie May.
Wait … aren't they almost the same person?
Until next time,
Jade x