I think fashion bloggers have unconsciously bridged the gap between what has always seemed untouchable and created a fashion language everyone can understand.
This week I caught up with ZhangPasi, the Sydney "brother & sister" blogging duo, Warren Pasi, Boy in the black Bow Tie and Cissy Zhang, Girl in the Bunny Ears.  If you were at Mercedes Benz Fashion Week in Sydney this year you may have seen them front row yourself!
We chatted about all things fashion and the importance of the emerging and ever changing role of the fashion blogger and other style influencers. We dreamed a little about building meaningful and beneficial collaborations between designers, bloggers, creative teams, and industry professionals in order to bridge the gap between industry and consumers. I think we are beginning to see the importance of breaking down some barriers and having an open and honest conversation about the state of the industry and what we can all do to create a more prosperous one.  For Australian fashion to thrive again it is essential that we support our local Australian industry by purchasing and proudly wearing their designs. Anyone that knows me is aware that I believe we have the best designers in the world … 
It was wonderful to connect with fashion enthusiasts who love the Australian fashion industry almost as much as I do.
Welcome to our little revolution.
Jade xx
What inspired you to be fashion bloggers?
CZ
I would always be flipping through Vogue looking at the editorials and one day decided to create my own to be creative and show my personal work to the world.
WP
I really just fell into fashion blogging after studying fashion design.
LM
How did you come to work together as the ZhangPasi duo?
CZ & WP
We actually met at Mercedes Benz Fashion Week 2014.  Although our blogging personas are brother and sister, we are not actually related! We did our first collaboration in late 2014, wearing Lobelia Couture and Vivienne Westwood and a pair of bunny ears each. It was such a great shoot. Every time we worked together, we were completely in sync and had the same vision for our blogs. We decided to become a blogging duo in March 2015.
LM
Do you regard yourselves as Style Influencers for Australian fashion?
CZ & WP
I guess so. We get many comments from our followers asking what we are wearing so they can buy the item.
LM
Are you both models?
CZ
Yes. I have worked as a model, and this is important because our shoots have an editorial focus. The modelling element is very important.
WP
We both come from a modelling background. Brands seem to be foregoing their use of celebrities and choosing style bloggers instead as the faces for their campaigns. The role of a style blogger has changed dramatically in recent times.
LM
How do you feel you best represent your clients?
CZ
When we work on a blog shoot, we not only capture the clothes through photography but try to capture the mood and atmosphere of the brand by creating a story.
WP
I hope it's through the online content that we create … we make a conscious effort to create a balance between our role as style influencers and the brand we represent.
LM
Do you like to work with overseas labels?
CZ
We love working with local designers and supporting local talent. It is great to meet them and visit their showrooms. We are also open to working with brands anywhere in the world as our readership comes from all different countries.
WP
I love working with overseas brands as they give us creative freedom.  I think Australian brands are only just starting to work with fashion bloggers to promote their brands effectively.
LM
As bloggers, what is your major contribution to the Australian fashion industry?
CZ
As bloggers, our main desire is to inspire our readers. We are essentially marketing a brand whenever we collaborate with a designer, so we make sure that we are working with brands that we love and trust.
WP
Style Influencers have made the Australian fashion industry something the general public can relate to.  I think fashion bloggers have unconsciously bridged the gap between what has always seemed untouchable and created a fashion language everyone can understand.
LM
What do you love about Sydney fashion style?
CZ
Sydney fashion is so diverse, which we love. You can find some hipster looks in Newtown, to laid back casual styles in Bondi Beach and more sophisticated outfits in the city.
WP
Each part of Sydney has it's own style set that rules with a stylish fist. I love seeing the diversity as I run about town.
LM
How important is it for a fashion designer's collection to be shown on a Runway?
CZ
Runways are a great way to showcase their collections.
WP
Yes, I think fashion week is an important event that designers need to take part in.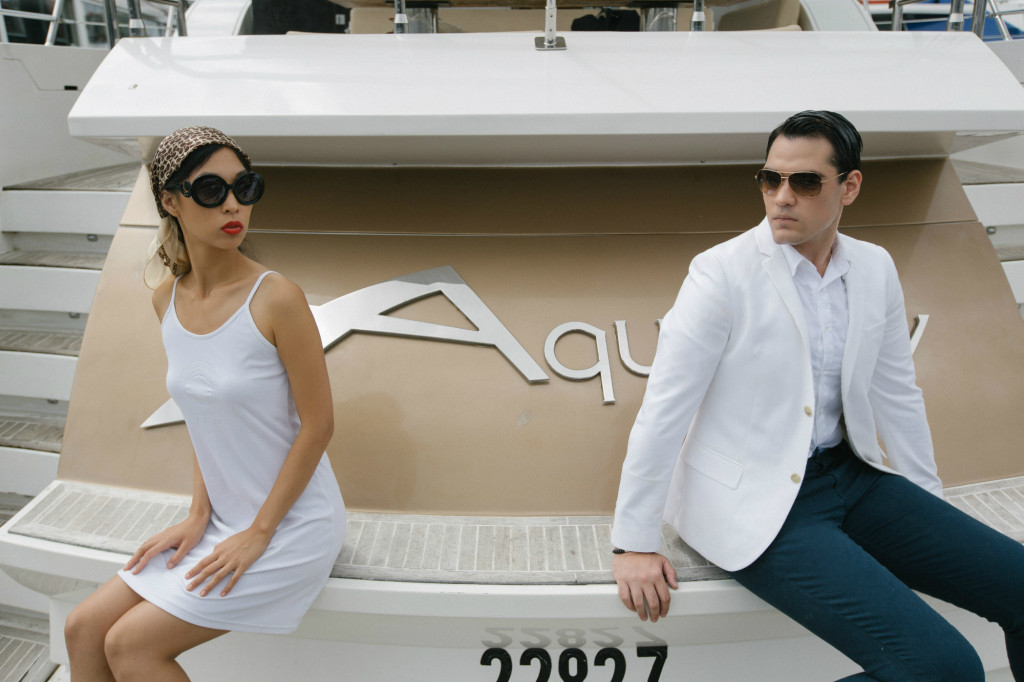 LM
What are the main challenges you face as a fashion blogger?
CZ
Being unique is the most important thing for a blogger.  Because there is so much competition, we need to stay true to our personal style and original vision.
WP
Social media! What I personally struggle with is what I can and cannot post, especially on Instagram. When all your social media is public it's hard to define the boundaries of when something is too personal or not on brand.
LM
Do you think it is important to wear Australian labels?
CZ
It is a good feeling to know what you are wearing was designed right here in Australia and that you are supporting local talent. I love wearing IXIAH and Shakuhachi for a fun and chic look.
LM
Amen! I love hearing that people understand the importance of purchasing Australian labels, wearing them proudly and in doing so, support our local talent.
WP
Totally! I love Toni Maticevski for the girls because his work is amazing. Herringbone for the guys for the quality and their bold and masculine look.
LM
How would you like to see the Australian fashion industry better supported?
CZ
Bloggers, magazines and the media in general need to be more supportive of Australian designers.
WP
I would like to see more investment, funding, and mentoring opportunities for Australian designers. There needs to be significant change in these areas, for the Australian fashion industry to continue to grow.
LM
How do you see the future of Australian fashion?
CZ & WP
Australian Fashion is already gaining international recognition.  There's so much untapped potential here in Australia …
LM
What influence do you believe social media has had on our fashion industry?
CZ & WP
Social media has completely changed the industry and has given a voice to so many creatives within the industry creating worldwide exposure.
LM
What's next on the agenda for the ZhangPasi duo?
CZ & WP
We are hoping to head to New York Fashion Week and London Fashion Week this September. It will be our first international fashion weeks, so we are super excited!
Accreditation: Photography Liam Pratt
Until next time.
Jade x