On 11 April 2018, Universal Brand Development executed a sensational Australian fashion industry coup. In collaboration with Jade Cosgrove of Label Ministry, the entertainment giant staged the first ever film-fashion runway event to take place in Australia.
It was a meeting of,
Well … dinosaurs really … life size ones at that; and the biggest movie studio in the world collaborating with seven incredible Australian designers.
Yeah. That's all.
The story goes like this …
The glamorous invitation-only event was a night to remember, as "Jurassic World – Fallen Kingdom" came alive on the runway at Australian Technology Park, showcasing seven of Australia's most talented designers who unleashed their Jurassic inspired collections.
"It was so exciting to see our partnership with these incredibly talented Australian designers come to life down the runway last night. These inspired collections embody and celebrate the upcoming theatrical release of Jurassic World: Fallen Kingdom, providing Australian fashionistas a deeper connection to the beloved franchise", said Jo Pascoe, Country Director, Universal Consumer Products, Universal Brand Development.
Sarah Joseph Couture Bridal couture and evening wear showed pristine and precise construction employing the use of British tailoring techniques. Highly coveted bespoke pieces, with laces tailored in a modern and forward-thinking style are sought after the world over. Dramatically blended laces, leather, bead work and flowing chiffons made a stand-out statement to celebrate the 25th Anniversary of Jurassic Park.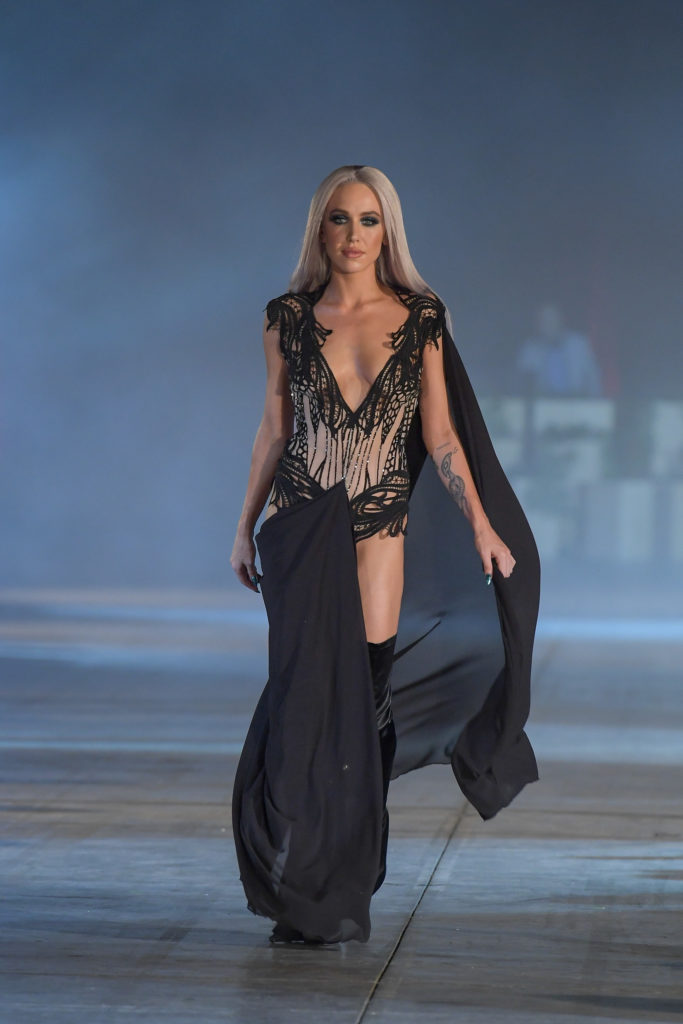 'We. Can. Save. Them.' by A.BCH, a label founded by Courtney Holm, bases itself on the responsible principles of Create, Care, Circulate. A radical disruptor of the current fashion industry standard of Take, Make, Dispose, A.BCH showcased a collection that represented this activism artfully connected to the Jurassic theme by drawing from the mission of the Dinosaur Protection Group. Presenting 'Scientists' and 'Activists' on the runway A.BCH connected the audience to the deeper plot line of survival, revealing not only humanity's tendency to dominate, but more importantly their unique ability to drive change and selflessly contribute to the greater good.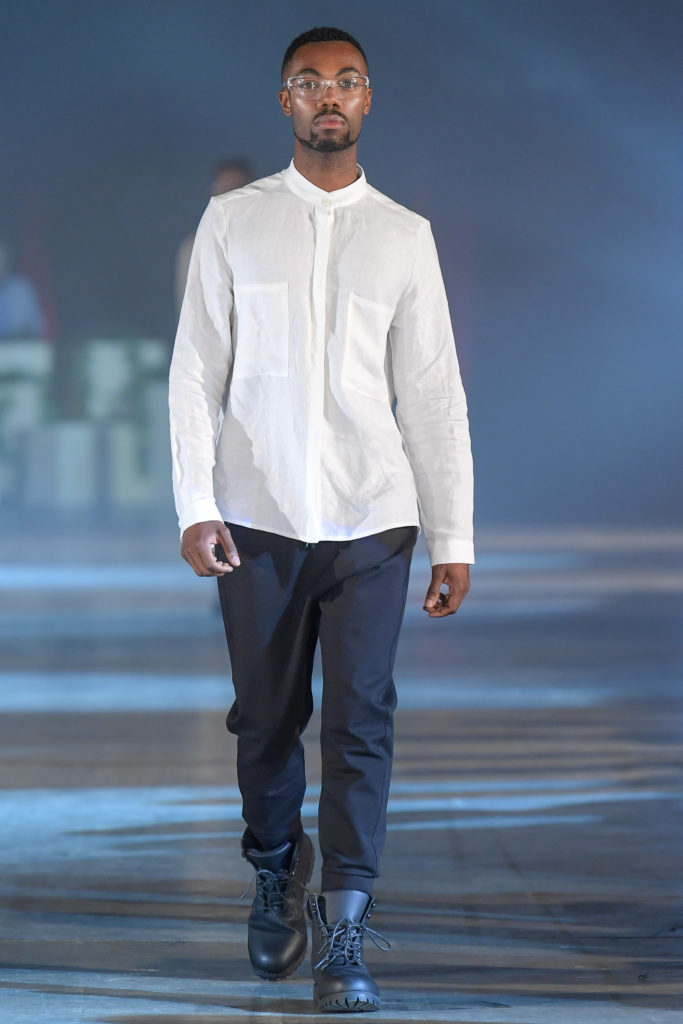 EWOL, the epitome of fantasy and sci-fi, is the brain child of Angela Lowe, and Jurassic World proved the perfect alignment and inspiration for this up and coming label. Focusing on the more specific attributes of dinosaurs, EWOL explored fully the artistic license through teeth, scale, eyes, claws and skin tones. Angela endeavoured to create an immersive dinosaur experience, through her own choice of colours, shapes and prints, to send the audience on a journey, and at the same time, paying homage to the Jurassic World franchise.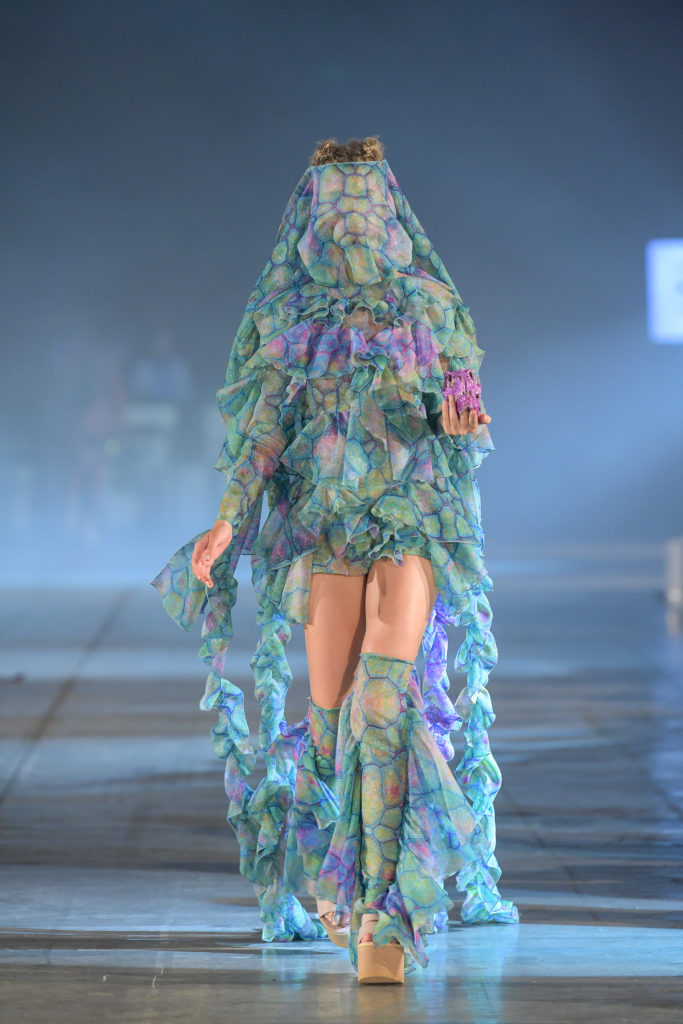 A child of the 90s, Keegan Hunt, of Keegan, a Melbourne label, grew up on movies like Jurassic Park. "My collaboration for the Jurassic World Runway led to the development of a range of garments, featuring minimalist hand-drawn dinosaurs and skulls", said Keegan. To complement the apparel, Keegan made use of the 'amber' from the very first release in 1993 for inspiration, to create nostalgic, yet modern, statement earrings.
Leah Da Gloria's capsule collection was inspired by the combined textural and colour palette of the natural environment, the dinosaurs, and habitat from the movie itself. Sleek silhouettes juxtaposed with earthy tones and prints, organic textured and custom made beaded hardware complemented the natural fibres of silk and leather. A glorious merging of gracefulness and fluidity hit the runway in epic Jurassic glory.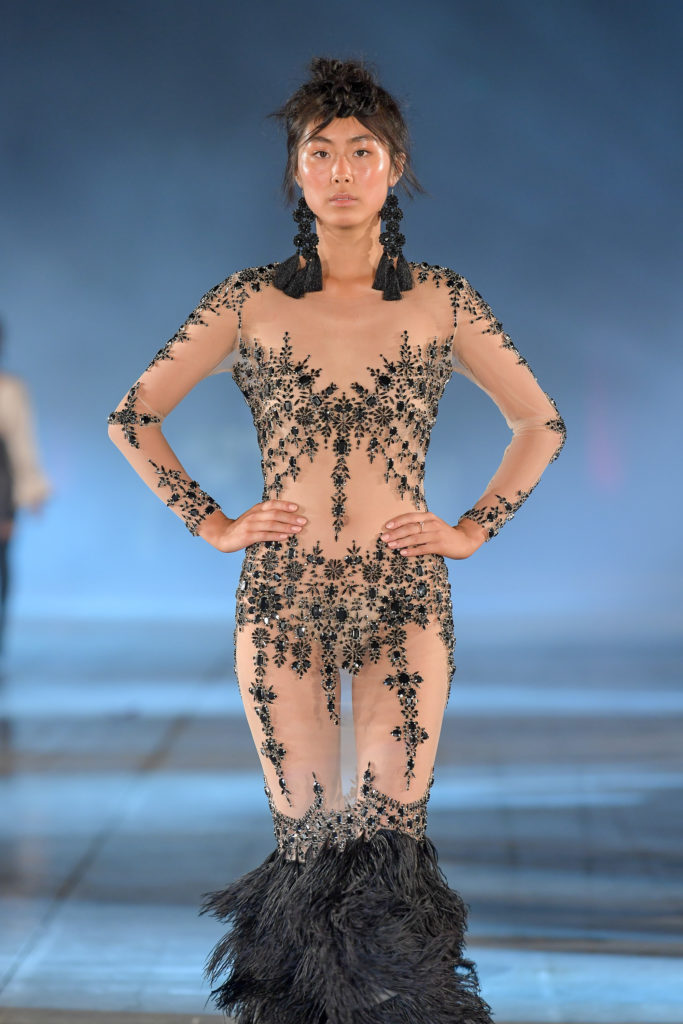 Vincent Li took the deepest part of our psyche to synthesise the two conceptual parts into complex storylines – 'Disguise' and 'Reborn'. Silhouettes contrasted by different textures, panels, layers, disguising bodies in a monochrome colour palette took the audience on the most special of Jurassic journeys.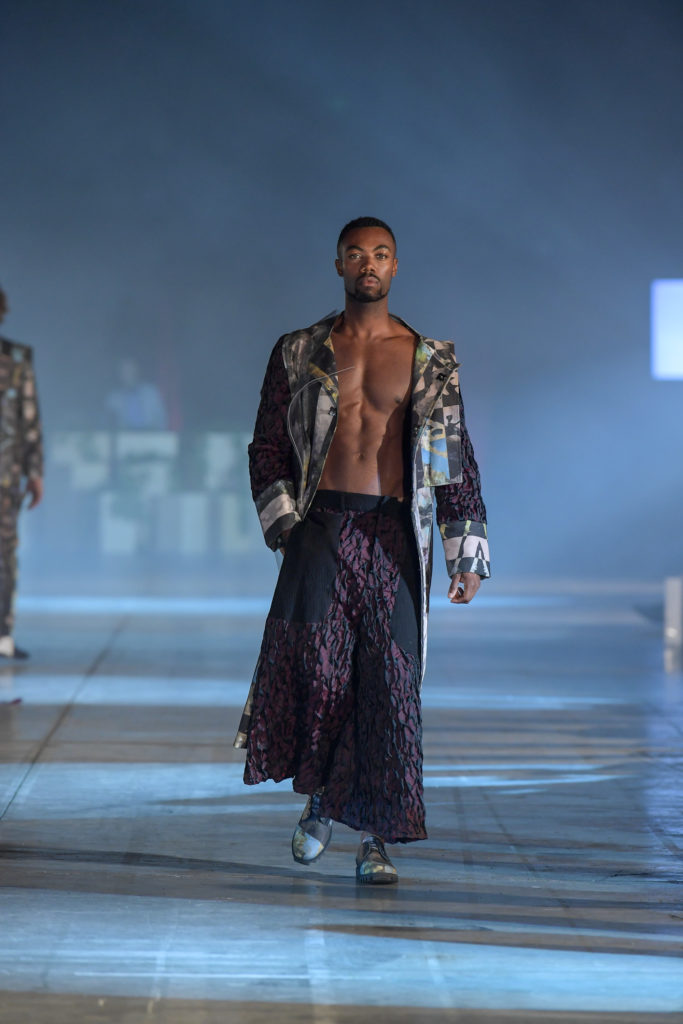 To close, LunarSand, the swim label renowned for its unique and edgy aesthetic by Ruby Licciardi, exhibited the power of a collection hinging on the use of the iconic cult imagery. Pieces showed clever and significant use of jungle prints, punctuated by prehistoric dinosaur skeletons, abstract dinosaur skins and the famous Jurassic World logo. The collection incorporated women's swim, children's swim and athletic wear. Silhouettes were clean and sophisticated, retro, yet contemporary, with an influence of street. Colour ways were deep, luxurious, and subtle, yet understated. Neutral nudes, shades of khaki, and bottle green featured boldly. Black and white graphics were strongly emphasised but softened by desaturations of magenta and violet.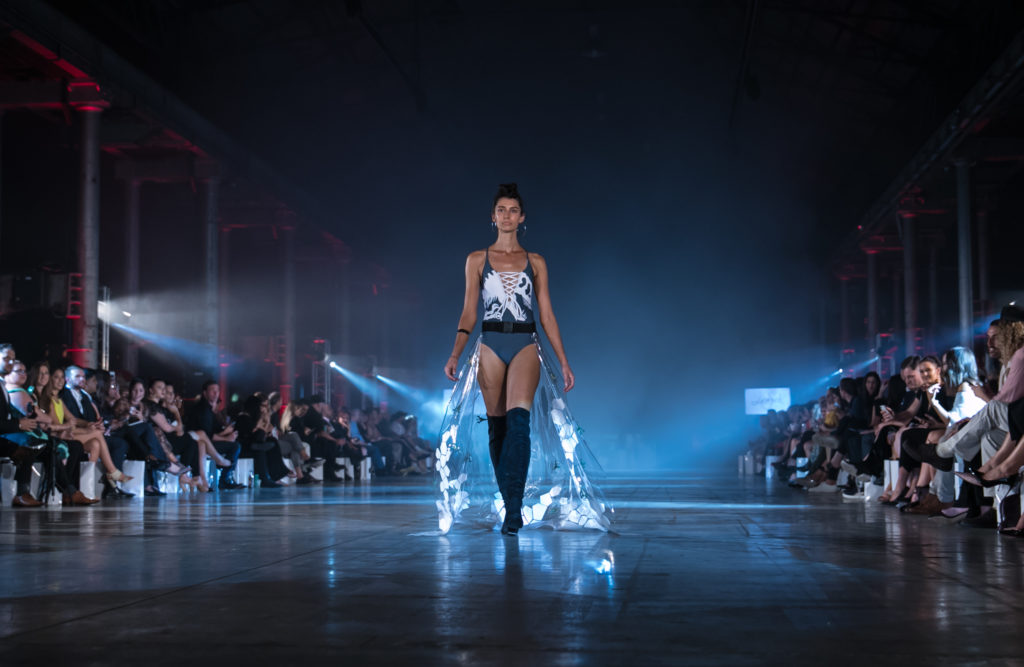 The runway roared that night.
The Jurassic World Runway has to be the perfect, organic alliance of fashion and film. As Australia's fashion talent paid tribute to Universal's cinematic pre-eminence, Universal Brand Development returned the compliment to Australian fashion, unleashing its mighty public relations vehicle for the benefit of the industry. And what an alchemy it was.
Never before has Australian fashion enjoyed the might of an illustrious brand such as Universal. 
There is so much more to share about this event … so keep checking back for updates about red carpet pics, and backstage insider pics …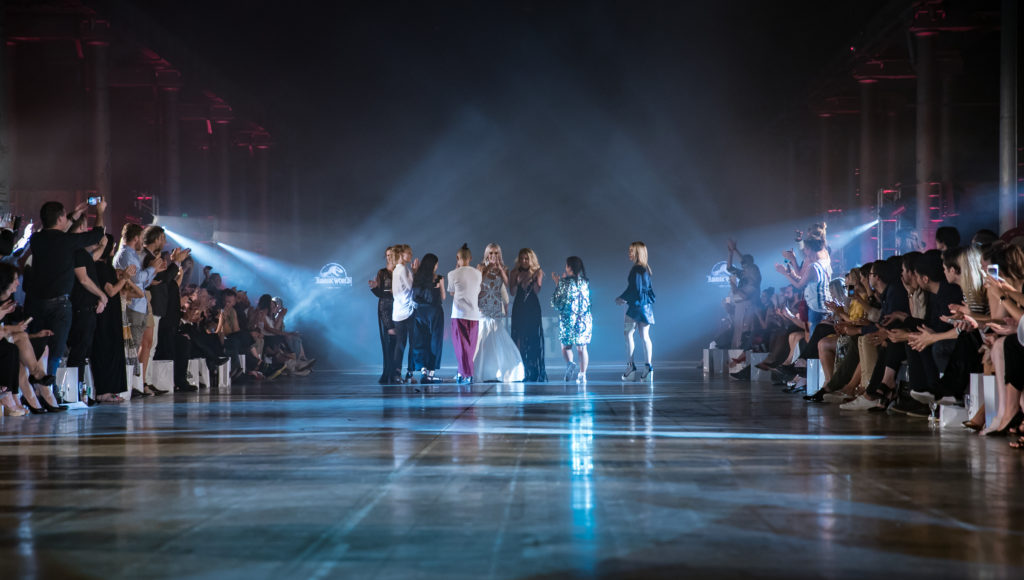 A HUGE thank you to Universal Brand Development … you SIMPLY rock!
I would also like to thank the following people and companies for their commitment to Label Ministry and my vision … Suzie Grierson Hair | Glow By Beca | Coffee Alchemy | Dashing Print | AURA Makeup | Sanpellegrino | Bella Management | The Creative Collaborators | Alex Zehntner | Sophie Drysdale | Laura Washington … and so, so many others …
Until next time,
Jade xx