If you've been keeping up with our latest articles, you already know that Label Ministry ventured to lovely Auckland for New Zealand Fashion Week in August this year.
While most of Jade's mission at NZFW revolved around the production of the unreal runway show for Heaven Swimwear I was lucky enough to have some time to kick back in the front-row of several other shows.
While I relished my time at every show, one label stood out among the rest. An… orange diamond in the (not-at-all) rough, if you will …
Enjoy xx
Tres Marias 2018  by Ruscoe ArtFashion
The New Gen Emerging Couture runway session showcased several dazzling new brands I'd never heard of, but the label I found most awe-inspiring was Ruscoe ArtFashion.
From the get-go, the Tres Marias 2018 collection from Ruscoe ArtFashion captured my complete visual attention.
A colour scheme of rusts, metallics, and black.
Textures of tassels, fringes, jacquard and silk.
The edgy take on classic silhouettes.
The elegant-come-alternative styling of the models, all with slicked, straight hair, Lennon-esque sunglasses and head garlands of flowers and butterflies worthy of a Lana Del Rey music video.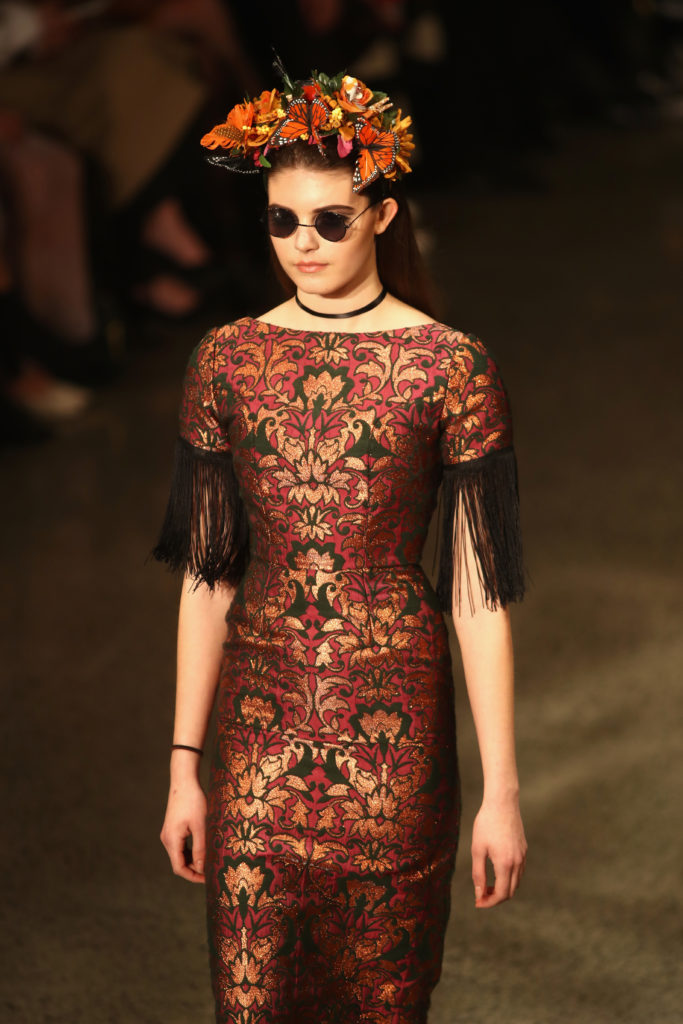 I was completely struck by this visual magic– And that was even before I got in touch with Ruscoe himself and learned about his influences, and what the collection means to him.
Tres Marias pays homage to the triumvirate of influential women that touched designer Ruscoe Bustenera's life and speaks to using art as a means of overcoming the grief associated with each of them passing away.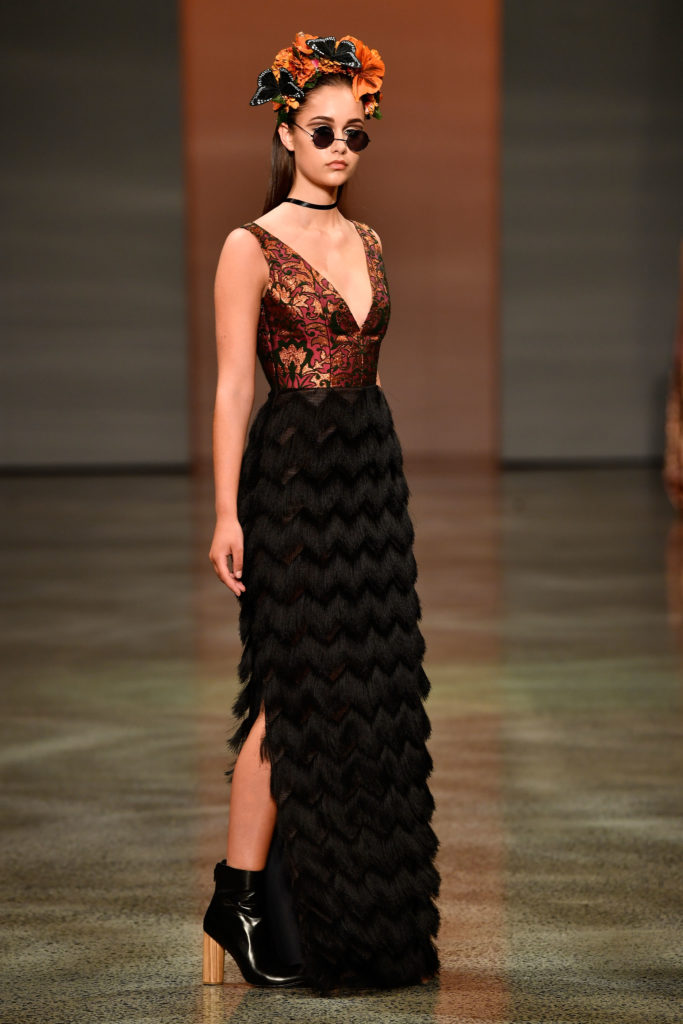 The Triumvirate
Tres Marias: The 'three Marias'
Lady Orange
Ruscoe lovingly describes his late eldest sister as his 'confidante, role model and rock.' Their closeness as children translated into adulthood, seeing them inseparable. Ruscoe is filled with admiration for his eldest sister: her flare for leadership, knack with colour-matching, and role as his best friend.
The statement colour of Tres Marias, orange, was her favourite colour, and "the butterflies and flowers on the headpieces were an ode to her wedding day.
There were lots of orange mariposas (butterflies) and all the floral detail was orange."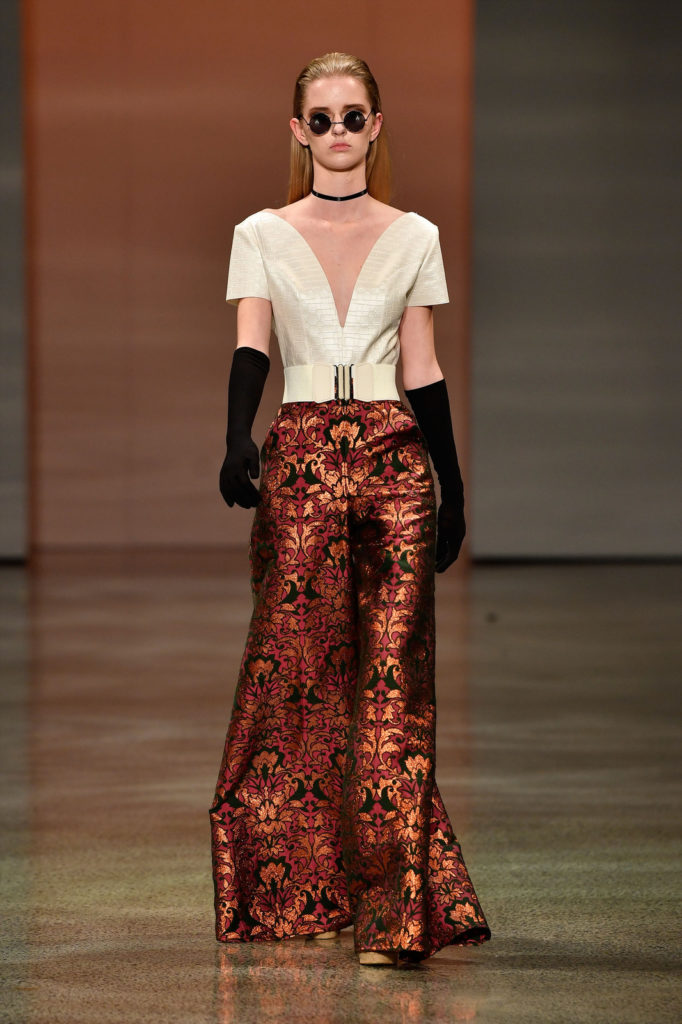 Mama
Lady Orange and Mama both loved wearing polka-dot square pants, which inspired the silhouette of the wide-leg jumpsuit from Tres Marias.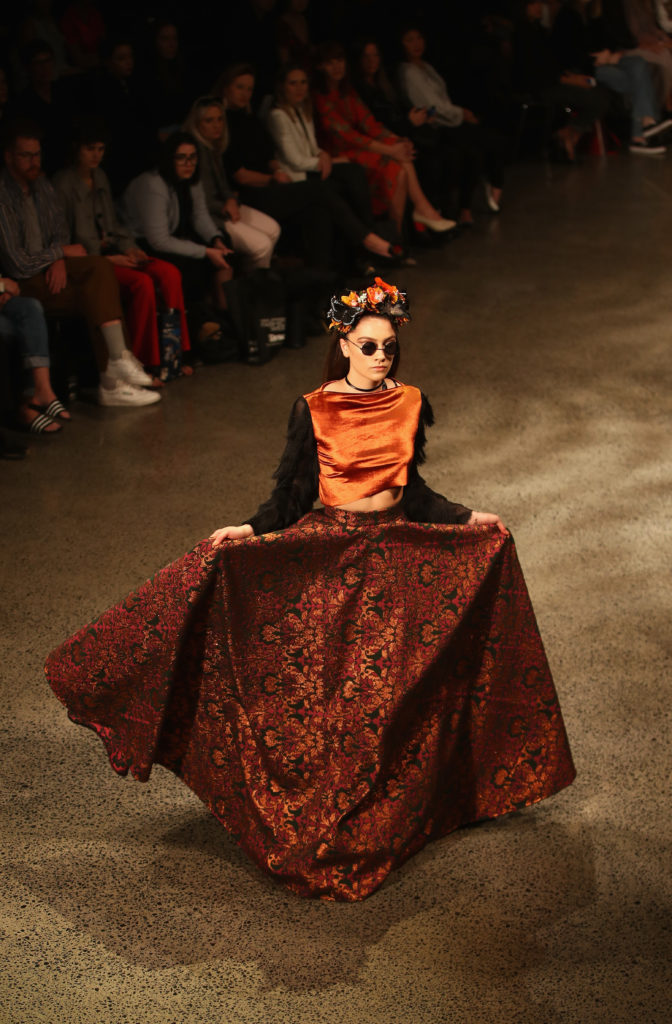 In her life, Ruscoe's mother had a passion for dancing. Jazz, cha-cha, salsa, ballroom– The. Lot.
Early exposure to the style of the dancing scene, and witnessing his Mama's fire for movement, possibly saw the beginnings of Ruscoe's fondness for on-trend tassels that he admires in other designer's work, such as Alexander McQueen.
No matter how sick Mama became before her passing, she continued to dance. "The fringe, the tassel, texture and the movement of the garments are all inspired by Mama."
Nanay
Ruscoe's grandmother "was a woman of Catholic faith," a faith that was so present in her life.
During his childhood, Nanay took Ruscoe to visit the church of "The Lady of Lourdes," located in his hometown of Lucena City in the Phillipines.
He says: "I was instantly drawn to the stained-glass mosaic with an intricate variegated pattern. The light reflected the Jacquard pattern and strong colours on the aisles of the church… The metallic pink and black from the brocade, the metallic copper and fuchsia pink from the lurex Jacquard" in Tres Marias were prompted by his time spent with Nanay.
ArtFashion, overcoming grief, and cancer awareness
As well as Tres Marias being a love letter to the three influential women he lost, Ruscoe Bustenera has hopes and intentions to promote cancer research alongside his label. Both Lady Orange and Mama regretfully lost their battles with cancer. The beginnings of Ruscoe's fashion designing career in Manila funded his Mama's cervical cancer treatment, her dying wish being that he would join his father in New Zealand.
Soon after he fulfilled this wish in 2011, Mama passed away. "It was like (she) was trying to prepare me for the next stage of my life." It is Ruscoe's wish to stress that "as a support person, you also must take care of yourself.
Take care of your heart and take care of your mind… Sadness can be used as an instrument to propel you to really achieve your dreams and your goals in life.
It will make you see how life can be too short."
As couture is art, it can be said that Tres Marias is a display of how therapeutic art can be.
Not only did it beautifully honour Lady Orange, Mama and Nanay, it brought immense joy to me and, I'm sure, everyone else who watched the collection.
Congratulations on these stunning pieces, and the pride you have brought to your Tres Marias.
I hope you all love Ruscoe Artfashion as much as I do, and find a piece that pays tribute to YOUR identity!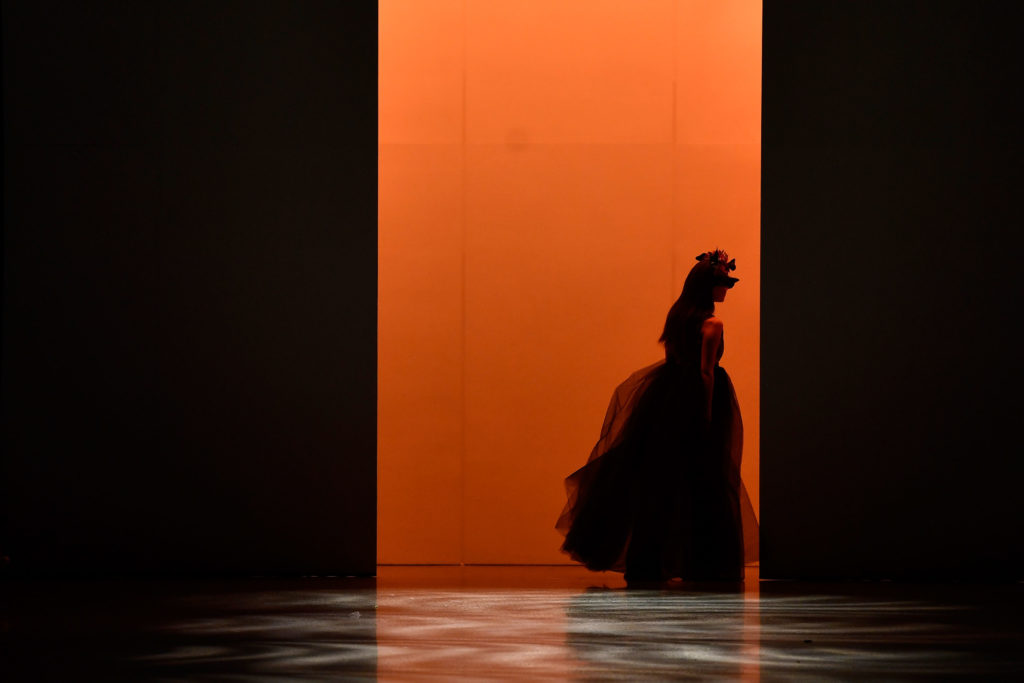 Until next time,
Sophie xx