In recent weeks, as I do every year, I have been liaising with the wonderful emerging designers from Fashion Design Studio as they move closer to what will be their greatest moment thus far, in their fashion careers. The FDS Graduate Runway. This is where their final collections are put on show celebrating the amazing detail of the many aspects which have made up their fashion design degrees.
Claire's name was incredibly familiar to me and as I pondered, I realised that she had been one of the wonderful volunteers at the Jurassic World Fallen Kingdom Runway developed and produced by yours truly in 2018 in collaboration with Universal Studios to celebrate the 25th Anniversary of the Jurassic Park franchise at Australian Technology Park. The first collaboration of its kind for Australian fashion.
I asked Claire how she enjoyed the experience … 
CM
The 2018 Jurassic World event held at Australian Technology Park was the first big fashion event I ever got to experience/work behind the scenes at. The quick changes and energetic atmosphere were super new and exciting to me as a baby fashion student and the event was a great introduction to the inner workings of a runway. It gave me great insight into the organisation and work that goes into a show. It was an invaluable experience.
Meet Claire Merrazza and her label, Nokoff.
Enjoy!
What was the driving force for you to study fashion design?
I have always been interested in clothes, dressing up and having fun with fashion. I wanted to study fashion design. It is exciting and is a way for us to express ourselves and be whatever we want to be. The expression of it is limitless.
What are your hopes and dreams for your chosen career as a fashion designer?
I hope to work in and to explore many different facets of the fashion world, from photography, styling and costume to designing, creating and making. I want to collaborate with and meet other creative people, to see lots of new places and to learn as much as I can about my field and about myself.
How would you describe your particular aesthetic and where did the inspiration come from for this aesthetic?
My aesthetic can be described as playful, novel, humorous and colourful. It is simply what comes naturally to me and is generally inspired by how I dress and what I admire in clothes and styling. My designs are a hyperbolic version of how I dress myself. Experimentation with imagery, colour and texture, as well as the idea of "playing dress-ups" are all central parts of my aesthetic.
Who do you see as your customer?
Anyone who wants to have fun with the way they dress and to feel less inhibited. My ideal customer has no age, no gender, and no body type — and  fashion the ideal of fashion which includes everyone is something I hope to encourage.
How much importance do you place on the theatre of "the runway"?
I think the runway is an exciting atmosphere. There are other ways to showcase clothing that are also welcoming and accessible to people, especially those that are new to exploring fashion.
What do you feel is the difference between a successful fashion designer and an unsuccessful fashion designer?
I think a successful fashion designer looks to themselves for reassurance of what they are doing, not to others for trends or profits. To me, staying true to oneself as a designer is what true success means, and it deeply enriches a designer's work when they do so.
How do you feel the fashion industry has supported you so far?
So far, I have felt most supported by my peers and fellow creatives within the industry. The understanding we have of one another — especially through tough times of self-doubt and unsureness — is one of great importance in an industry so tough.
What changes and level of support would you like to see for the future of the Australian fashion industry?
Increased opportunities for emerging designers is something that I think everyone would like to see in the near future. Graduates have lesser opportunity and are forced into working countless internships before a chance in a design role. The Australian fashion landscape has a lot of growth to do in terms of jobs, variety and inclusiveness and I hope to see that shift sooner rather than later.
What is the hardest thing you have had to face in your journey of the fashion industry so far?
Undoubtably, staying true to what you want to design can be really difficult due to outside pressures and constant exposure to other creatives design work. Not following trends can be really tricky but it is so worth it to stick with your personal vision and what you truly want to create.
What does Australian fashion mean to you and how do you see it in terms of contrast with other countries and regions of the world?
I feel that Australian fashion is a little bit timid and hesitant to jump into the more eccentric and experimental fashion seen in other parts of the world. Australian designers and students have some crazy big talent and I hope they can assist in helping Australia have a bigger standing on the global fashion stage.
What does the word fashion mean to you and the people around you?
Fashion is a means to connect with others and is also a way of exploring and connecting to your own identity through self-expression.
People often describe fashion as vacuous and unnecessary. What would you say to people who hold this opinion?
Unfortunately the fashion world can be very exclusive and polarising, but things are definitely changing. I think we need to keep pushing for a fashion world that includes everyone. To those who say fashion is trivial, I believe that it's a matter of engaging with the parts of fashion that connects with ones sense of self.
Do you feel excited about your fashion career or do you feel that it is peppered with anxiety about the future?
It changes every day!
Like most creative careers, there are times of anxiety, but the outcomes and exciting times outweigh the fears.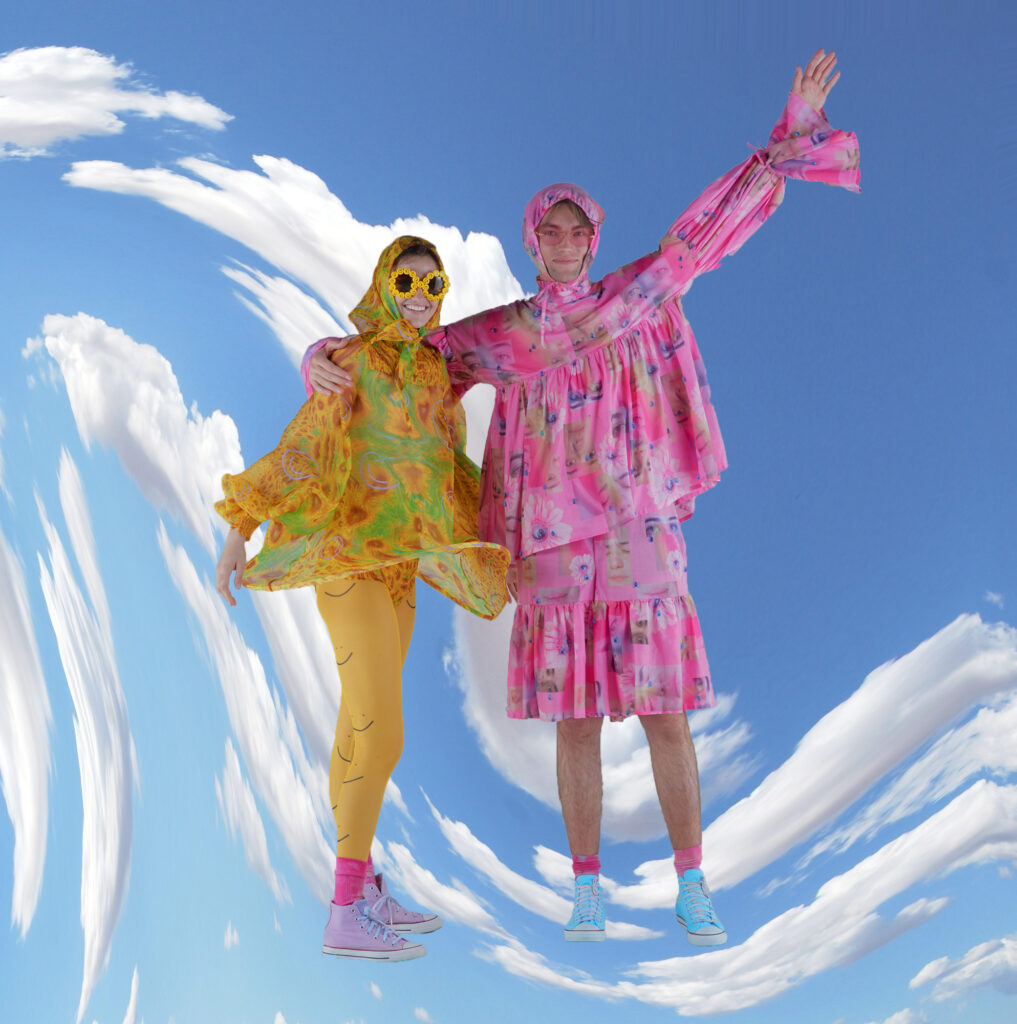 How do you feel about stepping out in the big wide world of fashion after having been in study mode for three years?
It's scary, but I'm really not  fussed as long as I'm constantly creating and having a good time. I'm looking forward to learning and growing and expanding my skills. So much has changed for me in the last three years since I started studying fashion, and at this rate I can't wait to see what's in store for me in the future.
What are you looking forward to the most for your graduate runway and your moment of glory?
To see the work come together as a cohesive collection will be so rewarding. It's surreal to finally see the illustrations on the page and the ideas in my head become a walking reality.
How do you feel about having older models walk in your show, when this has not been done before.
I'm really excited about it and I think it's something that will become a permanent change in the industry, which is so important and fantastic.
So often older people are largely excluded from being represented in fashion and are expected to conform to a certain way of dressing.
Fashion should be fun for everyone, and self-expression doesn't become less important after a certain age.
Amen!
What would you like to see as the format of the runway in the future?
I would love to see a rise in fashion displayed in showcases or performance-art like artist Vanessa Beecroft's style. I think it's another way that the designer can create a stronger and more cohesive vision for their collections that enhance the power of the garments.
The creation of their textile designs alone come into being from the most incredible sources … in one case, from the students own photography. Textiles, dyeing, devore, screen printing … are the basis of the incredible work which is consistently turned out, year in and year out at Fashion Design Studio.  The lecturers are full of heart, love and professionalism. Their enthusiasm and devotion to the industry they love and the people who choose to walk in their original footsteps is unending. To all of them, Alex Zehntner, Laura Washington, Julie, Mary and Narelle, I say "Thank You". They are the unsung heroes in this story as they are the foundations of the success of the long list of Australian fashion icons that have stepped out of this institution many moons ago now. This year, we are entering a new paradigm for the Graduate Runway, in line with the release of my new project, The Ageless Runway, where I will be walking along with some other silver foxes 
 I think we are all aware now that fashion is for everyone, and we all want success for everyone in all sectors of the industry. This is our new future of Australian fashion, and it always starts with those who will literally form the future of our industry … the wonderful emerging talent. In the next little while on the Label Ministry platform I will be showcasing the FDS designers who have chosen to have the golden oldies walk for them.
Stay tuned for the next interview …
Until next time,
Jade xx