In my opinion, Amxander is headed for the big time. The world at large awaits their obvious talent and next week, Melbourne, is their fashion oyster!
It is ramping up to that time of year again.
Melbourne. VAMFF. The fashion festival that spreads as far and wide as the city of Melbourne itself.  The excitement is palpable and why wouldn't it be?  With so many designers descending upon Melbourne to show their collections on the runway, and many of whom, call Melbourne home.
I am particularly excited this year as I have always been a fan of designers who tackle the menswear side of things. I feel that menswear is a part of the market, particularly in the emerging sector, which historically and currently is significantly under represented, at least by local designers.
This year however, I am thrilled to say I will be watching with great anticipation as Jason Pang's label, Amxander shows off! And show off they will.
Talent like this, I haven't seen for some time.  It's wonderful to think that the dressing of the modern man is being catered for so beautifully, with the likes of ASSK, Article. by Courtney Holm, and of course the highlight of this article, Amxander. The main thing I love about this label is just simply it's wearability. No fuss, manly, well tailored, nicely detailed, tasteful and well, I think pretty close to perfect.
It is a privilege for me to be able to write with such genuine enthusiasm about the talent of these young, upcoming, positive, talented, gracious, emerging designers. It is the red passion which fills my veins.
I just had to ask Mr Amxander himself, the questions that were burning a hole in my fashion week head before I wear myself out with my own excitement over the coming week in Melbourne …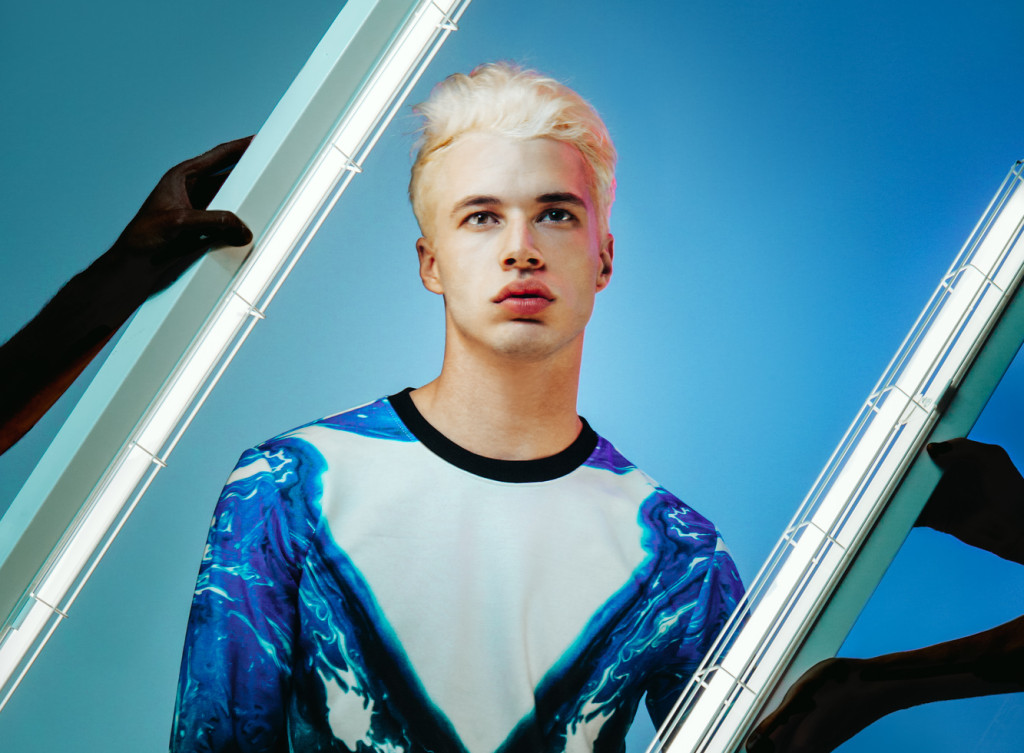 LM
I absolutely love your label. It has been a long time since I have seen such innovative, interesting, and most importantly wearable men's fashion in Australia. Who is behind the AMXANDER label?
AMX
The label AMXANDER was formed from the ideas and experiences of a few close friends.
We all come from various design and design-related marketing backgrounds. Our business manager, Jake Chen, Art Director, Edmond Chua, and myself, Creative Director.
All of us joined together with the goal to bring a new light to the menswear market, which we found to be especially under-represented/under-developed in Australia.
LM
You describe your label as 'print focused' design? Would you regard this the same as sublimation garments?
AMX
The idea of print should not be constricted to only being sublimations or digital applications. By print we mean creating a motif – a symbol. It may be through different textile applications, for example knitting, embossing, or embroidery. There are various ways to 'create print'. This is the core idea behind our label and we try to think of new ways to communicate our symbols in new and innovative ways each season.
LM
You have been described by NJAL (Not Just A Label) as 'Black Sheep' … 'designers revolutionizing the industry and forging their own paths'. How do you see yourselves?
AMX
It truly is an honour for us as a young label to be given such credit. I see us as a small team of hardworking individuals who have a clear vision of what our take on a menswear brand should be. I am glad that we are still able to have that vision and keep our minds focused – relieving ourselves of the fads that revolves around this industry. We try to keep ourselves on the right track.
LM
How would you describe the AMXANDER man? Who specifically is your demographic?
AMX
The AMXANDER guy is someone who understands and appreciates fashion in an understated manner; someone who would like to stand out from the crowd and exert their individuality from time to time, but also be cautious of not going overboard.
LM
Do you intend to take your label overseas?
AMX
Taking the label overseas has always been an initial plan of ours. So far we have showcased in New York, London, Paris and also have a wider presence in Asia.
LM
I particularly love your collection 'Forage', but I love the others too! How do achieve making each collection look so distinct?
AMX
Our main idea revolves around the fact that the menswear market doesn't shift around trends as much as womenswear – as such, our collections are based on a 'theme' rather than being a seasonal inclusion.
You'll notice that our collections all feature classic menswear silhouettes (the tee-shirt, sweatshirt, etc.) and each collection uses prints, textiles and other techniques to bring forth the theme that the collection is named after.
Each theme that we explore revolves around existing masculinity 'myths' and symbolism. For example, our first collection, Shatter, revolved around the primal man, contrasted against the digital revolution, and our second collection, Hounds, revolved around the classic hounds tooth motif – traditionally a symbol of wealth in the late 1800s.
LM
Please define the term 'Capsule Collection'
AMX
'Capsule Collection' to me is a sufficient sized range that a label puts together that represents a clear theme/concept.
It is also an appetizer for the core concept behind the brand and what it has to offer.
As you can see from our website, we're currently offering our 5th collection's capsule to communicate the core ideologies behind the collection via simple garments.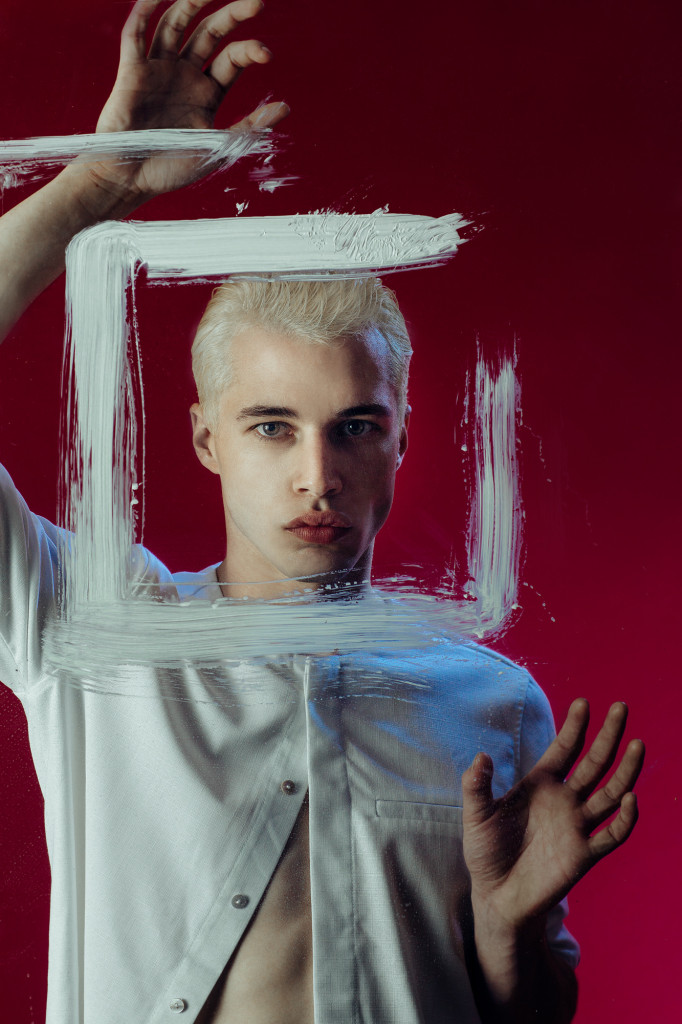 LM
Where do you find the themes/names for each collection?
AMX
As with all ideas, these themes come from curiosity. We throw these ideas around, and sometimes we hit an idea that just resonates well for each of us.
LM
I believe you worked for Mary Katrantzou in London. Wow! What did you love most about this experience?
AMX
She has always been an inspiration to me since my days in university. The best part was actually getting exposed to the fashion industry at an international level.
Hectic schedules, business meetings, fabrics you can only dream of creating, top models, London Fashion Week backstage – these are only a few a many things that I got to be a part of and I remember it all very fondly.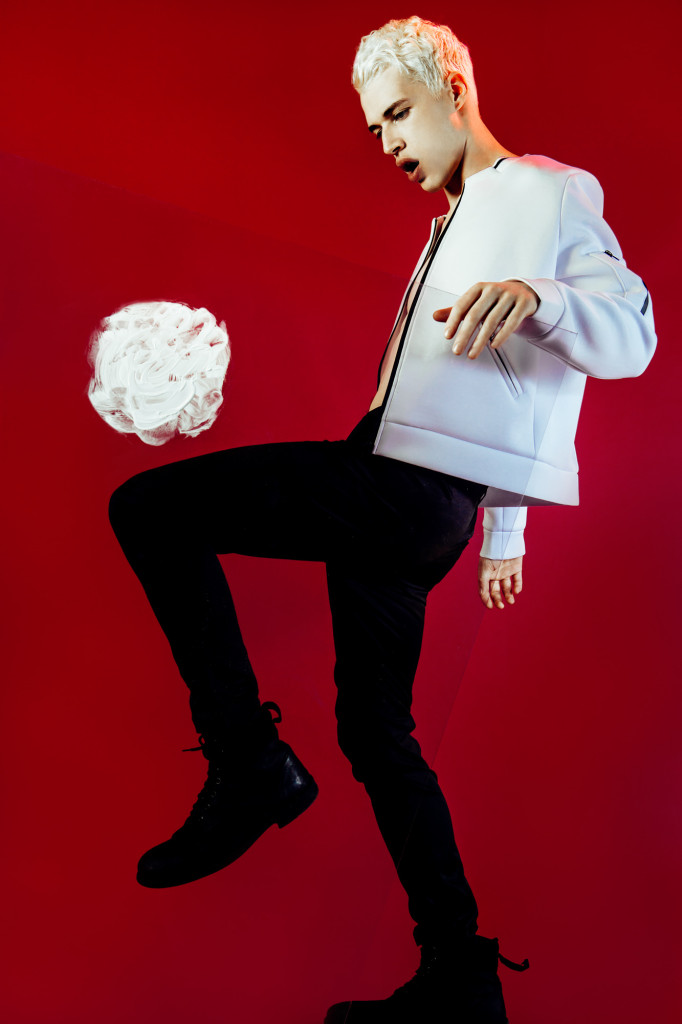 LM
You say you wanted 'to bring a breath of fresh air to the Australian menswear market'. I believe you have. How did you formulate your plan to bring this into being?
AMX
We have noticed that there has been a drastic shift in the once static high-end market that resulted in contemporary labels really making an impact on the fashion scene. What was especially interesting was that we found men wanted to escape the pencil pushing life, and express themselves as individuals. We wanted to create an avenue for this and thus created AMXANDER.
LM
Where and how do you look for inspiration?
AMX
I usually articulate ideas from what I experience every day. I am a very 'visual' person. Random things capture my attention in day to day life – whether it is a well dressed stranger or things that I see on the media. I am not one who is fixated about where I draw my inspirations from; it is something that is ever changing.
LM
How do you feel about the support levels within the Australian fashion industry?
AMX
It is gradually improving as more and more organizations realize the importance of their input in cultivating Australia's next generation of fashion creatives.
Of course, it would be great to see large retailers take on emerging labels – it's going to be a risk, but it could pay handsomely for the industry.
LM
Do you believe that there is more support for Australian emerging designers overseas? If so, why?
AMX
I must admit that there is a much bigger platform outside of Australia; the market for fashion is  just more responsive to interesting ideas. There is still a level of conservativeness here in Australia.
LM
Do you believe that the creation of a successful menswear label is more difficult than women's wear?
AMX
Women generally spend more time and effort deciding and putting together what they wear. So my answer would be yes.
It almost takes double the effort selling clothing to men as apposed to women – that's just how it is – for now.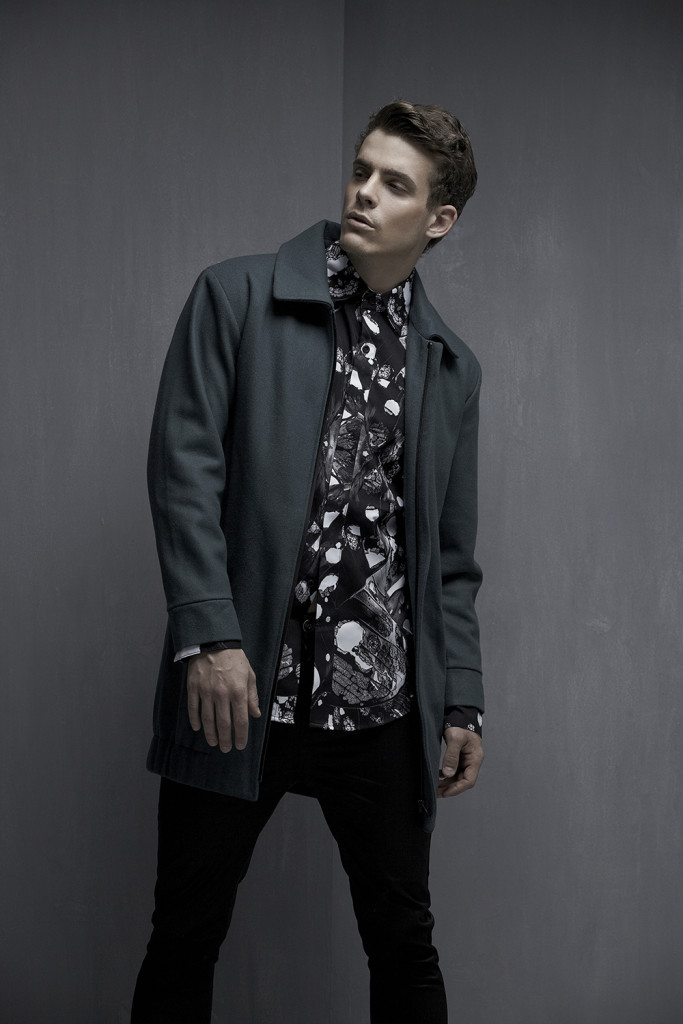 LM
Do you believe that Australian men dress well?
AMX
I believe they actively care for their appearance but it can be quite monotonous – in a good way.
Most men seem to favor blue-collar dressing and/or what I call 'slouch-chic' (a combination of various loosely-cut garments, almost loungewear-like).
LM
If you could offer Australian men advice on how to dress better, what would that be?
AMX
I might be a bit biased on this one but I'd obviously hope to see more men willing to tackle a wider range of textiles and colours.
Most of my male friends tend to say that they feel comfortable in t-shirts and chinos/jeans.
This is where a subtle pop of color or small applied details could separate one from the crowd without going overboard.
LM
What is your opinion of the way Australians present themselves in general?
AMX
Australians are generally quite outspoken and can easily adapt to being in most foreign situations.
From experience, they definitely light up the room!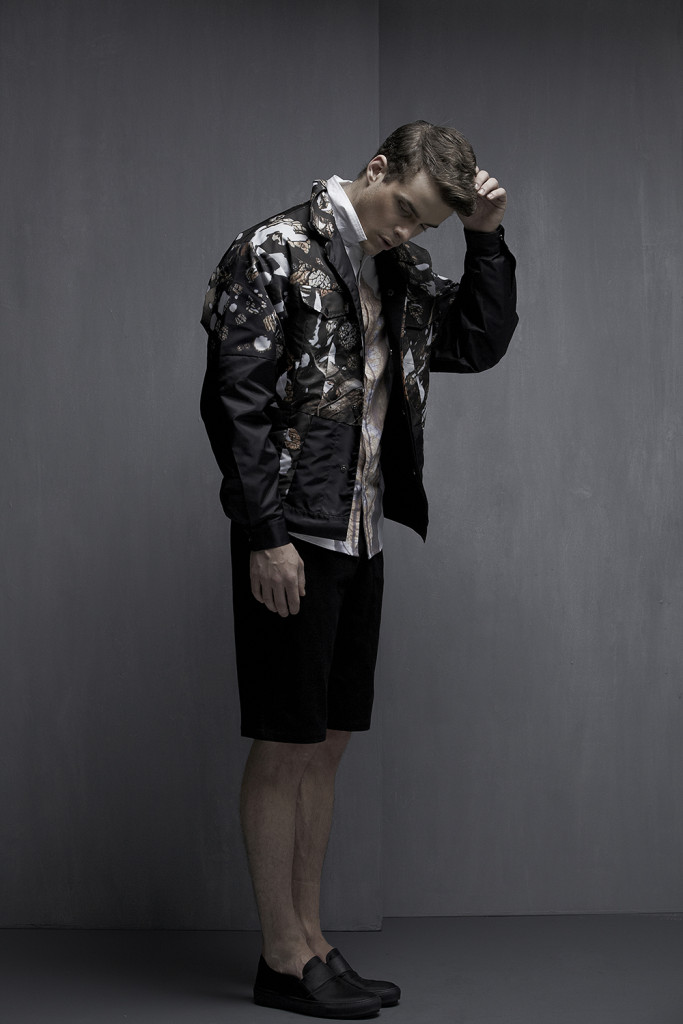 LM
Your designs almost remind me of a media/visual arts graduate's work. How have you taken your vision of patterns and transformed it to fabric?
AMX
We design as a team. Despite being in different areas of design, we all come from common arts backgrounds. (Sketching, Painting, Computer Aided Design etc.).  This is a form of language that we communicate with. Together we figure out ways of executing our work in 3D context.
LM
Where are your fabrics sourced?
AMX
It varies but most of the time it would be locally sourced in Australia or Asia.
LM
Where are your garments made?
AMX
Some garments are made in-house. Otherwise, we work closely with our pattern makers (who have over 40 years experience) in Hong Kong.
LM
Does the production of your garments require particular machinery?
AMX
It depends on the requirements of each season, but we do sometimes require particular machinery to create certain things outside of the basic industrial machinery.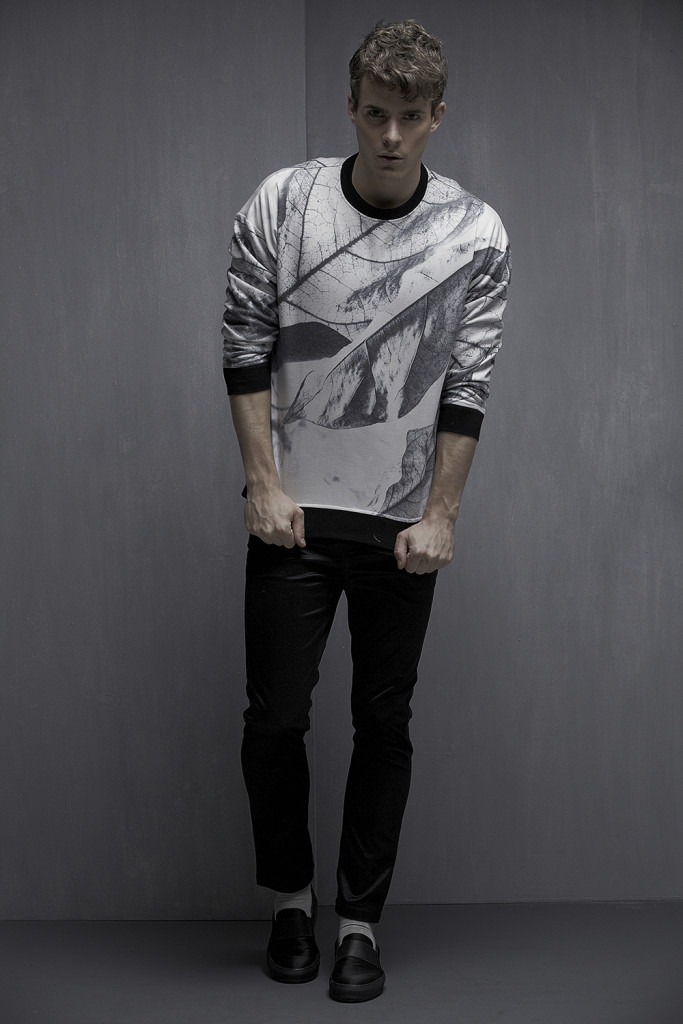 LM
What are the ultimate dreams of your label?
AMX
For me, I hope that AMXANDER can be a pioneer in the Australian menswear fashion scene.
We hope to be able to showcase to the world that there is a lot of creative talent down under. That we deserve the spotlight once in a while.
LM
What is your view of the runway and do you believe it is an important vehicle for exposure?
AMX
I believe having put together a runway show is an important vehicle for exposure but it is not the ONLY way. Established labels invest a lot of time, money and effort into putting together runway presentations and this may not be a luxury that all upcoming designers can afford.
Today, even the biggest brands are testing non-conventional ways of presenting their line and most have been extremely successful.
LM
Do you believe that much of your exposure is achieved through social media?
AMX
Social media has definitely played an important for us growing as an independent label.
I believe it is the most direct and efficient way to interact with our customers and they seem to react to it well.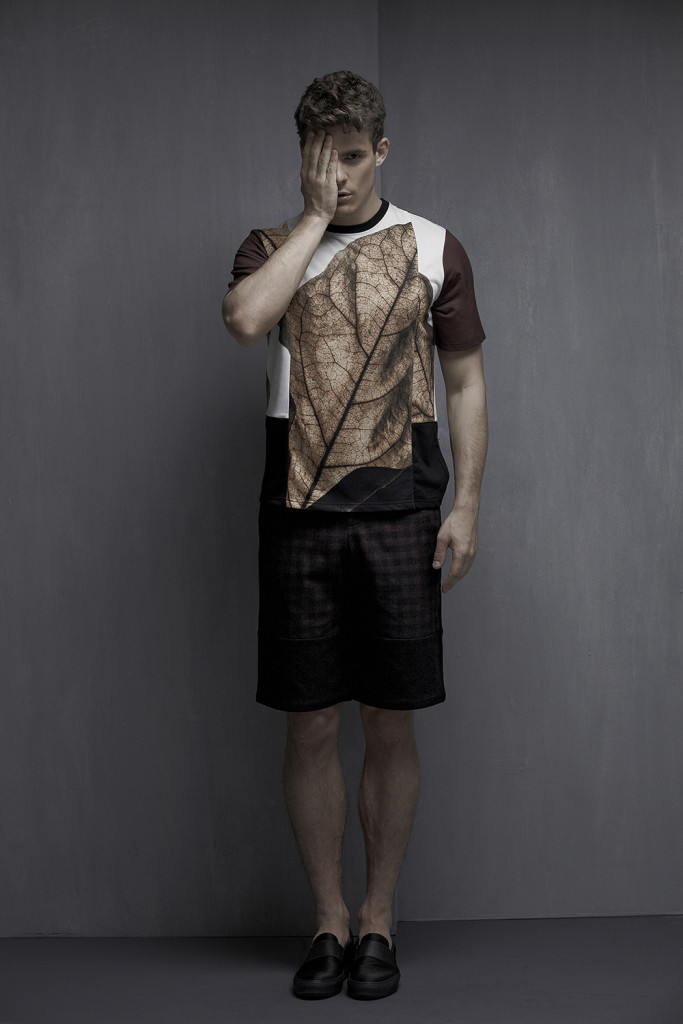 LM
How do you feel about the traditional roles of editorial?
AMX
Editorials have been an important segment for decades.
Traditional or non-traditional, the images we see on most blogs or fashion websites are in fact editorials. Whether it be a set of backstage photographs or snaps of a dolled-up model from someone's iPhone, any images that have been stylised in one way or another is a form of editorial work – that's how I see it.
LM
How do you select working with particular stylists and creative teams?
AMX
We surround ourselves with people whom we feel comfortable with and who respect us for being creative individuals.
LM
What are you most looking forward to in your involvement with VAMFF?
AMX
It is our first runway show with VAMFF and so far the pre-runway preparations have been very smooth.
We are definitely looking forward to meeting new people and get as much feedback as we can to further grow AMXANDER.
Until next time,
Jade xx

Accreditations:
Model: Greg Han & Benjamin Charles |  Photography: Chen Chi  & Vikk Shayen | Stylist: Jake Chen |