Well. Here I am in Melbourne. March 2016. VAMFF. Virgin Australia Melbourne Fashion Festival. It's been a hell of a week for a few different reasons. Travelling interstate for a week of fashion frenzy is, for any seasoned fashionista, and I guess I could call myself that, a hard slog. The "four seasons in one day" Melbourne weather took us from an unprecedented heat wave at the beginning of the week to full on rain a few days later. A pleasant but unexpected development. But! I have to say … well done Melbourne! What a great week. I moved gallantly through the week, albeit with moments of exhaustion, with equal doses of sheer determination and pure adrenalin. I have attended eight events, with some more to come, the last of which was Discovery Runway. I love the established designers, and I truly feel that nobody could love designer clothing and our amazing home grown designers more than I do. (I mean, really, who writes about this subject more than I do!) However, anyone that knows me well will know that the support and nurturing of emerging designers and their creative teams is where my true passion lies.
Anyway, back to VAMFF. Tonights Discovery Runway was a selection of eight Melbourne emerging designers who were invited to showcase their collections in the foyer of the Melbourne Museum, the new home of VAMFF. Four of tonight's emerging designers have recently been showcased by Label Ministry as a vehicle of support and an offering of virtual love!
ASSK, Article. by Courtney Holm, Amxander & Lois Hazel stood out for me tonight, of course, as I have been pouring over their interviews and collections for weeks now.  Not only that, I have developed a rapport with these designers and have read with interest and affection their perspective on the world we live in, and their representation of it through the creation of their fashion labels. It is always an honour for me to interview these designers, as for the most part, they are grateful, respectful, and genuinely humble in their quest for support. They speak with honesty and transparency about the struggles of being an emerging fashion designer, where larger egos, and unsympathetic ears are often the mainstay of their business interactions. They share their hopes and dreams, the stories of their educational journeys, and how they aspire to design in the same vein and success as their industry icons.
I hope my voice, both in the literal sense of the word and in the form of my editorials brings them the kind of support which is so desperately needed for their guaranteed success. It is extremely heartening to me to hear of their gratitude, and be on the receiving end of their heartfelt thanks.
The love of their trade, their genuine concern for the future of our planet, and their continued efforts to shape a world in which we can all co-exist touches something deep inside me. Draping ourselves in beautiful fabrics, and accessorising ourselves in ethical and sustainable product because of the efforts these young people is something I feel immensely proud to be part of.
I hope that my work becomes their very own public relations voice.
One that is loud. One that is heard. One that makes the difference.
To everyone who participated in the Discovery Runway tonight.
All Hail …
I had the pleasure of interviewing some of them …
ASSK is an anagram of the designers initials. Sarah Schofield and Agatha Kowalewski. The girls have been living in Paris working in the fashion industry for a few years. Sarah was working at Louis Vuitton, and Agatha was working as a stylist when they started ASSK in 2013. Their business and studio are based there and they have press offices in Paris and in NY.
Both girls are originally from Australia, and Melbourne especially has remained really important to ASSK.
They sell through Distal Phalanx in Melbourne, and have a really strong base there.
Their label has been heavily influenced by technology and internet culture.
The internet has always played a big part in the ASSK brand. Agatha and Sarah first connected on the internet and worked with Melbourne artist Oliver van der Lugt over the internet for two years before they met.
Their first four collections were sold via the internet over look books to people they didn't know. In places they had never visited.
This interconnectivity through technology has been very important to them.
Label Ministry recently interviewed ASSK.
Lois Hazel graduated from RMIT's Bachelor of Design in Fashion with first class honours in 2012. She then left Australia to work for the New York design house, Marchesa, and Iris van Herpen in Amsterdam. Lois returned to Australia, and her home town Melbourne in 2014. She launched her first capsule accessories range, and then her debut collection "Frayed" in 2015. She is passionate about ethical and sustainable practices, and hopes to bring positive change to the fashion industry by donating five percent of her profits to One Girl Australia.
She loves the fashion industry, but unfortunately feels that it does have its 'fake' moments. She says "only a small percentage of those involved really get the credit they deserve. I really want to make sure that in my practice people get the credit they deserve. I want to show my consumers not only where everything is made, but also that they can see it is a team effort".
Label Ministry recently interviewed Lois Hazel.
I have always been a fan of designers who tackle the menswear side of things. I feel that menswear is a part of the market, particularly in the emerging sector, which has been, and still is, under represented, at least by local designers. Talent like this, I haven't seen for some time.  It's wonderful to think that the dressing of the modern man is being catered for so beautifully. The main thing I love about this label is just simply it's wearability. No fuss, manly, well tailored, nicely detailed, tasteful and well, I think pretty close to perfect.
It is a privilege for me to be able to write with such genuine enthusiasm about the talent of these young, upcoming, positive, talented, gracious, emerging designers. It is the red passion which fills my veins.
I just had to ask Mr Amxander himself, the questions that were burning a hole in my fashion week head.
Meet Amxander by Label Ministry.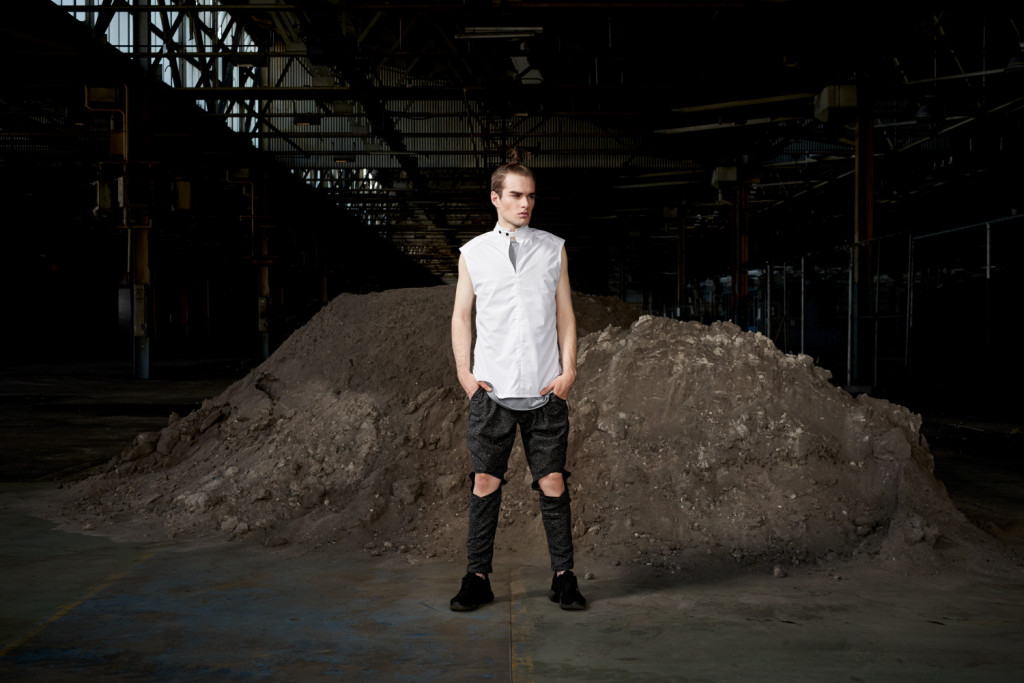 Courtney graduated with First Class Honours from the University of Technology Sydney and her debut at L'Oréal Melbourne Fashion Festival in 2013 led her to re-locate to Melbourne. It's not hard to see why I loved interviewing Courtney, a young, dynamic, talented designer, who seems to have boundless energy.  Not only is she putting a collection on the runway at VAMFF in a couple of days, she also got married a couple of weeks ago. And I thought I was busy!
She is described by NJAL (Not Just A Label) as "the designer and director of sports-luxe Australian menswear label", and that her "label is distinct for its assimilation of pop-culture street styling, elemental sportswear and tailoring details", which is "designed and hand produced in Melbourne, injecting a fresh equilibrium of functional, high-end fashion into a niche menswear market". And, "her use of varied materials, such as polyurethane plastics, luxury knits, sportswear and hard-wearing materials with quality cottons, silks and wool give each piece inner softness with an overriding masculine exterior. The amalgamation of high fashion detailing with sportswear and street style makes a bold statement while the prevalence of functionality, style and fit ensure a wearable outcome for a discerning customer". 
Article. by Courtney Holm. The interview by Label Ministry.
Until next time,
Jade xx