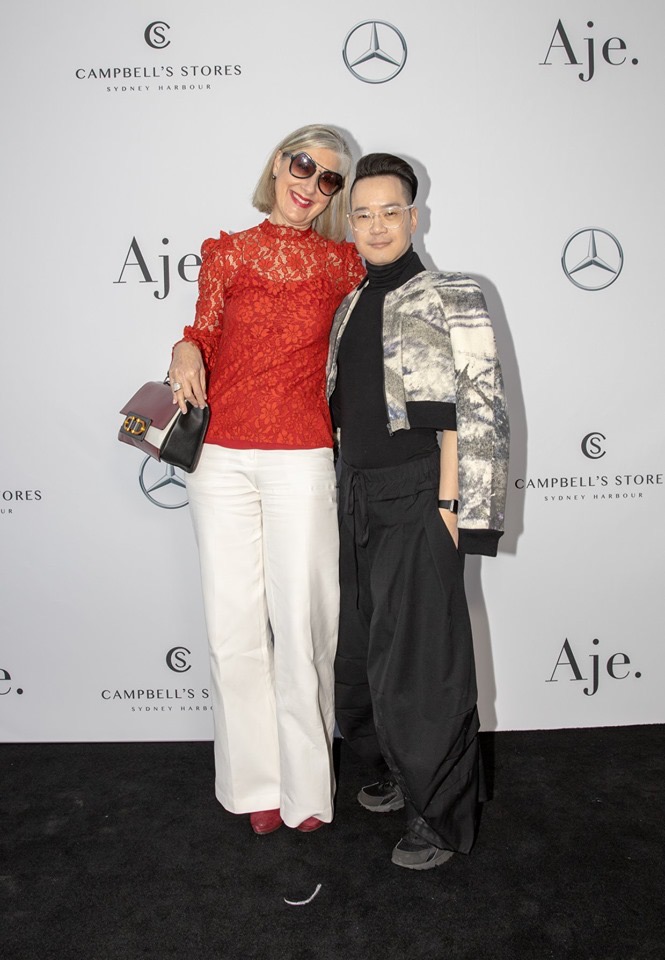 Well, I've just had my birthday and that always means one thing … Fashion Week is over.
This year Sydney Fashion Week was a completely different experience for its devotees, as many less than positive media articles have already touched on. An event usually well patronised, it was unusually quiet and I have to agree that it wasn't the well oiled machine of times past. But I think we can all agree we are in changing times aren't we and as such, are collectively witnessing phenomenal transformations.
The absolute highlight this year was the Aqua Blu show; always a hit in the eyes of the media worldwide, but this year even more so.
For me, the Aqua Blu show rocked for a totally different and very personal reason.
You'll notice the title of this article. FROW TO RUNWAY … My Journey.
Let me explain. Usually, I get to hang out in the front row …
And no, not with the cool kids.
For me, fashion week is work, hard work, and it is a time where I give generously of my time and skill by supporting the industry vehicle of which we are all so fond.
I am often, not always, totally blessed to be one of those who views the action close up, largely because I am the chic writing the article for the show and thus need a birds-eye view of the collection.
It was a few months ago now that I was approached and asked to walk the catwalk for Aqua Blu. I was shocked of course. Who wouldn't be? Any connection I had to mags, media, and modelling shoots, even the ones I took part in, happened quite literally decades ago.  Of course I was interested to know more.  I was fascinated at the thought of a runway which included, let's just say … not the usual suspects. When the person asking is Kristian Chase, none other than the Creative Director, artiste extraordinaire of Aqua Blu … well, how could I refuse …
Backstage at any fashion show is complete excitement and as anyone in fashion knows, the best kind of chaos.  Having seen the back areas of shows and runway productions many times now, the workings itself came as no surprise.
It was however something very new to be "the one" being swooned over.
Spray tan, Hair, Makeup, Nails … my ageless self was drinking it all in; like the elusive Fountain of Youth. It did occur to me however, in a frightening moment of reality and terror – what will the audience think when they see an (un)millenial on the catwalk? Well, I can now confidently report to you that they loved it! 
If the following reports are anything to go by, and of course they are, it seems that the industry at large is begging for more of a larger cross-section of people on our runways. And yes, for those of you wondering, runways are here to stay!
In case you are not up on your globally successful swimwear labels, Aqua Blu is one you should read up on. Stocked all over the world, not to mention all over Australia and New Zealand, the label is in its nineteenth year of production and is growing at a rate of knots.
Kristian Chase, couturier of fashion house greats and Aqua Blu's Creative Director is a real life example of the labels flamboyance, fun and sheer glamour. The aesthetic embodies the "look at me" notion, but refreshingly so, as it signifies pure elegance with a tangy twist of fantastic patterning and textile genius.  His swimwear is wearable, superbly fitted, exquisite quality, and is stocked for men, women and children. Women in particular will  be delighted to know that any size required between 8 to 18 can be purchased with ease. Most importantly it is swimwear that lasts.
His views are very clear on the position of swimwear generally: "I feel at times that swim becomes repetitive, as it is the same shapes over and over. My line focuses on pushing the traditional boundaries of swimwear. Effortless, statement one pieces with exclusively designed fabrics and printing techniques make Aqua Blu stand out from the crowd. Life is too short to wear nude hues!".
When I asked him about his views on inclusion and diversity with Australian fashion, I guess seeing his show is the only answer one needs.  It embodied beautifully the cross section of the swimwear and indeed fashion demographic, not only here in Australia but worldwide.
Walking for him, and chatting to me, this year was none other than the beautiful, down to earth, fashion landscape changing … Robyn Lawley, the iconic plus size model best known for her cover of Vogue Italia's June 2011 issue, and the first plus-size model to be shot for Australian Vogue. Add to that, plus size model, La'tecia and yours truly of Label Ministry as well as so many other stunning women, men and children to fully demonstrate the wonderful range the label offers.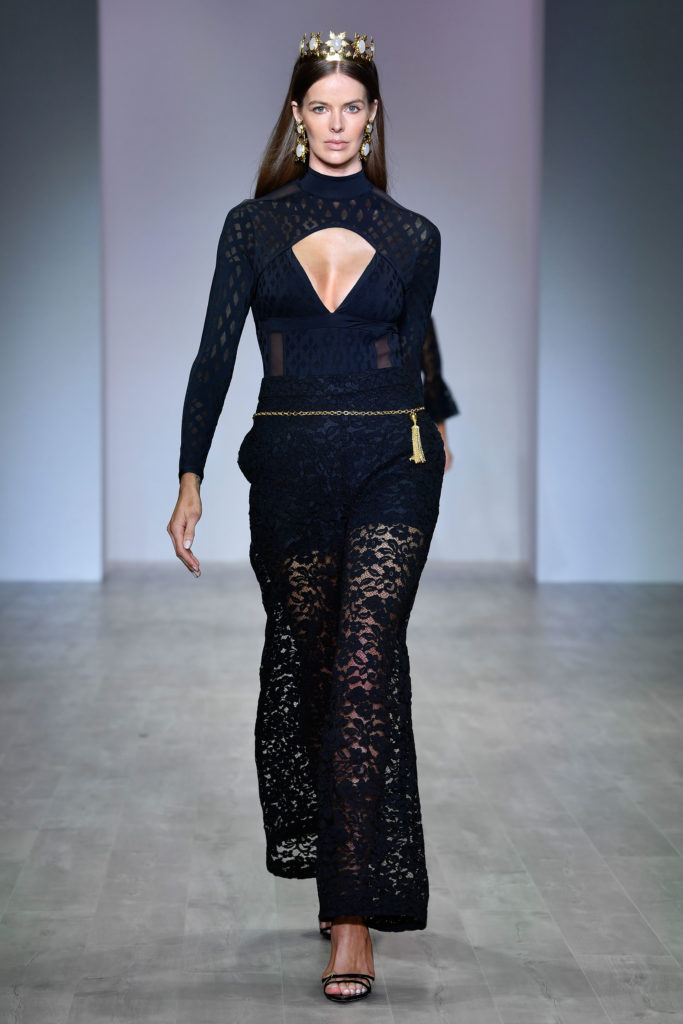 Yah0o! Lifestyle reported, "In a bid to embrace body positivity, this year swim label Aqua Blu featured plus-size model Robyn Lawley as well as La'Tecia Thomas in its MBFWA show.
After appearing on the runway, La'Tecia told social media followers she was stoked "to be the first fullest woman to walk an Australian fashion show".
"I cried each day, for a couple of days leading up to this moment. Why? Because this was less about me and more about US, meaning the average sized woman, 14-16 in Australia," she wrote on Instagram".
And, "There were several designers showing this week at MBFWA that went up to a size 16 and only Kristian Chase included size diversity. We need the rest of the Australian fashion industry take some notes. Whether the fashion industry wants to accept it or admit it, we are NOT invisible and fashion is for EVERYbody."
When I asked Kristian about the inclusion of older models on the runway, he told me that fashion is for everyone.
Simple.
Yes, fashion is for everyone. I have been writing about this for a long time now.  Not just the young. Not just the beautiful. Not just those with big Instagram followings.  It is in fact mostly for those who are not those things and that, right there, is the beauty and the future of Australian fashion.
We are ageless beings, all of us, and we should be allowed to express our deepest understanding of self expression no matter our age nor our physical stature or appearance.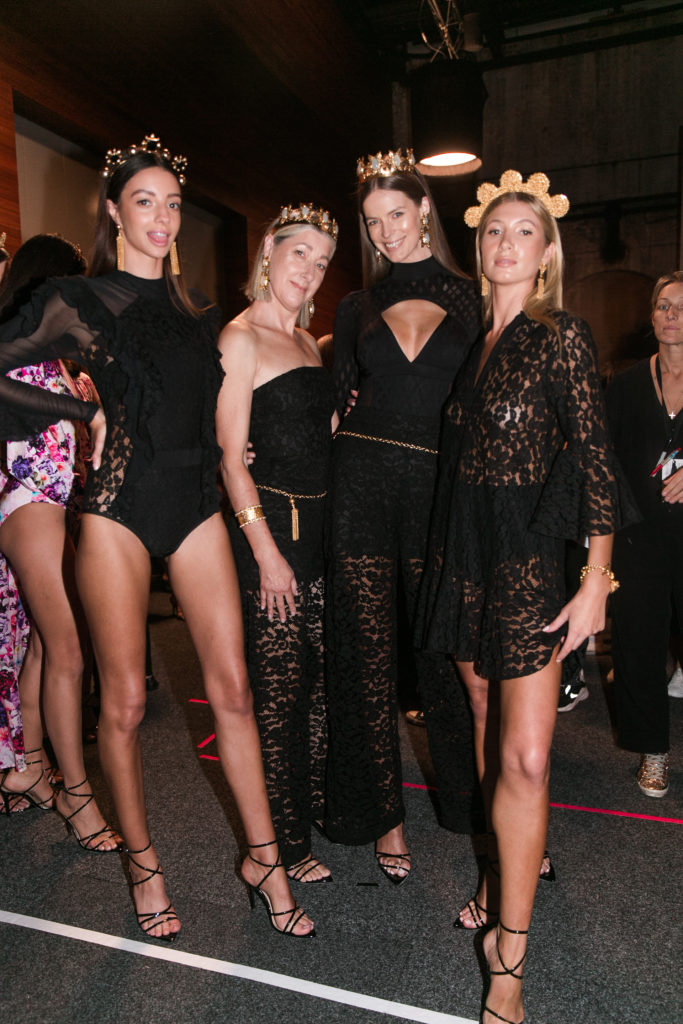 Danielle Gay from news.com affirmed what we already know.
"The jewel in Fashion Week's crown was Aqua Blu's Resort 2020 closing look, which featured a bride in a sparkling black swimsuit complete with a train of tulle trailing behind her. It was a fairytale end to what was an impressive show that hit on statement prints, varied colour ways, flattering cuts, and truly left us wanting more".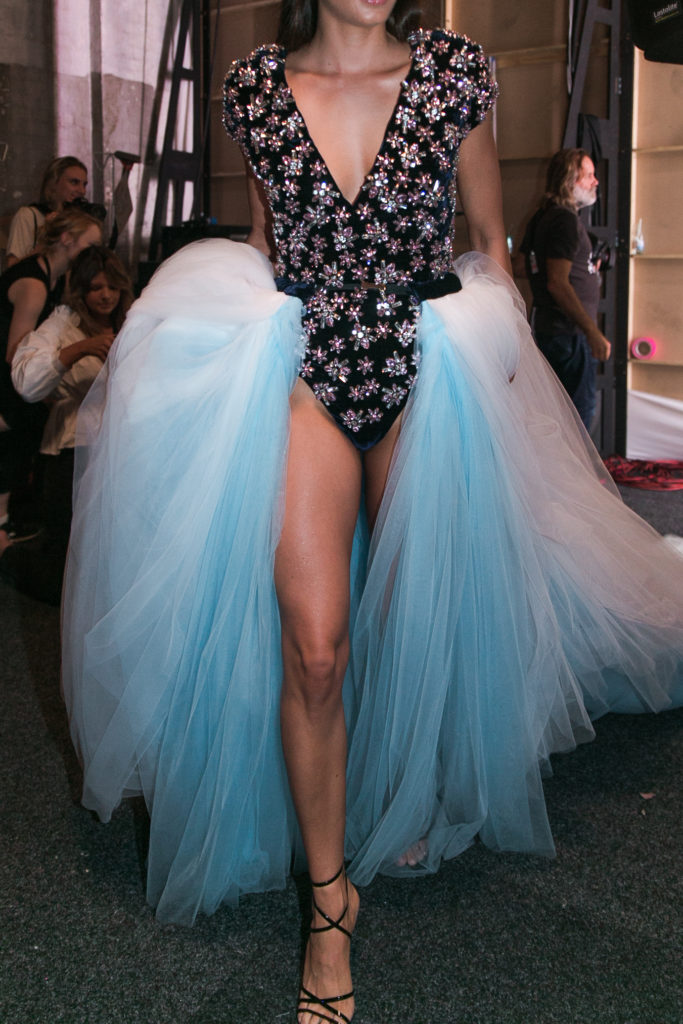 What makes Aqua Blu different you might ask? Well first off, the brand caters to men, women and children.
Secondly, the brand is super colourful, vibrant, and not for the invisible. It is tailored to perfection but embodies the virtues of all iconic good swimwear labels – it fits!
Thirdly, it is sensibly sized for all people, whether you are a size 8 or a size 24. It is for real people, and fits real bodies. It's fun and gorgeous and every single piece demands that you are feeling confident before stepping into it.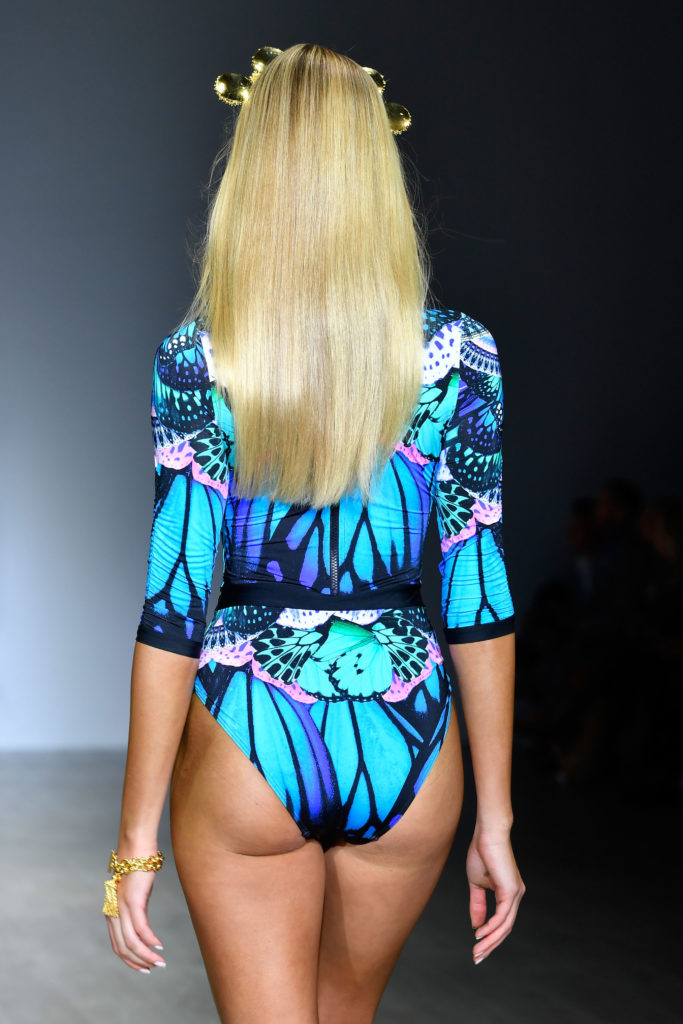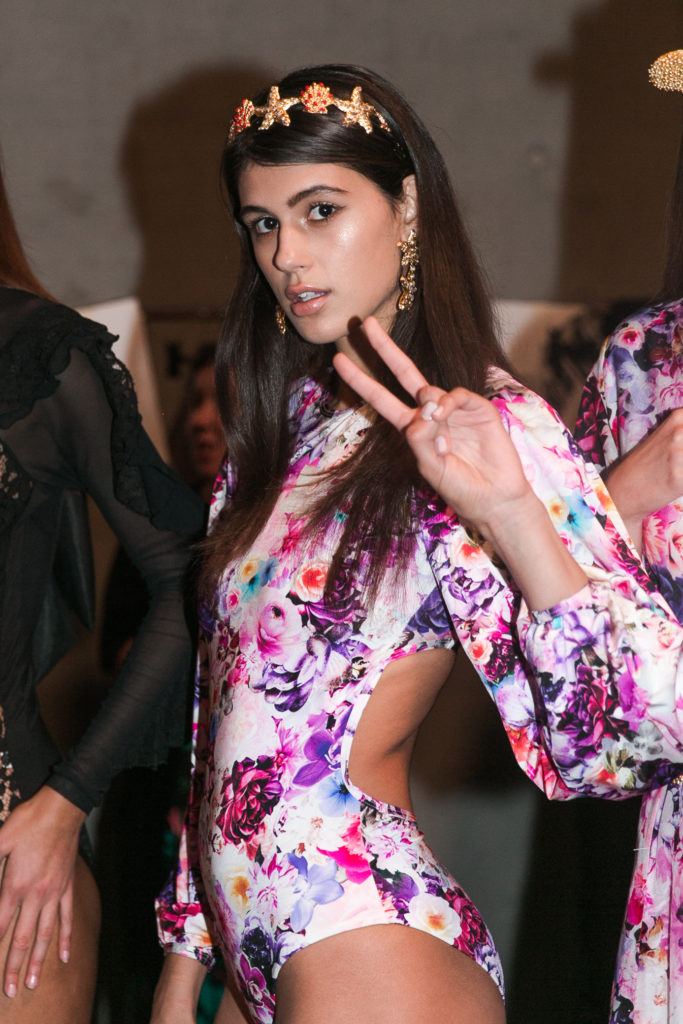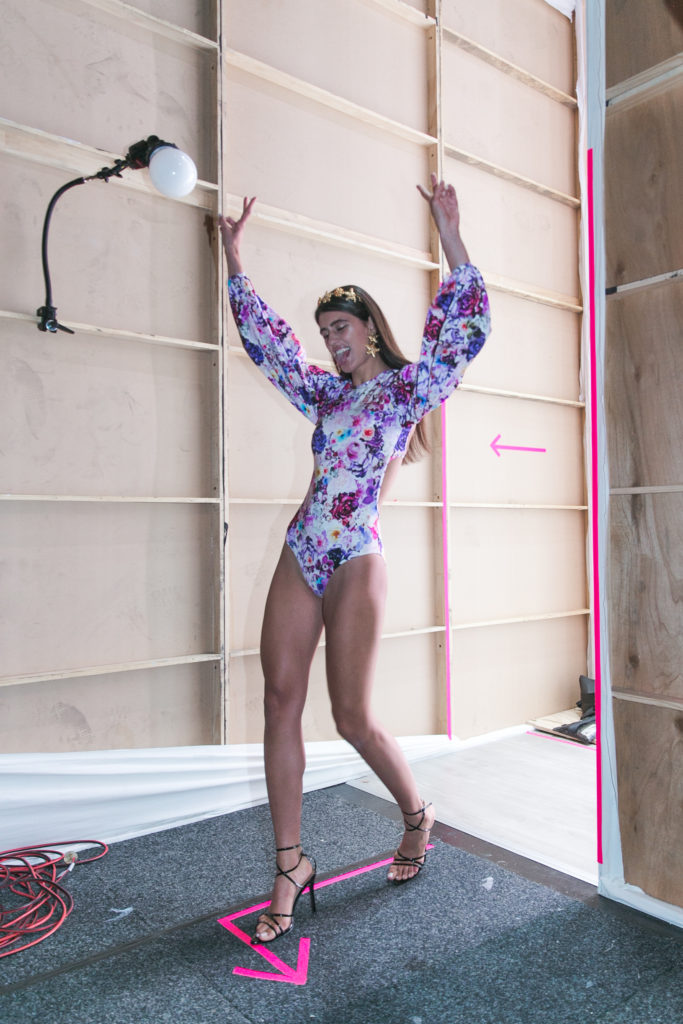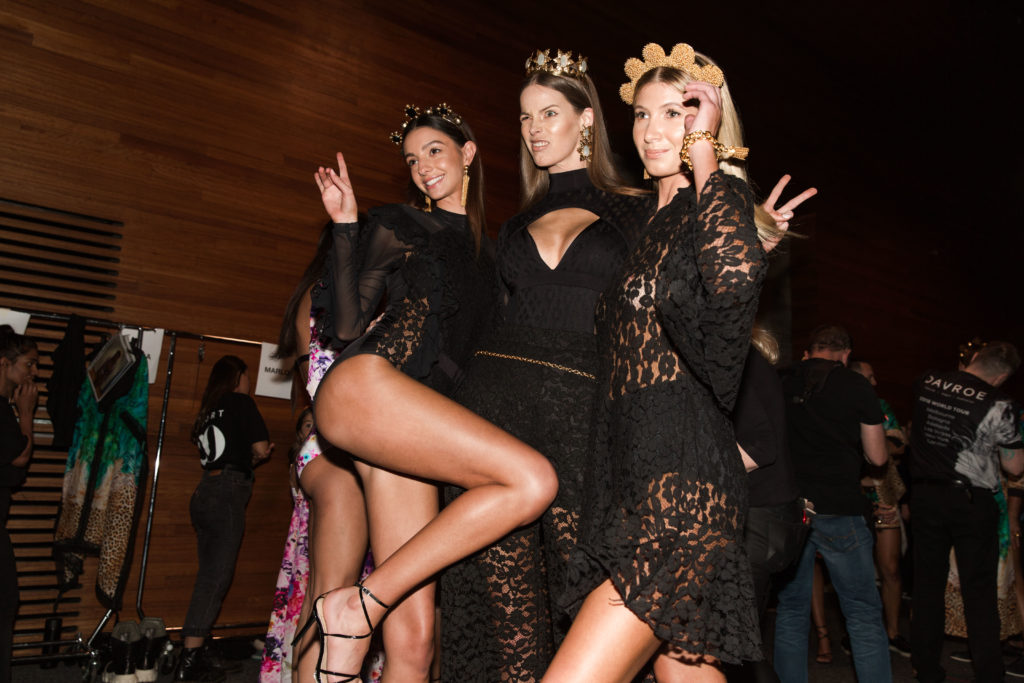 The real winners of course were the men.
As Amy Campbell from GQ so aptly wrote, "It's been a reinforcing week for Sydney's "smuggling" community. Not least because of the unseasonably warm Autumn temperatures, which have seen swimmers from coastal communities north and south whip their pins out for one final hurrah before winter sets in.
Rather, the real win for smugglers has taken place at MBFWA on the runway. Multiple designers have shown ~fashion~ iterations of the speedo-style swimwear, and none have been quite as flamboyant as those we saw on Thursday at Aqua Blu.
Designer Kristian Chase, whose collections get more colourful and kooky with every new season, delivered an absolute display of the full spectrum of male resort wear. There were boardies, breezy shirts and, most importantly, there were budgies".
Yes there were.
And other man clothing gorgeousness …
And then there was the After Party … and what a great night it was.  Held at the swanky QT Bar in Market Street, Sydney, Mr Chase knows how to throw a party. When I asked him about the importance of "the" after party he said "it is important to celebrate the people who not only participate in the show, but also those who make the effort to come to the show. It is their chance to meet with the designer and understand the creative process which equals the many months of hard work involved in putting a show together.  People tend to forget, that as a creative one often doesn't get to see first hand the cumulative fusion of the moving parts of a show such as the lighting, the mood, and the music. What we imagine in our heads is much harder to create in reality than we often realise. As I only get to see this on a digital monitor. the after party is my way of thanking everyone who was involved and to celebrate their contribution to our collective goal of success".
Bow down EVERYbody … I feel the best is yet to come.
Watch the full video here … Aqua Blu Runway 2019 MBFWA
Until next time,
Jade xx