If you put something together and it doesn't look so good, the fashion police are not going to come take you away. And if they do, you might have some fun in jail.
Iris Apfel
The wonderful American Style Queen, Iris Apfel, commenting on how women combine the elements of good dressing …
well, after all, Iris should know …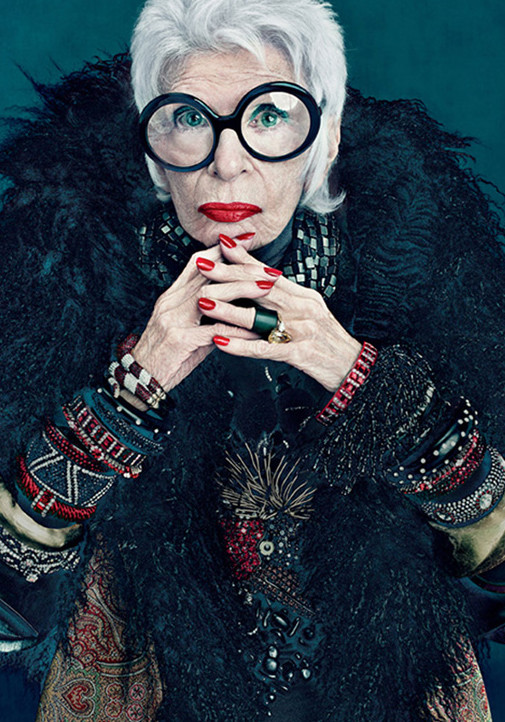 Who better than Iris to show us all how to put the ultimate in fashion craziness together with some other garments which equals perfection?
Our current world is so homogenised in every way. And the way we dress has become a victim to it. Whatever happened to wearing crazy colours, either on their own, or together?  I have styled many people over the years who have been afraid to wear colour. Want to add colour to your wardrobe? Here's how.
Remember that colour does not have to be always worn near the face.  It can be introduced into an outfit with colourful shoes or a handbag.
Wear colours that make you feel good and remember that as we age, hair colour and skin tone changes. Revise your colour choices often. Finding confidence in this ability is how we all secure a connection with our own confidence and creates our sense of wellbeing. Be prepared to take a "fresh look" at yourself and reassess how you can improve your image.  If you're not comfortable wearing colourful garments introduce colours through nail varnish, lipstick or your hair!
Colour does not have to take the form of block colour. Sometimes we look better in plain colours or colours that are infused within a pattern.
If you prefer to wear plain, block colours because you feel they suit you better, try introducing patterns and interesting prints through cute shoes and handbags.  Another idea is the simple layering of colour underneath another block colour, such as white or black. I like to call it 'colour referencing'.
Remember, all you are trying to achieve is a "joining of the dots" effect – a visual reference of design and colour, continuity and harmony.
Colourful tops, and even tops with a blend of more muted colours, can look great underneath plain understated jackets.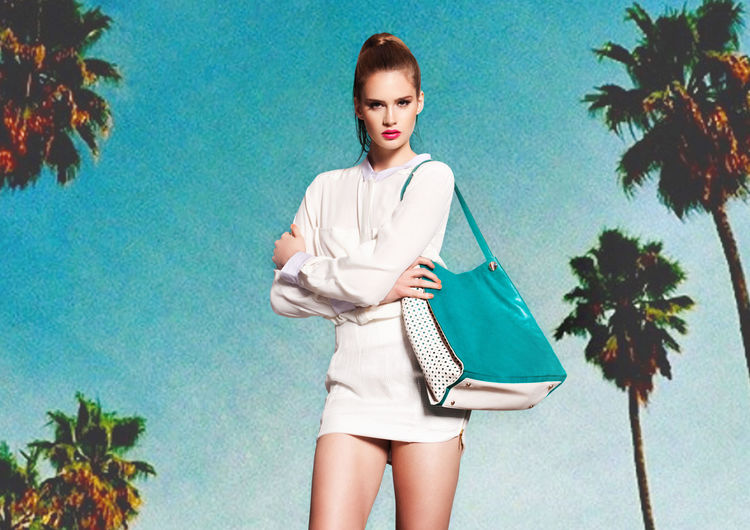 An outfit of block colours works a treat with a gorgeous pair of leopard print ballet flats and a stylish Gucci handbag! Things do not necessarily have to match but there does need to be a marriage of harmonious elements and colour tone. Tonally they work together and there is enough visual space between the two items to make the combination work. The natural balance of the outfit then becomes effortless and an understated elegance of good quality and taste becomes the highlighted theme.
All beautifully constructed outfits and exceptional dressing comes down to the combination of colour and texture, and the ability to achieve the all-important balance of proportion.
It is always a good idea to be generally aware of what is trending, not because your individual style depends on this, but because it allows you to have a choice of product in every season to add different elements of value to your wardrobe.
If you wear black or grey, wear colour that compliments your main palette. Try to move outside of the normal combination. For instance, lime green and acid yellow are exceptionally beautiful with black. Gerbra pink is divine with charcoal.
If you are teaming these items with jeans or casual trousers, bring the reference of colour from the top of your body (ie. lime green top), down to the feet with gorgeous flats in a tonally appropriate colour, or paint your toe nails in a tonally balanced shade in open-toed heels.
Introduce visual depth and weight and experiment with colour, tone and texture.
Adhering to these general rules will mean that you achieve a lovely balance in your wardrobe that you will be pleased to visit every day!
Until next time,
Jade xx