In recent weeks, as I do every year, I have been liaising with the wonderful emerging designers from Fashion Design Studio as they move closer to what will be their greatest moment thus far, in their fashion careers. The FDS Graduate Runway. This is where their final collections are put on show celebrating the amazing detail of the many aspects which have made up their fashion design degrees.
Enjoy!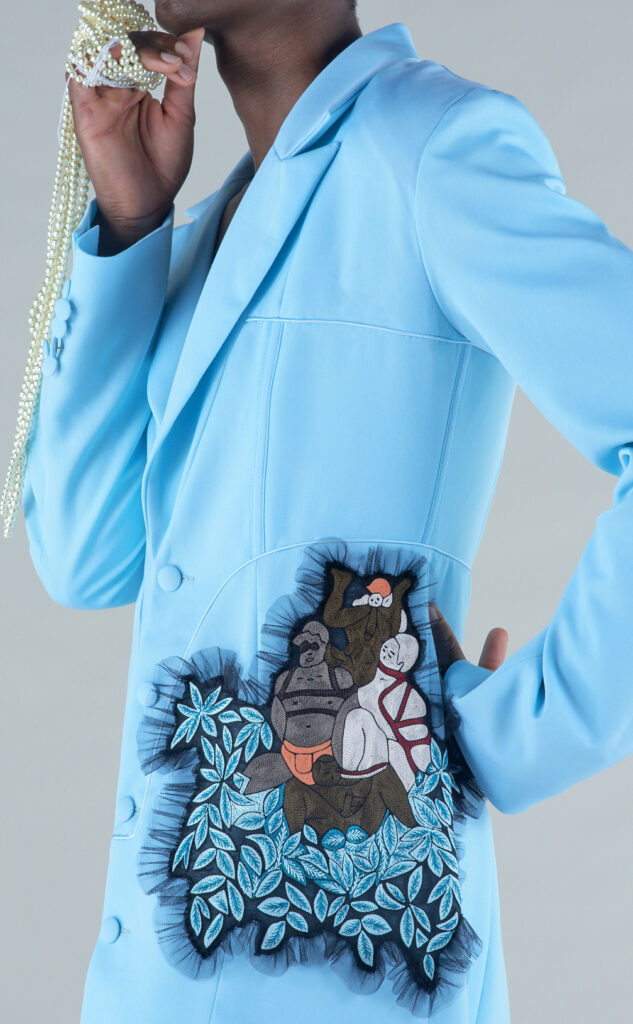 Thomas Anderson answered a few of my questions …
What was the driving force for you to study fashion design?
Growing up I was encouraged to explore my creativity through dressing up, painting and dancing. I happily stumbled into fashion specifically as I was placed in to a textiles class during high school. Once I began everything seemed to fall in to place.
I fell in love with the subject immediately and my self expression developed painting and fashion illustration. I surrounded myself with fashion magazines and movies and dreamed about my future.
What are your hopes and dreams for your chosen career as a fashion designer?
My greatest hopes and dreams revolve around having my own brand in the future. I hope to be able to become an independent designer as I feel the task of discovering ones aesthetic, vision and purpose is never complete. That being said, I think the most exciting components of life are those that are unplanned, so I also hope to be endlessly surprised by the dynamism of the industry and the subsequent opportunities it presents.
How would you describe your particular aesthetic and where did the inspiration come from for this aesthetic?
I would describe my aesthetic as fluid, feminine and heavily romanticised. It's hard to pin point a specific inspiration for the development of my aesthetic, however, I've always been strongly inspired by the point at which masculine and feminine ideals are blurred.
Who do you see as your customer?
I see my customer as being proud. They're proud to be who they are, they're proud of who they surround themselves with, they're proud of their ideologies and are strong when the time comes to support their counterparts. I see my customer as being one who yearns for growth and is avid in their cultural pursuits.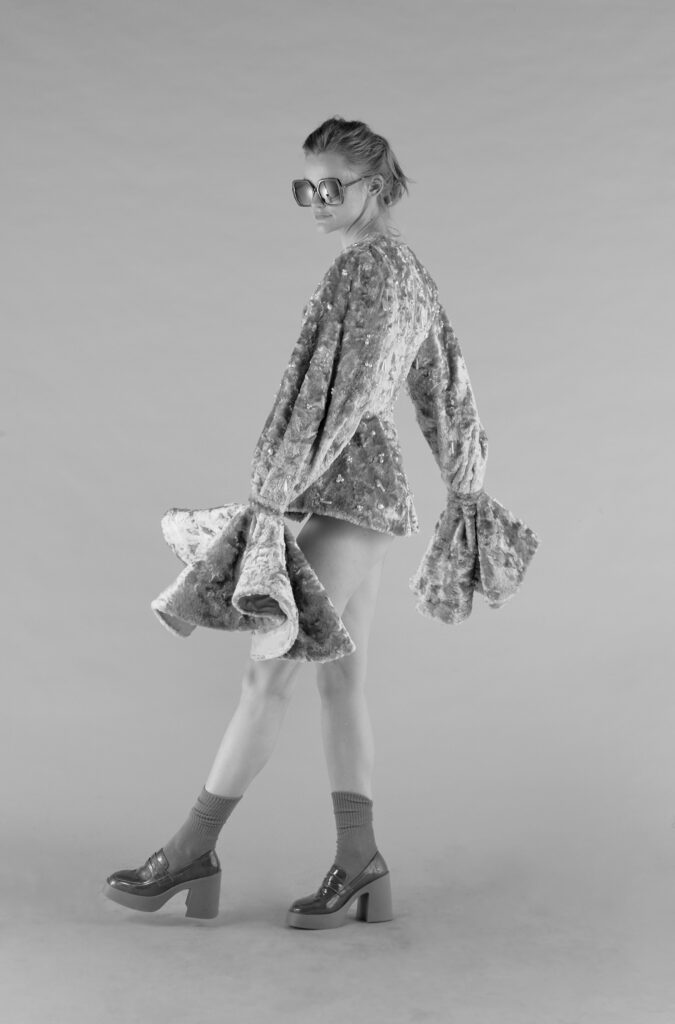 How much importance do you place on the theatre of "the runway"?
Being quite a theatrical designer I do personally enjoy the hurrah surrounding "the runway" – although I believe we are evolving beyond the traditional limitations of said showcasing in order to elevate and communicate a brands storyline and vision.
What do you feel is the difference between a successful fashion designer and an unsuccessful fashion designer?
Trust in the client and in ones self. I see successful designers as being the ones who create true to their vision whilst placing their clients needs and wants in the centre of that paradigm. The unfortunate fact of the matter is that a brand can't excel when it panders to its own narrative and self-satisfaction. We need to listen to the market at large and open our arms to them. Our community is so much more diverse than that.
Everybody deserves fashion!
How do you feel the fashion industry has supported you so far?
I feel like the industry has supported me through several mediums. Firstly, through the mentorship of teachers and established designers alike – these are essential relationships that have taught me how to become a confident young designer.
Additionally, through people such as yourself who provide me the platform on which I am able to use my newfound voice.
LM
Thank you Thomas.  How nice it is to be thanked and appreciated …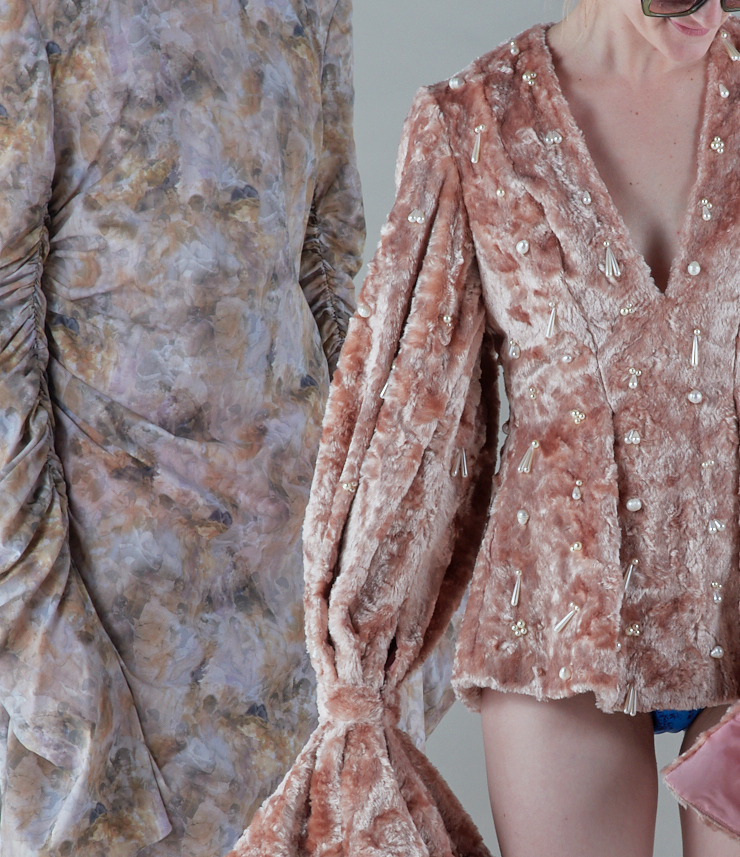 What changes and level of support would you like to see for the future of the Australian fashion industry?
In the future I would like to see more accessible paid work for emerging designers. Too often are we overlooked and underpaid. Yes – there will always be an element of unpaid work however, there is a fine line between reasonable unpaid work and exploitation.
With manufacturing options for fashion so reduced in this country right now, how has this affected you during your course and what implications might this have for the future of your careers?
The reduction in manufacturing options in Australia over the years has helped me to become innovative and creative in achieving the same desired outcomes. Simply by trusting my own hands as opposed to outsourcing tasks. It's been an incredible opportunity to develop my skills and trust my own ability.
Sadly, in an industry which is already difficult to break in to, the already difficult task of finding post-graduation work in the current climate appears to be even more bleak.
What is the hardest thing you have had to face in your journey of the fashion industry so far?
My greatest adversity to date has been finding confidence in myself and my work.
Taste levels are subjective, and everybody has diverse range of tastes. After spending countless sleepless nights working on a range – to be met with criticism can feel like a knife to the heart.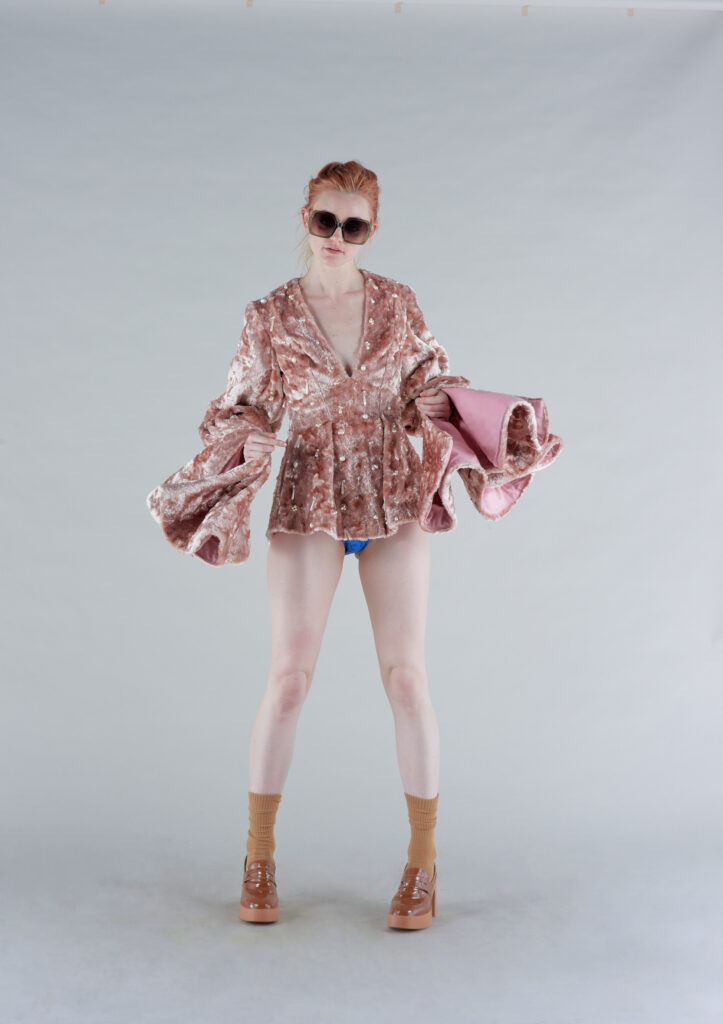 What does Australian fashion mean to you and how do you see it in terms of contrast with other countries and regions of the world?
When I first started studying I saw Australian fashion as being extremely commercial and comfort driven.
However, as I have progressed and watched the aesthetic of my peers, I am now filled with greater optimism.
I see the emerging industry as being one with incredible ideas and a strong point of difference.
What does the word fashion mean to you and the people around you?
To me fashion means hope, identity and growth. The mainstay of people I surround myself with have a complicated relationship with fashion which is highly personal and always evolving.
People often describe fashion as vacuous and unnecessary. What would you say to people who hold this opinion?
I don't think these people are entirely wrong; because to some people the world of fashion is just that.
However, to those who have developed who they are today, through the means of the expression that fashion provides, I think it is rather unfair.
We understand music to be an essential component of existence, so why does the same respect for auditory satisfaction not extend to respect for visual and tactile satisfaction?
Do you feel excited about your fashion careers or do you feel that it is peppered with anxiety about the future? 
Without a doubt I feel both.
I feel excited at the thought of a future filled with inspiration, creativity and expression.
The anxiety however of failing is ever prevalent.
I've always been taught not to avoid doing something because of potential of failure as surely it is the only way to learn…
but the anxiety reminds me, I must be on the right path.
How do you feel about stepping out in the big wide world of fashion after having been in study mode for three years?
Having studied for two years prior to jumping in to my Bachelor degree, the thought of finally being out of study after five years is both thrilling and terrifying. It will be a big adjustment as I exit the student realm and enter the young creative realm. I'm excited that the safety net is being removed from beneath me, but of course that comes with an understanding of the gravity of the situation – specifically realising the unstable nature of the current domestic industry.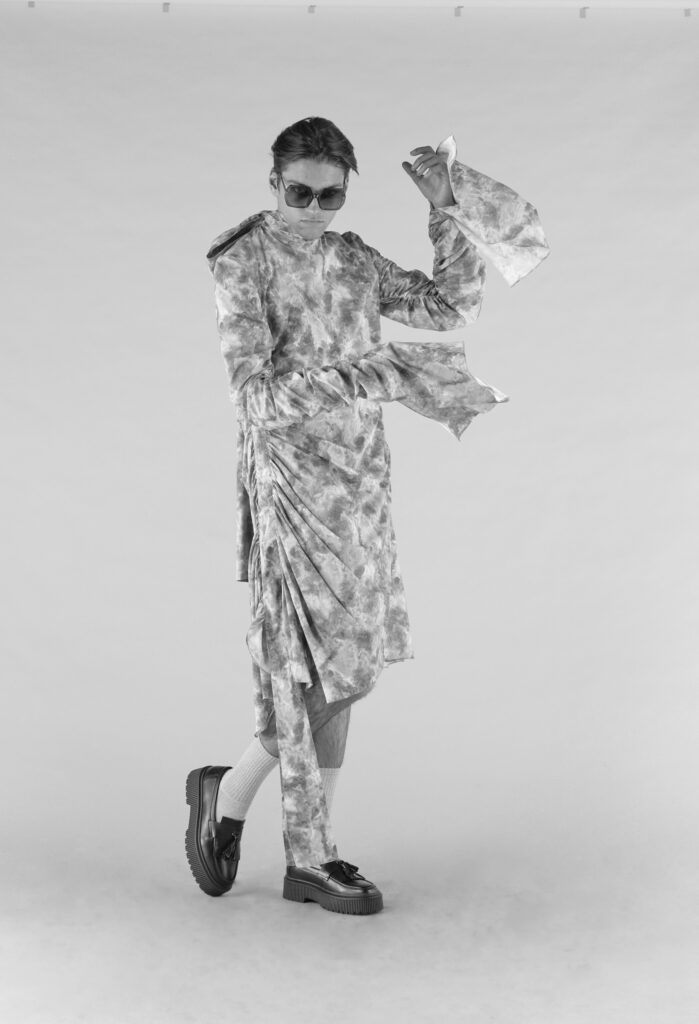 What are you looking forward to the most for your graduate runway and your moment of glory?
I'm looking forward to thinking to myself "I really did that" … as I watch my collection on the runway.
It's been an incredible journey peppered with euphoria and dismay, so to see my work on display will be a feat bigger than any I have achieved so far.
How do you feel about having older models walk in your show, when this has not been done before?
The thought of a diverse mix of models – from age, to gender identity, to race – makes me feel a wave of relief.
My brands foundation is built upon the idea of diversifying fashion in order to make it more acceptable.
What would you like to see as the format of the runway in the future?
While I don't have a specific format to suggest for future runways and general showcasing, I do know what it should include. It should consider the impact it has on all people; from industry representatives to young kids flipping through magazines at home or watching a live stream on Instagram.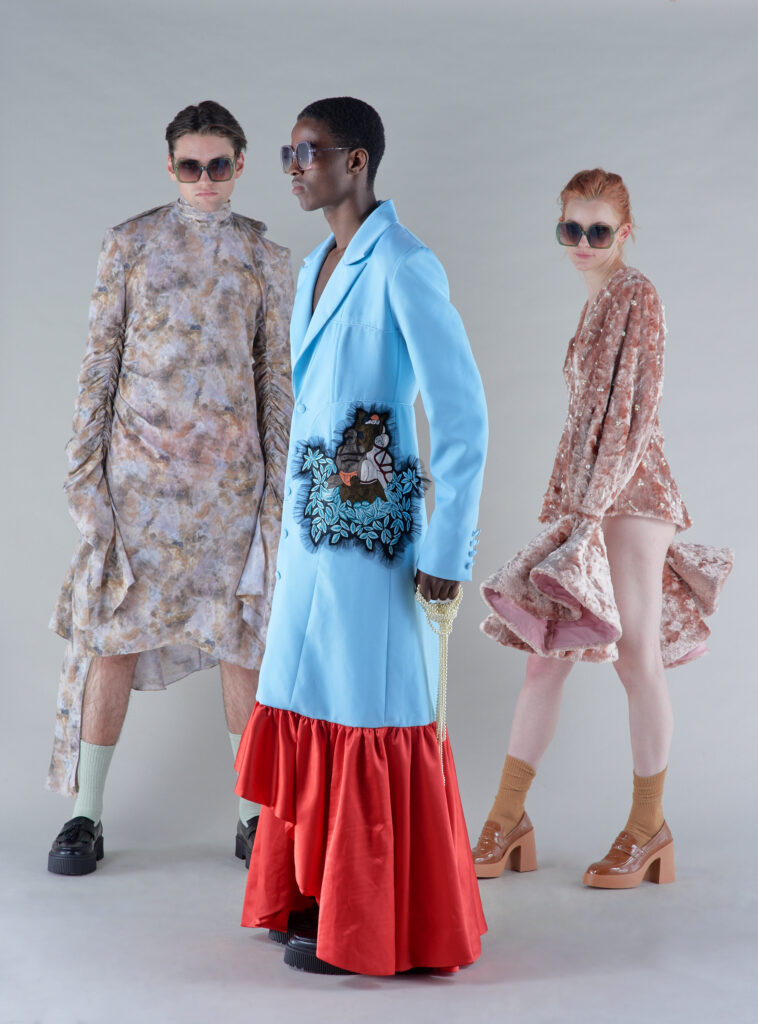 Thank you Thomas.  As I was saying …
The creation of their textile designs alone come into being from the most incredible sources … in one case, from the students own photography. Textiles, dyeing, devore, screen printing … are the basis of the incredible work which is consistently turned out, year in and year out at Fashion Design Studio.  The lecturers are full of heart, love and professionalism. Their enthusiasm and devotion to the industry they love and the people who choose to walk in their original footsteps is unending. To all of them, Alex Zehntner, Laura Washington, Julie, Mary and Narelle, I say "Thank You". They are the unsung heroes in this story as they are the foundations of the success of the long list of Australian fashion icons that have stepped out of this institution many moons ago now. This year, we are entering a new paradigm for the Graduate Runway, in line with the release of my new project, The Ageless Runway, where I will be walking along with some other silver foxes 🙂 I think we are all aware now that fashion is for everyone, and we all want success for everyone in all sectors of the industry. This is our new future of Australian fashion, and it always starts with those who will literally form the future of our industry … the wonderful emerging talent. In the next little while on the Label Ministry platform I will be showcasing the FDS designers who have chosen to have the golden oldies walk for them.
Stay tuned for the next interview …
Until next time,
Jade xx