In recent weeks, as I do every year, I have been liaising with the wonderful emerging designers from Fashion Design Studio as they move closer to what will be their greatest moment to date … the FDS Graduate Runway. This is where their final collections are put on show celebrating the amazing detail of the many aspects which have made up the entirety thus far, in their fashion design degrees.
The creation of their textile designs alone come into being from the most incredible sources … as one case in point, from the students own photography. Textiles, dyeing, devoré, screen printing … form some of the textile genius leading to the incredible work which is consistently turned out, year in and year out at TAFE's Ultimo campus, Fashion Design Studio.
The lecturers are full of heart, love and professionalism. So impressed and grateful am I to these educational beacons of light, that I intend in the weeks that follow to upload an article completely devoted to their heroic acts of teaching. Their enthusiasm and devotion to the industry they love and the students who choose to walk the initial years of their fashion careers in these iconic fashion hallways is unending. To all of them, Alex Zehntner, Laura Washington, Julie Feeney, Mary Dundovic, and Narelle Jordon, Julia Tomasello, and Jenny Davis …I say a very big "thank you".
They are the unsung heroes in this story as they are the foundations of the success of the long list of Australian fashion icons that have stepped out of this institution many moons ago now, some of them enjoying celebrity status international careers.
This year, we are entering a new paradigm for the Graduate Runway, as we celebrate the idea of diversity and inclusion alongside the release of my new project, The Ageless Runway, where I will be walking in the show along with some other Silver Foxes 🙂
I think we are all aware now that fashion is for everyone and that all genuine residents of the Australian fashion industry want (or should want), success for everyone in all sectors. This desire to collaborate for the ultimate good of the collective as opposed to the individual now has to start from the ground up, because let's face it. Australian fashion is screwed.
So many years of untamed egos and too many years of not working effectively together has created an industry full of dissension. In my work, I see a great deal of sadness regarding the demise of the industry, the collapse of manufacturing in the fashion sector, and other ridiculous facts such as spinning Australian wool in New Zealand. Until we are brave enough to reclaim what is rightfully ours, our industry will not flourish again.
I do however see glimpses of things to be hopeful about.  Mostly they are the people who are fighting hard for the return of things which will ensure the success of Australian fashion once again and ability to speak honestly about how hard and how far Australian fashion has fallen. We owe these young graduates the right to be able to step into their futures and know, really know, that their careers of choice will return the full promise of their dream.
This is our new future of Australian fashion, Agelessness, Hopefuleness, Inclusiveness.
For. Every. Body.
Simple.
I guess it always starts with those who dare to speak out for what is missing, and what needs to change. It is they who will literally form the future of our industry … not because of the ego, but because their work simply embodies the notion that no work is work enough until the dreams that drive them the hardest are realised.
The wonderful emerging talent that you will be reading about this week in the lead up to the Graduate Runway are the future of Australian fashion, the first of which is below.
In years to come when the experienced oldies all retire and pass to the other realm, it is my hope that these words equal the dreamy space that these designers will then reside in.
A new world where strong fashion economy, international collaboration and cohesion, meets the perfect marriage of design, function, sitting comfortably with environmental sustainability.
Jade x
Kiki Ollila answered some of my questions …
What was the driving force for you to study fashion design? 
Studying fashion has been the dream of mine since my early teens. I am originally from Finland and I actually tried to get into university there to study it, but I didn't get in as the course is super competitive and take about dozen students every year. I took it as a sign to study in Australia.
My mum told me that even when I was a little girl I wanted to pick my own clothes and would never wear my big sisters. As  a teenager, I would ask my grandmother to make some dresses that I designed myself. Fashion has always been my biggest passion; an important way of expressing myself. I was always very creative, and loved painting and drawing. 
What are your hopes and dreams for your chosen career as a fashion designer? 
I definitely want to gain experience in the industry for now and see what is out there, but I do dream about having my own label with a good partner or little team. I love prints, colour and fabrication/textiles and I would like to work on that side of design. 
How would you describe your particular aesthetic and where did the inspiration come from for this aesthetic?

Well I am Scandinavian, so minimalism is close to my heart. I definitely have the "less is more" mentality when I design. I love funkiness and quirkiness in clothing which probably relates to my personality. I don't like to take myself too seriously.
I believe I'm the best at designing casual/ready to wear clothes, and I want to make clothes that you can wear everywhere. I think versatility is important; that clothes should be easy to wear and able to be modified with different accessories and shoes – this way you get more out of the garment.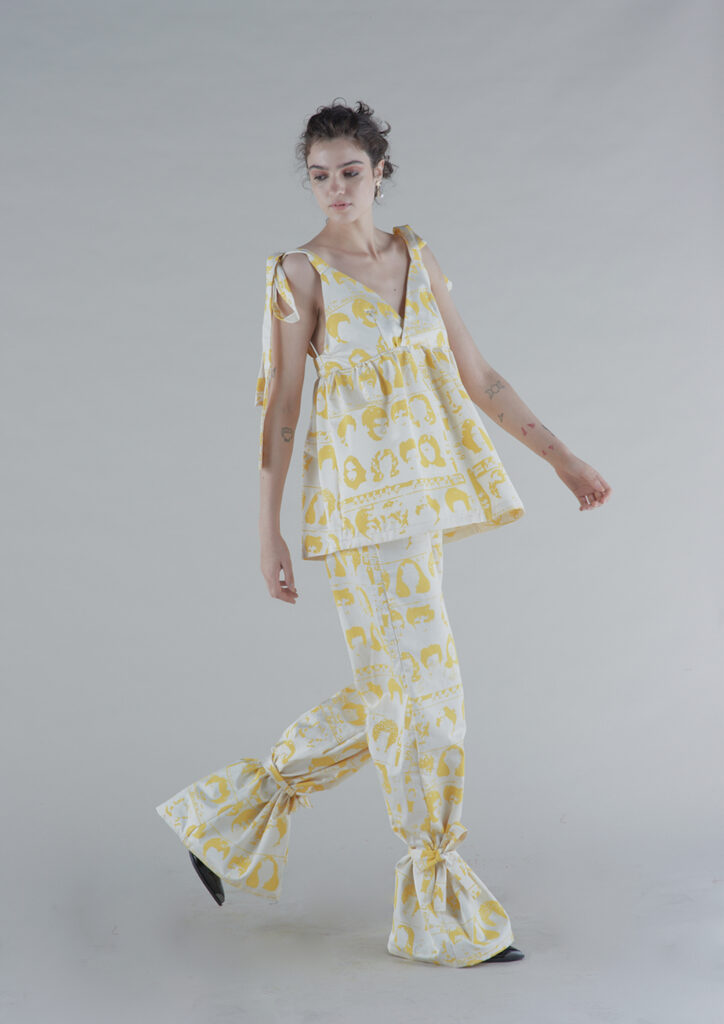 Who do you see as your customer? 
Gender, age or size/shape doesn't matter, it's all about attitude. A fun, culture, art loving person who wants versatility in clothing. This customer wants to look cool but be comfortable too and invest in unique pieces that they can wear anywhere and everywhere.
What do you feel is the difference between a successful fashion designer and an unsuccessful fashion designer?

Well, money plays a big factor but I think it is as important to stay true to yourself. A good designer should have a unique point of view and signature. I also think sustainability plays a big role in any industry today, and it should be considered every step of the way.
With manufacturing options for fashion so reduced in this country right now, how has this affected you during your course and what implications might this have for the future of your careers?

It has not affected me personally. In Europe that people have really started to appreciate and buy responsible/locally/European made clothing and I hope the same trend will follow here. I wish companies would start to manufacture more in Australia, as it would create so many jobs. I also hope consumer habits might change too, that people would be ready to spend more on local made products and the trend of fast fashion would end. 
What is the hardest thing you have had to face in your journey of the fashion industry so far? 
Well I am just about to graduate so I do not have too much industry experience yet, but what I have heard is that you have to work a lot for free. Another issue is that there not many jobs available and people don't take you seriously unless you got years of experience.
What does Australian fashion mean to you and how do you see it in terms of contrast with other countries and regions of the world?

I think the best thing about the Australian fashion industry is that it isn't as exaggerated as European markets are. Australian fashion labels are full of feminine, beachy and bohemian style contrasting the sleek, minimalist tailored styles – both of which I like and appreciate. There is however a lot of room for new styles and labels. There are many opportunities for new designers to break into new markets here compared to Europe where it is harder to stand out.
What does the word fashion mean to you and the people around you? 
I don't really like the word as I think it has a bad reputation and leads people to find it superficial and vain. I consider it another form of art.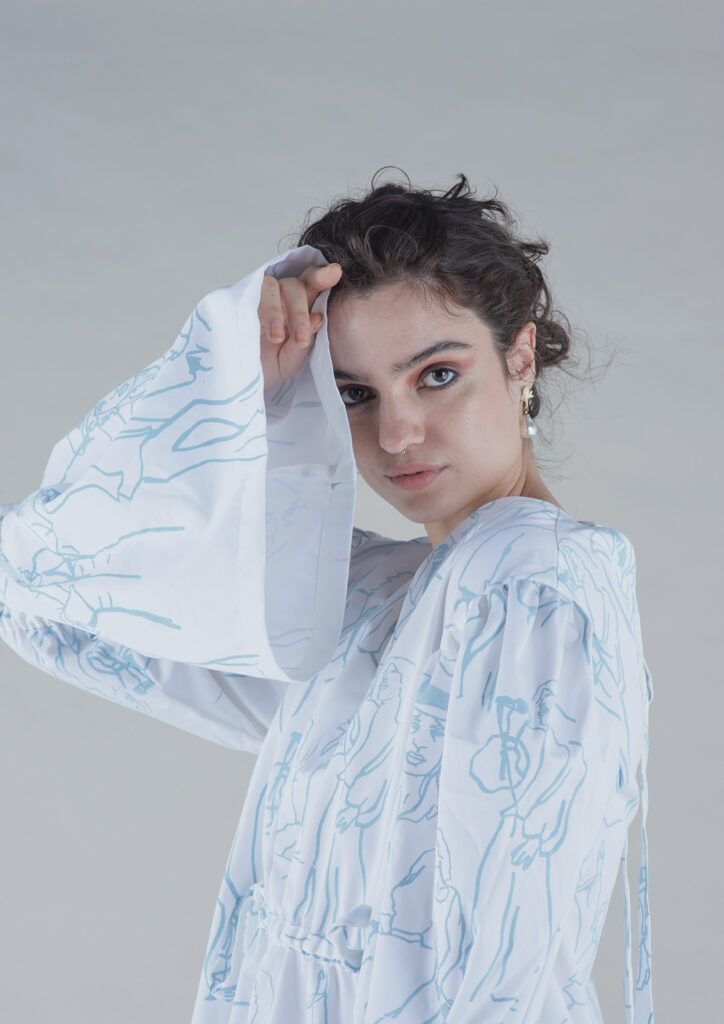 People often describe fashion as vacuous and unnecessary. What would you say to people who hold this opinion?

Everyone wears clothes and for most it is some kind of self-expression. I also believe everyone is affected by trends and fashion in some way, regardless if you follow them or not. It's just (or at least can be) another form of art, just like a painting or photograph, but just made wearable.
Do you feel excited about your fashion careers or do you feel that it is peppered with anxiety about the future?

Definitely both. I am super excited to graduate and start my career. At the same time it does make me anxious and the industry is super competitive. There aren't many jobs out there. But when I feel anxious, I know there is always the chance to develop my own label.
How do you feel about stepping out in the big wide world of fashion after having been in study mode for 3 years?

Excited and scared! I feel a little insecure, as there are parts of the industry I wish I were stronger in. I'm super excited to start working full time to learn and experience, I've been waiting for this my whole life!
What are you looking forward to the most for your graduate runway and your moment of glory? 
To be honest I'm waiting for it all to be over, haha!
I can't wait to have a drink with my fellow students, too. I have never worked this hard for anything in my life. The hours have been insane so I can't wait to see the fabric and designs I have created on an actual model, walking the runway to the song that I chose. 
How do you feel about having older models walk in your show, when this has not been done before.

I overheard the conversation about this and knew immediately, I wanted to have an older model for my collection too. I don't think fashion is just for the young and tall and skinny, I would love to see my garments on every age, shape, size.
This is so exciting – they should do this for every single runway in the world.
Fashion is for all!
Amen!
What would you like to see as the format of the runway in the future? 
I actually like the traditional format of runway, I think it works well.
I think another way of showing the garments would be models standing/posing together and people walking around them – this would show more details of the garments and more time to really look at them. Another interesting runway possibility (that is already happening) would be to show the garments outside, in a park etc.
Stay tuned for the next interview …
Until next time,
Jade xx