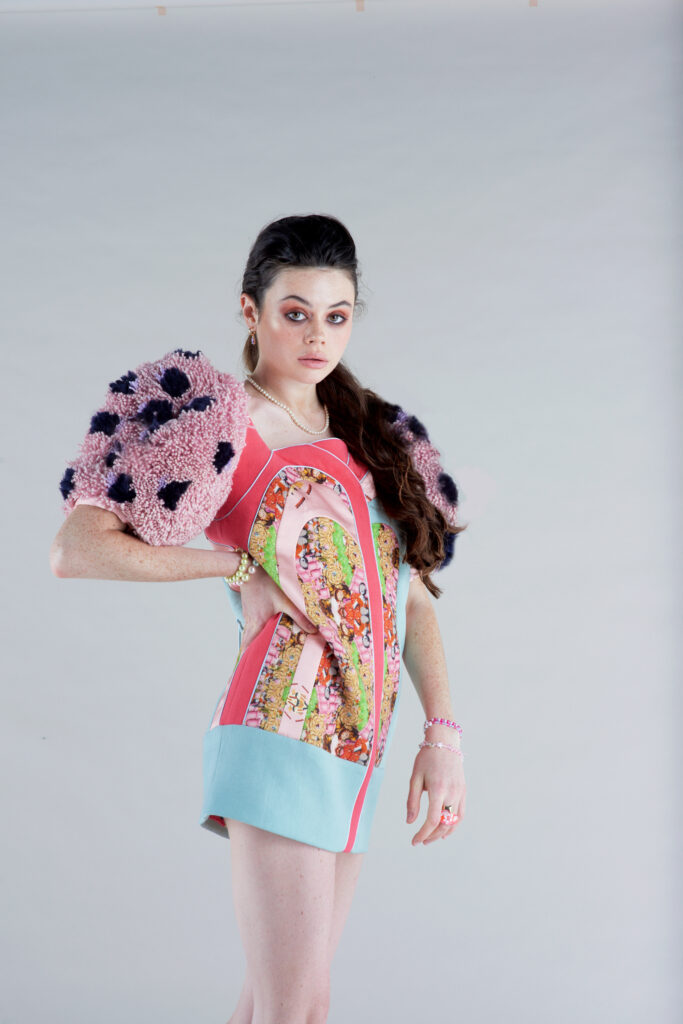 In recent weeks, as I do every year, I have been liaising with the wonderful emerging designers from Fashion Design Studio as they move closer to what will be their greatest moment thus far, in their fashion careers. The FDS Graduate Runway. This is where their final collections are put on show celebrating the amazing detail of the many aspects which have made up their fashion design degrees.
The creation of their textile designs alone come into being from the most incredible sources … in one case, from the students own photography. Textiles, dyeing, devore, screen printing … are the basis of the incredible work which is consistently turned out, year in and year out at Fashion Design Studio.  The lecturers are full of heart, love and professionalism. Their enthusiasm and devotion to the industry they love and the people who choose to walk in their original footsteps is unending. To all of them, Alex Zehntner, Laura Washington, Julie, Mary and Narelle, I say "Thank You". They are the unsung heroes in this story as they are the foundations of the success of the long list of Australian fashion icons that have stepped out of this institution many moons ago now. This year, we are entering a new paradigm for the Graduate Runway, in line with the release of my new project, The Ageless Runway, where I will be walking along with some other silver foxes 
 I think we are all aware now that fashion is for everyone, and we all want success for everyone in all sectors of the industry. This is our new future of Australian fashion, and it always starts with those who will literally form the future of our industry … the wonderful emerging talent. In the next little while on the Label Ministry platform I will be showcasing the FDS designers who have chosen to have the golden oldies walk for them.
Stay tuned for the next interview.
In the meantime designer Laura Addis from Manners Please, answered some of my questions …
Enjoy!
What was the driving force for you to study fashion design?
For as long as I've remembered I have been addicted to the dress up boxes, making my three sister and sometimes my brother, play with me. Growing up I became interested in sewing and the construction side of fashion. The ability to create the unthinkable and to experiment with fabric was my dream. Coming from a fine merino sheep farm I was intrigued to see how merino wool was used within the industry. I wanted to use wool in untraditional ways to build bold, strong silhouettes. 
What are your hopes and dreams for your chosen career as a fashion designer?
At the moment I am interested in the printing and design of textiles design. I have really enjoyed making my own unique prints and fabrics at TAFE. Textiles are constantly changing and evolving adding an element of excitement to this part of the industry. New fibres and fabric blends are created constantly. Now that I have finished my degree, I am interested in exploring different aspects of the industry and am not necessarily set on just being a designer.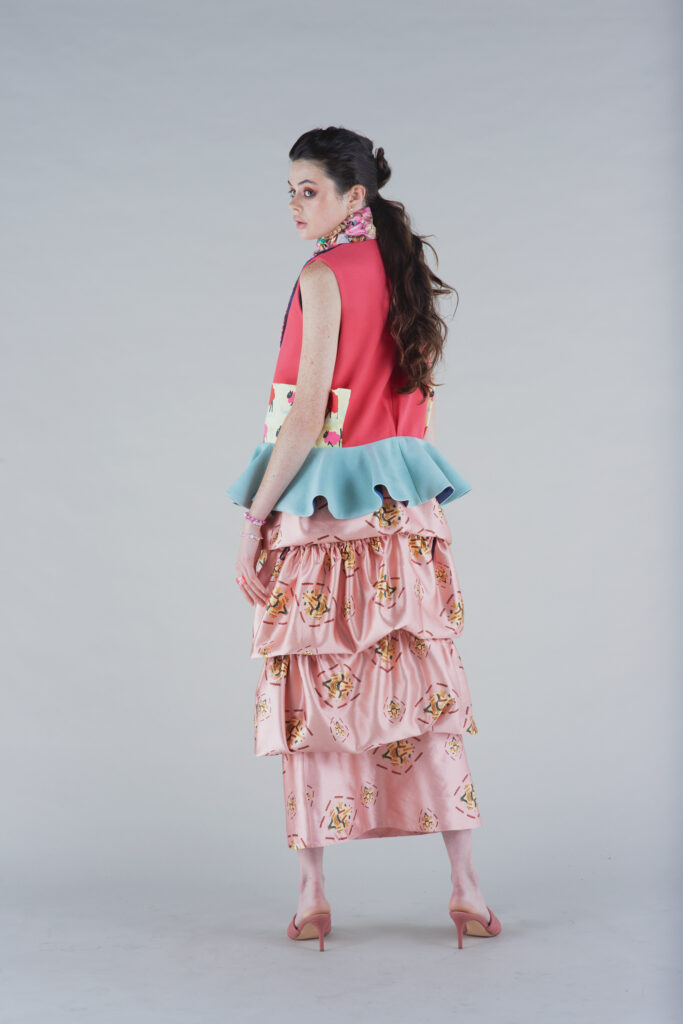 How would you describe your particular aesthetic and where did the inspiration come from for this aesthetic?
I have always found inspiration by merging contrasting, ideas, personalities, trends and movements. Often my concepts are kept light-hearted and fun. For my graduate collection I have drawn inspiration from my two grandmothers. Their personas created the perfect juxtaposition of quirky and fun yet refined and elegant. The collection has a large focus on kitsch objects and interiors from the 70s and 80s. I love to work merino wool into my collections as it has always been a part of my life and I love the way wool can be manipulated or shaped to create abstracted shapes.
Who do you see as your customer?
My customer is happy to express their personality, weirdness, imperfections and be proud to be themselves. Manners Please is not limited by age, gender or size. My customer is happy to spend more money on a garment but have it for a lifetime. I am about slow fashion and the concept that at every stage of the process, we are encouraged to consider the environmental impacts and how we can be more sustainable. I desire that my consumer base believes in my vision.
What do you feel is the difference between a successful fashion designer and an unsuccessful fashion designer?
In today's environment a successful fashion designer has to be constantly evolving and adapting to keep up with society and to remain relevant in relation to their target audience. They need to be accepting of all and have open minds to new or different ideas within the industry. They need to know what's best for their brand and find what works for them for eg. limiting the drop or season-less collections expanding the options of wearability and accessibility.
How do you feel the fashion industry has supported you so far?
I haven't had much experience in the industry as yet. However, I have found TAFE very supportive in the way they have prepared us to enter industry life. They have assisted endlessly with suppliers and manufactures right down to creating textiles on campus. TAFE has a really supportive atmosphere and I feel its really helped me to achieve the ideas and visions I have had as a designer.
With manufacturing options for fashion so reduced in this country right now, how has this affected you during your course and what implications might this have for the future of your careers?
I sourced all of my fabrics locally and used our industry contact in India for beaded tassels. It was important to me that my brand was Australian made and produced. I used Think Positive Prints and Mereton Textiles for my digital prints.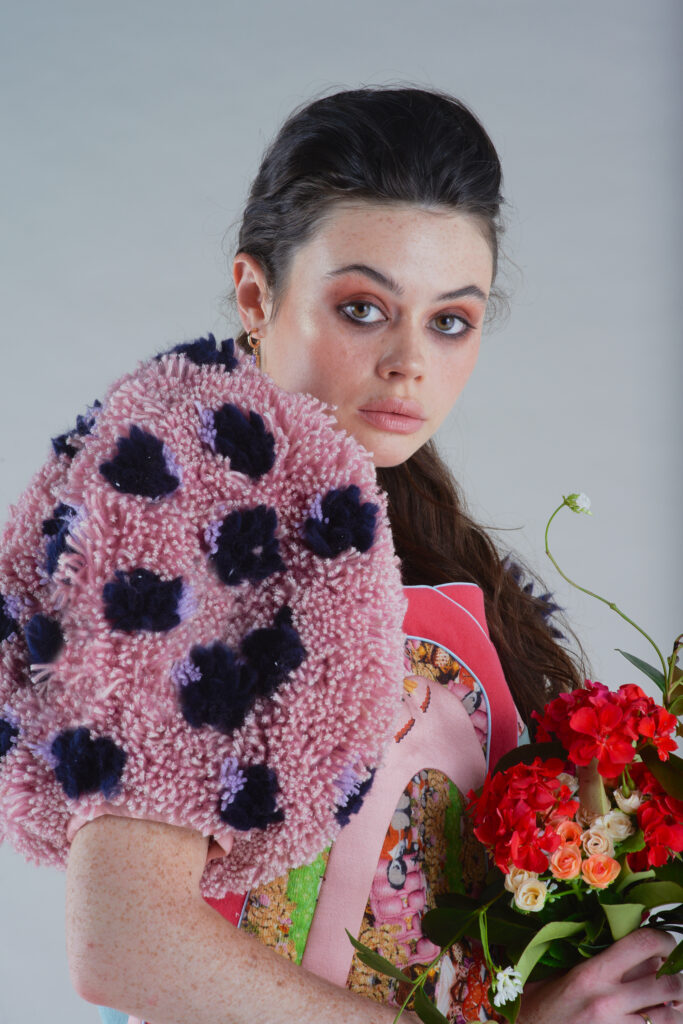 What does Australian fashion mean to you and how do you see it in terms of contrast with other countries and regions of the world?
I have always liked the idea of keeping production buoyant in Australia and I wish that primary production could be bought back into Australia because we are resource rich … we just need to reinstate manufacturing.
What does the word fashion mean to you and the people around you?
For me fashion has always be an outlet where I can have fun and bring the ideas I have in my mind to life. It's a way you can express your mood, personality and alter ego. I have grown up with the idea that you buy for quality, allowing one to hold onto the garment for a lifetime. I wear most of my grandmothers clothes and was taught that by looking after and spending a little extra for well made clothes goes a long way.
People often describe fashion as vacuous and unnecessary. What would you say to people who hold this opinion?
Fashion to me is very personal. Not everyone has the same viewpoint which is what makes it fun. Fashion is a way to be yourself and, in some ways show different sides of yourself that you might not know how to express. This is what intrigues me as a fashion designer … to me, fashion is absolutely necessary and an important part of life and I look forward to persuading anyone who thinks differently.
Do you feel excited about your fashion career or do you feel that it is peppered with anxiety about the future?
I am a very curious person so for me the future of the Australian and global industry really excites me. I look forward to stepping into the 'new generation' in the industry and seeing where it takes me.
How do you feel about stepping out in the big wide world of fashion after having been in study mode for three years?
The idea of no longer studying has scared me a little.
I am normally big on planning my next big step but this year I have no plans after graduating. I am going to take this time to regroup after a very crazy but fun year and I look forward to any opportunities that may arise over time.
What are you looking forward to the most for your graduate runway and your moment of glory?
I am excited to show my collection, but I think I would have to say I am way more excited to see all my classmates collections. It's been a year of seeing little snippets of everyones collection and I cannot wait to see the final styling and moods created by all the designers.
This has been an uncertain year and excitement of the runway has only encouraged me to go bigger and better with my styling ideas. Hopefully my runway will be one to remember and smile about.
How do you feel about having older models walk in your show, when this has not been done before.
I love this idea.
My collection has been inspired by my grandmothers and the possibilities of my garments being worn by all ages is very fitting.
Manners Please has a mission statement of inclusivity. To see older models walk the runway in my garments will achieve some of the gaols the brand has set. Fashion should not be limited by age. I want my clothing to inspire people to have fun and you don't just stop having fun due to age. Anyone and everyone should enjoy fashion.
LM
Amen!
What would you like to see as the format of the runway in the future?
I feel each year will change depending on the collections that are produced. It is important that all graduates get the chance to show their work. I have only experienced two TAFE shows and one was on campus, so I don't have much to compare. 
Until next time,
Jade xx