A couple of years ago, I was sitting front row at the Fashion Design Studio's graduate runway as I do each and every year. It is my yearly gift to FDS that I write an article about the emerging designers who most stand out for me and to support the incredible contribution and long list of enormously successful designers which have called FDS their home.  A home which boasts some of the best teachers Australian fashion have ever had, namely Senior Lecturer in Fashion, Alex Zehntner, Head Teacher, Laura Washington, not forgetting Andrea Cainero and of course, the one and only, who never wants to be mentioned, so of course I will; the wonderful Kam. From each year, two exceptionally talented designers showed their collections. 2018 saw the beautiful collection of Julianne Propsting.
Soft, feminine silhouettes sporting impressive tailoring and bias cuts. The contemporary "it" girl showcase and sensual display of modern dressing.
2019 celebrated the genius of Charlotte Terry and her label, The Arlo Studio. Memorable for her colourful, commercially viable, importantly wearable but sophisticated tailoring, quality fabrication and textiles with a truly ageless aesthetic.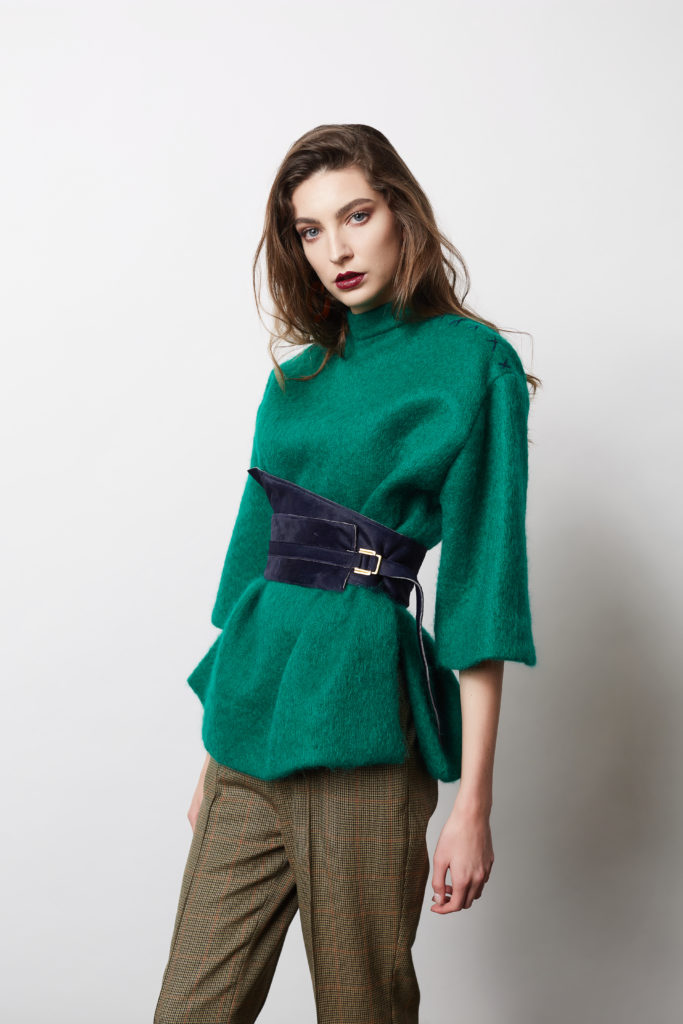 I remember quite clearly at the time how these collections stood out for me. When I received a call last week to be given the latest news, well, naturally I was thrilled. On Thursday, Charlotte and Julianne will fly to New York to participate as part of the prestigious Global Fashion Platform, New York Fashion Week.  They will present their collection "Gone Bush" for Fall/Winter 2020. For young Australian designers it really doesn't get better than this.  To be noticed, most importantly appreciated, and then approached and offered a place on a global stage like NYFW … well, nothing makes my heart sing more than to hear a story such as this. It is every young designers dream, and as I always tell everyone at FDS, never stop dreaming.
Any success story, especially one from the fashion industry has many moving parts. Hungry, talented, hardworking fashion designers quite literally form a large part of my existence but even though it is my work, my heart literally pops to know that my words, an article, a speaking engagement carrying some words of advice and heart felt encouragement could result in such an inspiring journey.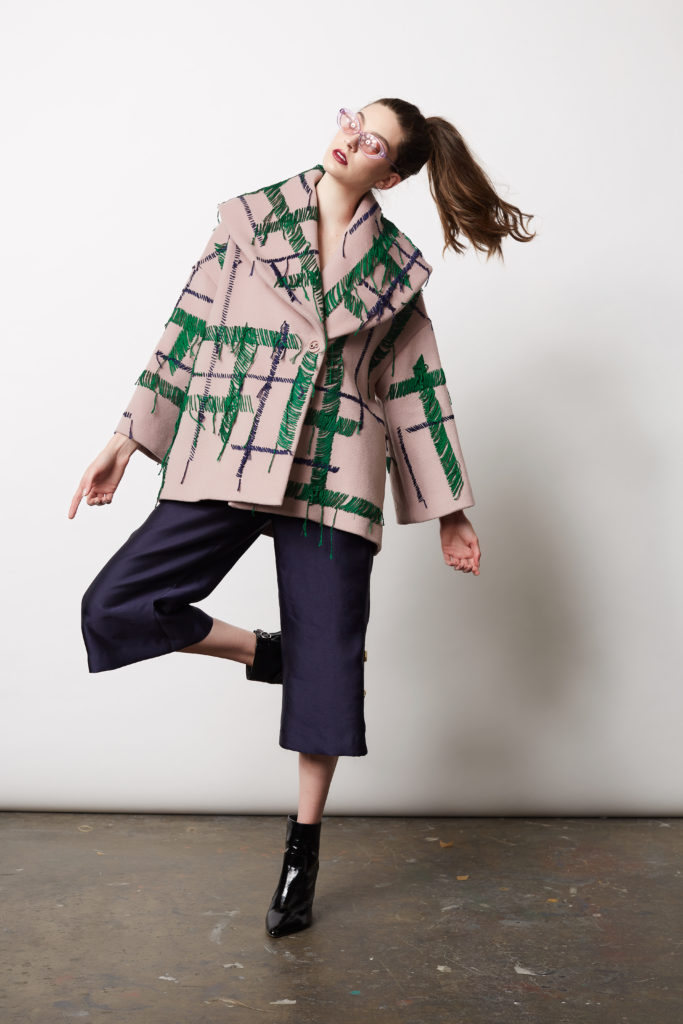 Creativity, albeit a critical necessity is not all that's required for success.  It is obvious to me that both Charlotte and Julianne possess the savvy balance of talent and business to drive themselves and their labels forward.  Julianne Propsting, an Australian fashion industry runway model, has walked for a wide range of fashion houses, including Armani, Vera Wang and Camilla and Marc. Charlotte studied Law prior to Fashion Design, but in pure synchronicity, they met at FDS.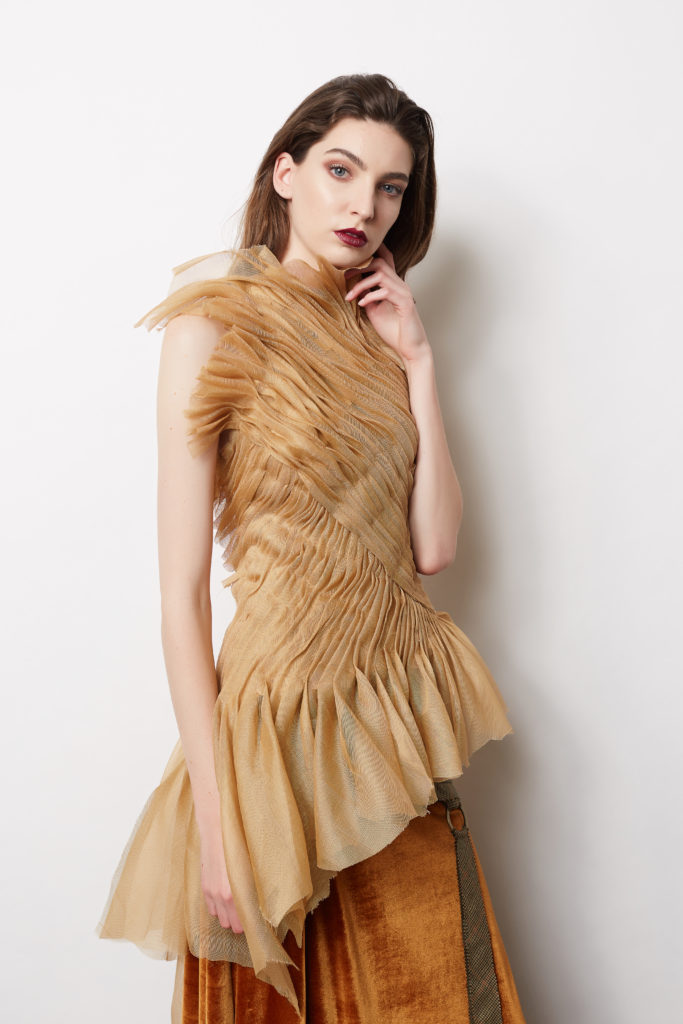 I believe apart from the obvious requirement of creativity and talent, personality plays a large part in being able to successfully launch, build and sustain a viable label and presence within the industry.  As we all know, it is not a place for the faint hearted, and the industry demands a strong business outlook, integrity, and an astute mind which identifies opportunities whilst retaining the exceptionally high standards of the Australian fashion legacy as well carefully surveying a successful approach for the future.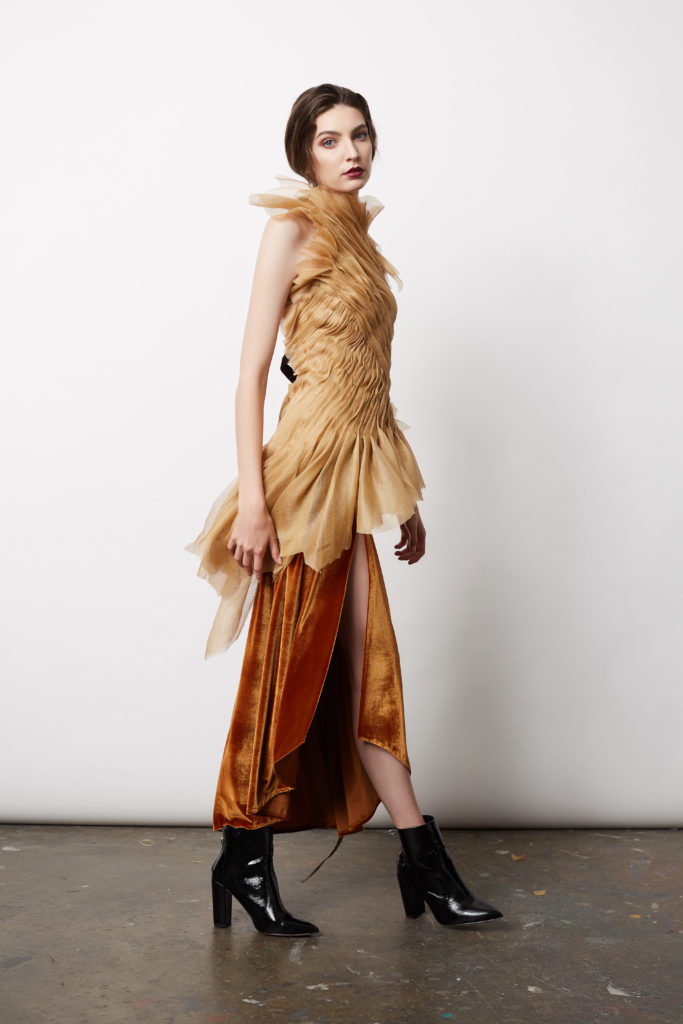 Just six months after being awarded Fashion Design Graduate of the Year by the Design Institute of Australia, Charlotte Terry's new luxury womenswear label The Arlo Studio was invited to show at New York Fashion Week on 10 February 2020. Designed in early 2019, 'Gone Bush' is an ode to the transformative experience of the iconic Australian road trip through the bush and outback. The 24 piece capsule collection to be shown on the official New York Fashion Week schedule is a collaboration between Charlotte and Julianne.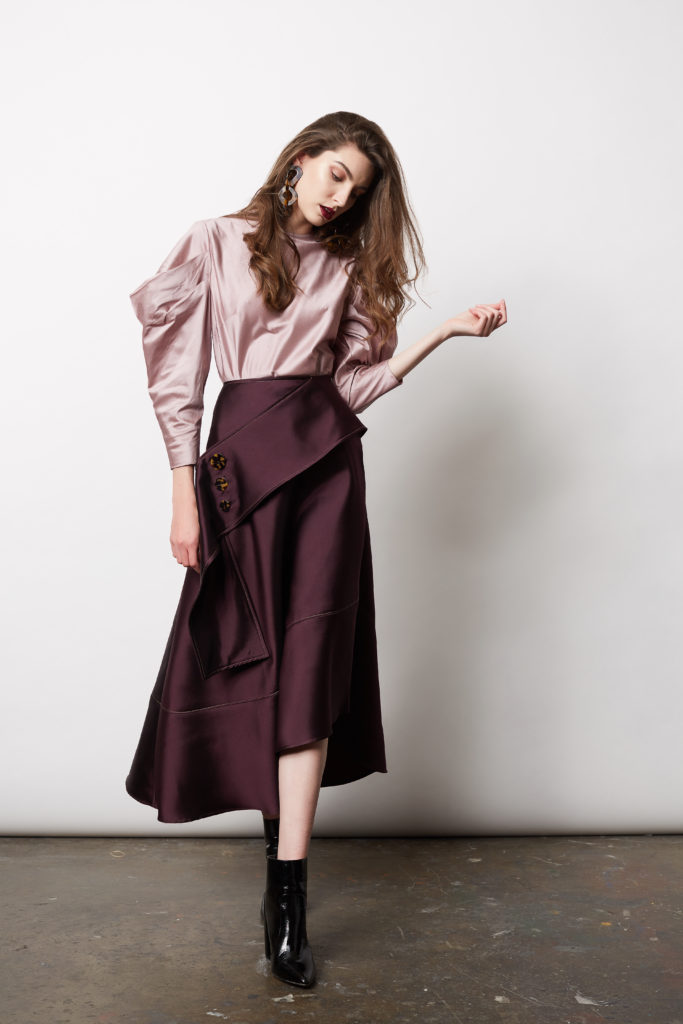 "We're conceptual designers, and before we started sketching, we went bush walking in the Royal National Park to photograph colours and shapes that inspired us. It's absolutely heartbreaking knowing that so much of our incredible environment has been wiped out", said Charlotte. 'Gone Bush' will be included in the emerging designer show produced by Global Fashion Collective, an organisation that aims to foster promising young designers and expose their brands to international markets. Julianne said, "the collection embodied the duo's design themes of asymmetry and deconstructed tailoring. We've been privileged to have the opportunity to collaborate with renowned Australian knitwear guru John Macarthur of Purl Harbour, and to develop Australiana- inspired prints with surface designer and artist, Shana Danon of Emilio Frank Design.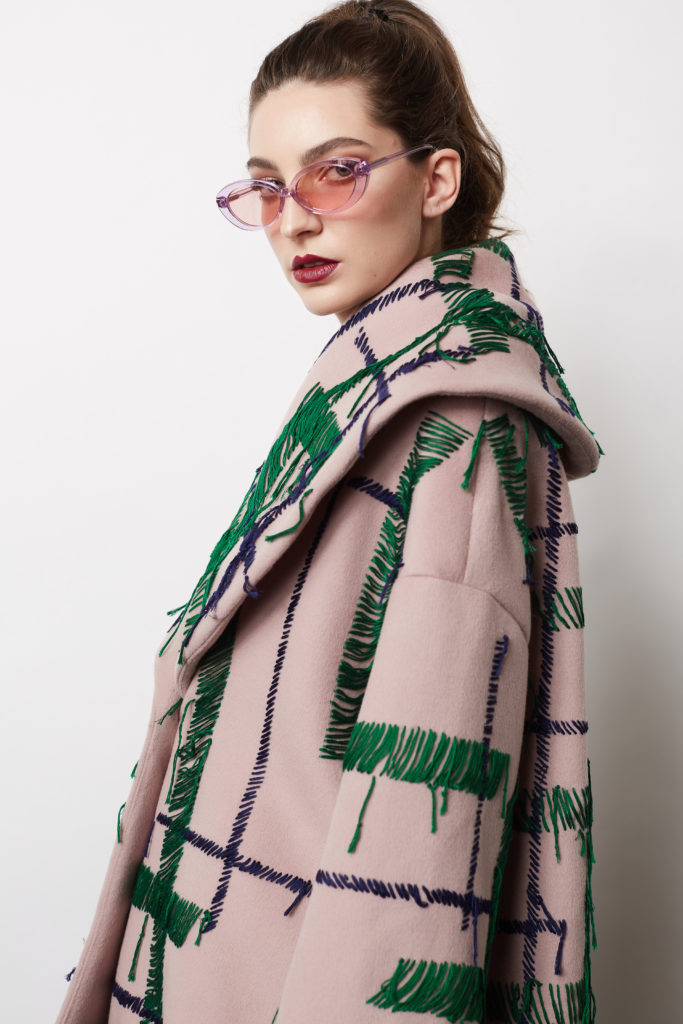 Both designers feel strongly about minimising the negative environmental impact of their work, and have made concerted efforts to resurrect this in producing 'Gone Bush'. We believe the future of fashion lies in the slowing down of the cycle of production, and in utilising a more environmentally conscious approach to design. We employ minimal waste cutting techniques to reduce fabric wastage, as well as buying designer dead stock fabric instead of encouraging new fabric production. We've also had our prints developed by Think Positive, a Sydney-based company that recycles their ink, and promotes smaller print runs in order to discourage throw-away, fast fashion garment culture. Finally, Julianne added, "As young designers coming into a fast-fashion culture, it is our responsibility to take a stand against excessive consumption."
Amen … such music to my ears …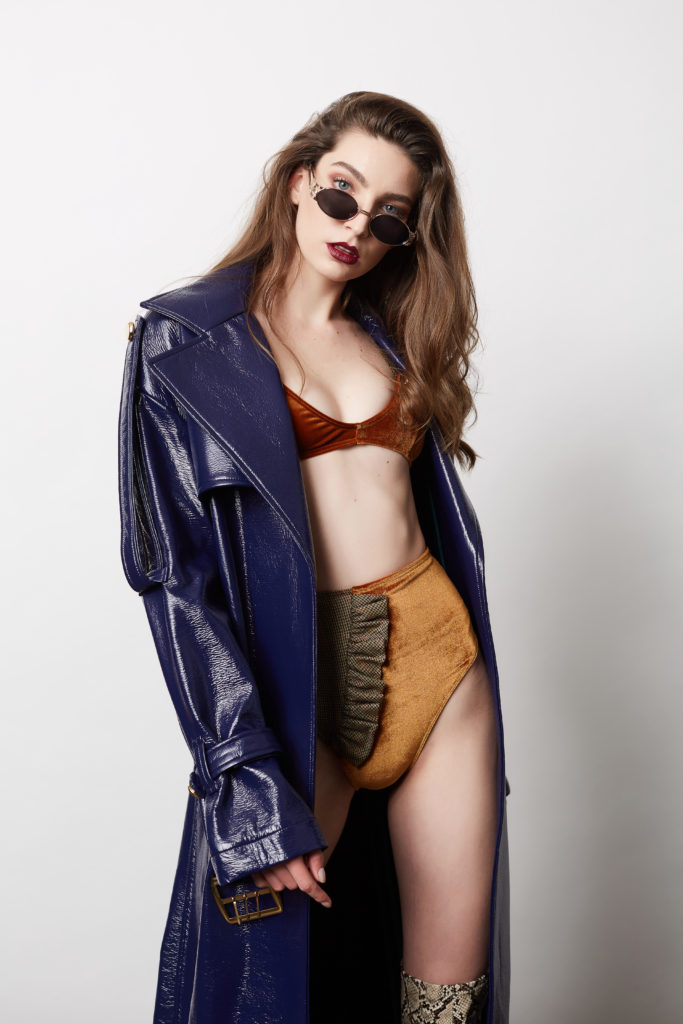 The design pair have further committed to planting upwards of 50 native trees upon their return with Land Care Australia in an effort to reduce their environmental footprint.
Just before the pair fly out to New York, I caught up with Charlotte and Julianne and asked a few more questions …
LM
How do you feel about showing internationally? How is it different to showing in your own country?
THE ARLO STUDIO
I feel excited by the challenge of showing internationally! As an emerging designer, the opportunity to show overseas in a major fashion capital presents an invaluable chance to scope out international markets and gain a greater perspective on the industry. I'm absolutely thrilled to be showing a collection with my design partner in fashion crime, Julianne Propsting.
Showing internationally as opposed to staying in Australia is different in that the industry is incomparably larger overseas. It is also an incredible chance to gain exposure to a broader range of markets.
LM
Can you tell us if your international experience is changing the way you design and also, has it impacted on how you regard the Australian fashion industry?
THE ARLO STUDIO
It absolutely has impacted our design process in a number of ways. Due to seasonal differences, we've had to think a lot about the versatility of each garment, asking ourselves if it's going to be a hard-working piece in someones wardrobe. Layering and adjustability has been key in this upcoming collection to make the pieces feel seasonally relevant both to the US and Australia.
In our experience, the Australian customer is typically more conservative with their fashion choices, and developing a collection for an international audience has given us permission to be a bit more playful in terms of colour and silhouette. We've tried to consciously balance commercial viability with exploring innovative design techniques such as deconstructed tailoring and playing with volume.
The Australian fashion industry can be quite insular due to its size. This can be both an advantage and disadvantage. On one hand, we have very limited selections of fabrics and haberdashery available locally which can be frustrating at times, however it does force you as a designer to think outside the box and get innovative with your approach.
LM
I believe you have collaborated with another designer to show at New York Fashion Week. How did your collaboration come about?
THE ARLO STUDIO
Over a few beers and dill pickles. We couldn't decide whether it was a totally crazy decision or not. As recent graduates, we saw it as a fantastic opportunity to challenge ourselves as designers and collaborate together as friends. The Arlo Studio had already been invited to show at NYFW, but I knew I didn't have the time or resources to produce an entire collection myself while working full time. Julianne and I studied together at FDS. She's very detail oriented, and we both have pretty intense work ethics so aren't fazed by long, gruelling hours in the studio or the sacrifices that are required to do this kind of work.
LM
How important is it for you to have people around you who support you and are there to celebrate your achievements?
THE ARLO STUDIO
One thing I think that people outside the fashion industry don't realise is that due to the long hours involved, it can be quite isolating to work by yourself for hours on end. You do miss out on events, and studio hours are often at odds with those of people who have office jobs. Having supportive family and friends who understand your dedication to what you're doing is absolutely necessary. Inside the industry, I think finding mentors who challenge and nurture you is really important.
Julianne and I were both so lucky to have some amazing mentors at FDS. Alex Zehntner and Andrea Cainero are both incredible teachers who really took the time to build the confidence we needed as designers. Through every frustration, moment of self-doubt and failed pattern, they were there to offer advice, guidance and good humour.
I think having people celebrating your achievements is secondary to both of us. We'd rather be recognised for our hard work and commitment.
LM
What did you take away from your experience at Vancouver Fashion Week?
THE ARLO STUDIO
My experience at VFW made me realise how much Australian Fashion Week is really geared towards established design brands. In Vancouver, there was a mix of established and emerging labels. There was definitely a sense of excitement in having a diverse international community of designers coming together to showcase.
LM
How would you describe your aesthetic and whom do you believe is your customer?
THE ARLO STUDIO
The Arlo Studio aesthetic lies somewhere between playful and polished. We focus on how fashion makes you feel. We want The Arlo Studio wearer to feel confident to be bold, and we do this with our use of unexpected colour pairings, graphic prints and demi-couture textures. We love playing with the contrast between traditional feminine and masculine silhouettes.
The Arlo Studio client uses clothing as an extension of their self-expression, and values luxury detailing over fast-moving trends. They buy 'pieces', rather than clothing. We don't subscribe to a particular age-group, as we don't believe any person should be told what they can and can't wear based on their age. There's a voluminous gown in our upcoming collection that would look just as incredible on a 70 year old as it would on a twenty-something.
LM
Where would you like to see your label go from here?
THE ARLO STUDIO
At the moment we're embracing every suitable opportunity that comes our way. In the past I've been approached by stockists but it hasn't been the right time for myself or the brand. We're interested to see how our NYFW collection is received, and we'll go from there. One of the highlights of developing this collection has been working closely with other creatives and as a brand, that's something we're excited to continue to do.
To get in touch  …
Charlotte Terry |  M 0401 646 075 E | connectwitharlo@gmail.com
To follow the NYFW journey … Follow @thearlostudio
Website | The Arlo Studio
Julianne Propsting | M 0423 127 829 | connectwitharlo@gmail.com
Instagram | @thearlostudio
Until next time,
Jade xx