I'm feeling very lucky as I feel I am living some of my dreams right now.

Alice Bright
This year at Mercedes Benz Fashion Week, I met a stunning, tall, gorgeous girl with a beautiful, welcoming smile. I initially greeted her because I admired her dress from afar, and made a bee line to her to compliment her on her standout appearance.
As an aside, I always try to do this when I see women who are beautifully dressed anywhere, as I have always seen great importance in uplifting each other in any way we can.
Anyhow, as we started chatting, the gorgeous young woman, who told me her name was Alice surprised me by telling me she was not a fashion designer. Why was I surprised you might ask? Well, because I was at Fashion Week.  Right?  That's usually where you find them. Alice told me she had made the dress she was wearing which was drop dead gorgeous, and that she made all her dresses for events. What events I asked?
Racing Carnivals.
Over the course of the year, a Myer, Fashions on the Field winner is selected from each state in Australia. During the Melbourne Cup Carnival, a Myer Fashion on the Field winner is selected from literally hundreds of participants, on Melbourne Cup Day, Derby Day, and Oaks Day. The winner becomes the official Victorian representative and then competes for the national crown. 
Alice was Tasmania's winner in February 2016 at The Hobart Cup.
All of the girls who are winners in their own states compete against one another to become the national winner of Myer's Fashions on the Field, which is celebrated every year on Crown Oaks Day. This is the final day, at least for the fashionistas, during the Melbourne Cup Carnival at Flemington.
The finalists this year were Alice Bright (Tas), Courtney Moore (SA), Ashleigh Ridgeway (WA), Gracyn Marsterson (VIC), Regina Thei (NSW) and Inessa McIntyre (QLD). First place went to Courtney Moore, second place to Gracyn Marsterson, and third place to Alice Bright.
Alice Bright is a woman blessed with the perfect surname.  She indeed has the "brightest" of futures, which will gloriously match her friendly smile.
Of course, being the insatiable fashionista that I am, I wait with great anticipation for the "Alice Bright" fashion label … another story, for another day.
For now let's focus on her most recent amazingness.
Here is her story …
Enjoy xx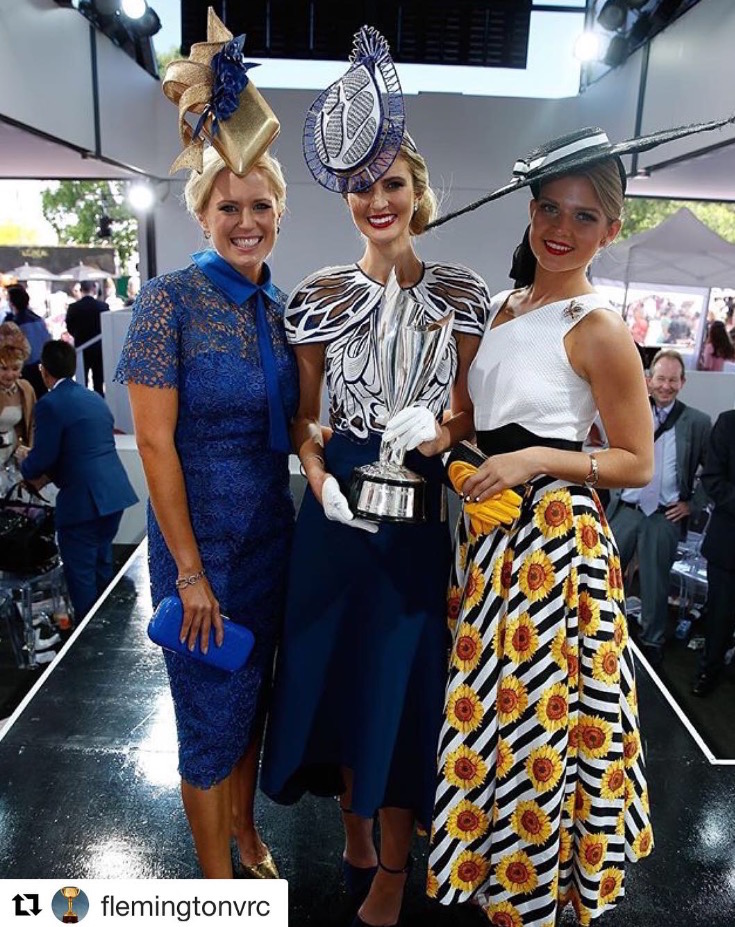 LM
Congratulations! On your recent successes! How did you first come to be involved with Myer Fashions on the Field?
AB
Thank you so much, it was such an amazing experience and I'm feeling very honoured to have received third place in the national final of Myer Fashions on the Field at Flemington Racecourse.
I started entering Fashions on the Field events when I lived in Launceston, Tasmania back in 2007. My first success came with second place in the Launceston Cup, Fashions on the Field.
This was the first outfit I designed and made to enter Fashions on the Field and looking back, a catalyst for why I am as passionate as am now. I had a little break from 2007 – 2011 and my second moment of significance came when I finished in the top 10 in Myer FOTF on Derby Day 2012. This was a very special moment for me as I designed and made this dress & headpiece with my mum. Similar to my first experience this success gave me the motivation I needed to keep designing and keep entering Myer FOTF.