So here we are again.
Fashion Week 2019.
It started with a bang last night at the AJE show which opened the week and which all fashionistas and industry heavy-weights wait for.
My fashion family are around me again. Simply. Excitement and hugs all 'round.
Day 1 this year is the day 'The Innovators', the FDS Alumni get to show Australian fashion devotees what they are truly capable of, not to mention the direction in which our beloved industry is travelling.
I am always in awe of the talent which struts that runway and this year will be no different. In fact, I have a sneaking suspicion that we are in for something really special.
I literally can't wait to grace the FROW. I don't always get to sit in the FROW and I am totally happy with that.  I feel privileged to be able to attend any of the shows and feel blessed to be seated at all.
Sitting in the front row however at The Innovators show is an essential, because it is from this vantage point that I and many others can truly appreciate the blood, sweat and tears which have been spilled over these intricate and varied collections. Every detail, stitch, and beads of anxious perspiration that has baptised every, single, piece.
For these young designers, Fashion Week is EVERYTHING.
It is their introduction to playing with the Big Kids on the Block, and I should imagine it has its bloody scary moments.
I sat down and had a chat with Alex Zehntner, Senior Design Lecturer, followed by some insights of some of the designers who will be showing this year.
Please … Share the LOVE!
Alex Zehntner.
Senior Design Lecturer, person extraordinaire, lover of style, and creative mentor to Fashion Design Studio is utterly dedicated to the legacy we create for Australian emerging fashion designers.
We caught up this morning and he shared his thoughts about why FDS churns out the most fabulous talent, time and again, each and every year filling our fashion minds with respect and our fashion hearts with joy.
"All our full time staff have been with the school for over a decade, and have exceptional hands-on skills in all areas.  We also work closely and carefully with industry experts who act as guest lecturers in their areas of speciality.  Also, our part time teachers are currently working in the Australian fashion industry.
We are committed to teaching our students the importance of conceptual and original thinking. To understand the crucial and full aspects of the design process is key – from inception through to completion.  There is enormous focus on traditional hand skills such as bespoke tailoring, couture hand finishing, menswear and sportswear, textile printing and surface design.
All students must be committed to building and successfully developing strong skills in all areas of fashion, fashion design, the history of fashion and its evolution, pattern cutting, drawing, textile and CAD design as well as business acumen.
This is done extensively and students dedicate hours to each subject. They must be deemed competent in order to pass each subject allowing them opportunity to continue on with the course.
Once they have completed two very intense years they are required to focus on a third year, culminating in their fashion design degree.  This final year is filled with notions of collaborations and sustainability and this is infused consistently throughout the course.  Also, in this final year, the students are guided through the global fashion industry and introduced to local and international artisans and contacts to create their final collections.
We already have a fabulous vehicle to showcase the seemingly never-ending talent that is FDS, but we need the industry itself to support emerging designers through financial grants, government interest and funding. A general nurturing and support from Australian industry platforms at large is necessary.
It is our greatest desire to see this sector grow so that we are able to provide the proper legacy for this country's future fashion designers; something so many who have gone before, have been able to take for granted".
Alex Zehntner – Senior Lecturer, Fashion Design Studio.
Sarah Moore – MANON
I began my career in nutrition after studying Health Science straight out of school, however I felt that something was missing from my life. After a period of reflection I decided follow my passion for beautiful, interesting and unusual fashion and become a fashion designer.
My short term plan was to work for a label so I could gain some insights into the industry and how it works. Now that I have completed fashion design I dream of having my own label and potentially working away from Sydney.
My label, MANON possesses a dark and moody tone.  It sits in alignment with my desire to finding beauty in the duality and darker things in life.
I am drawn to monochromatic looks and garments which promote the layering of texture versus colour.
My choice in using limited colours forces me to broaden my aesthetic through the mastering of patterning and textile manipulations.  Establishing the "signature" of my brand was the easiest part, and it is deeply linked in with my true nature and aspirations. My process is always developed around the particular mood and feeling that I want to convey and is always represented in the mixed media images which I create.
The target age for my brand is for women between 25-40 as I feel there is a significant gap in the market for this demographic. I focus on sustainability in my design process and this allows me to create garments which are "forever wearable". I pay attention to utilising subtraction cutting methods which importantly reduce fabric wastage and wherever possible I include locally sourced natural fibres. FDS is not for the faint hearted.  The course is tough and full-on, but I have left with enormously strong skills. I am extremely grateful for the wealth of knowledge which I can now confidently build my fashion future on.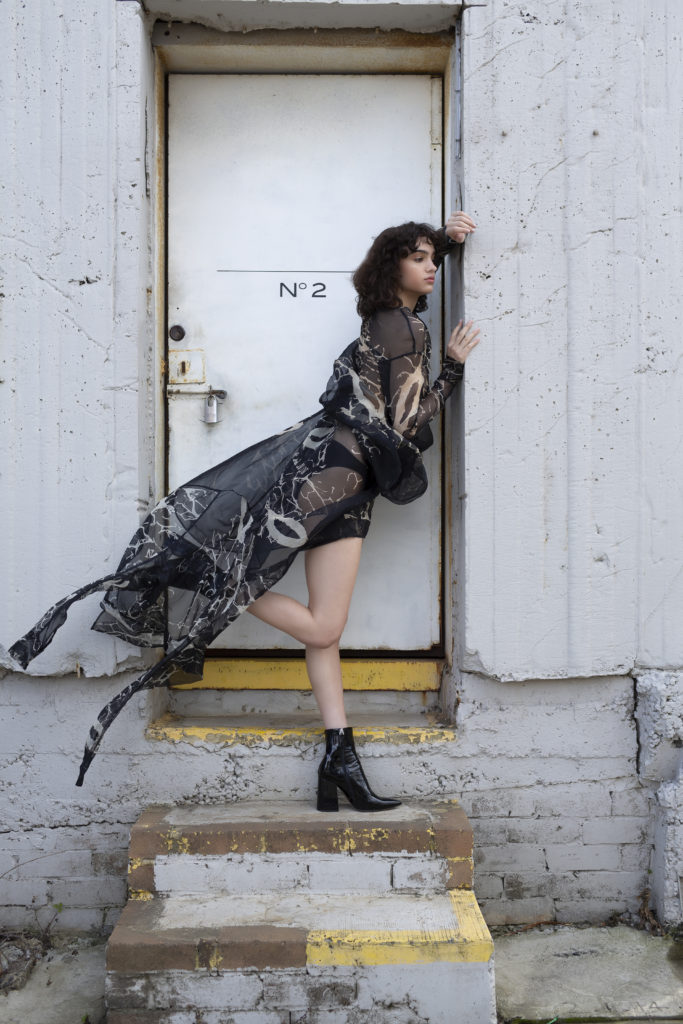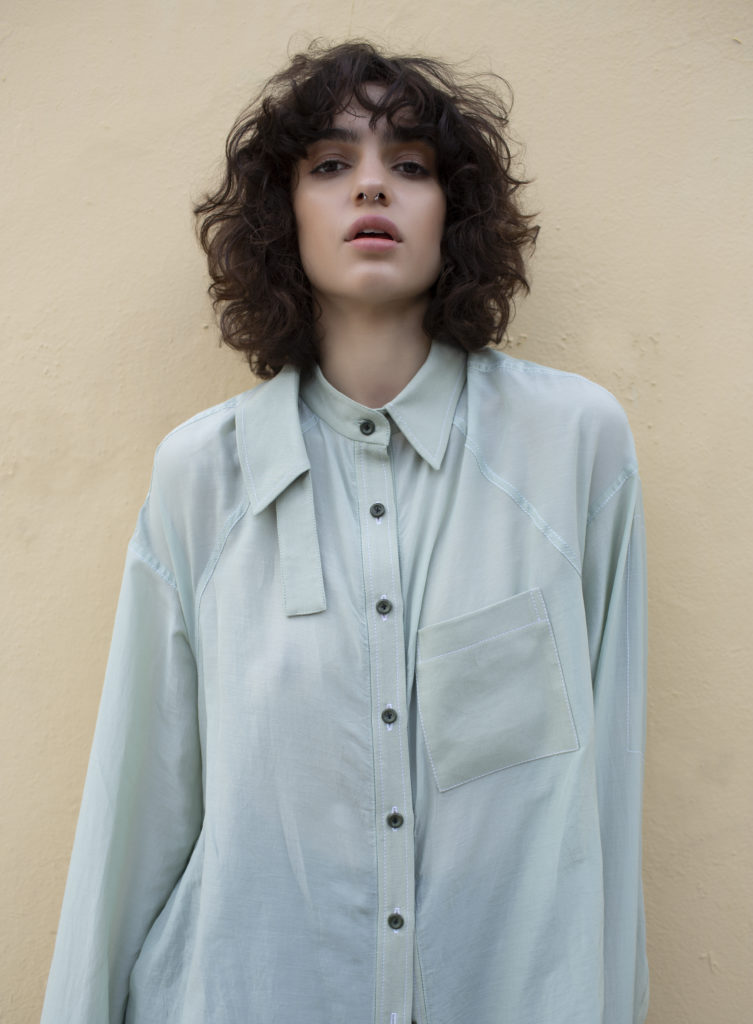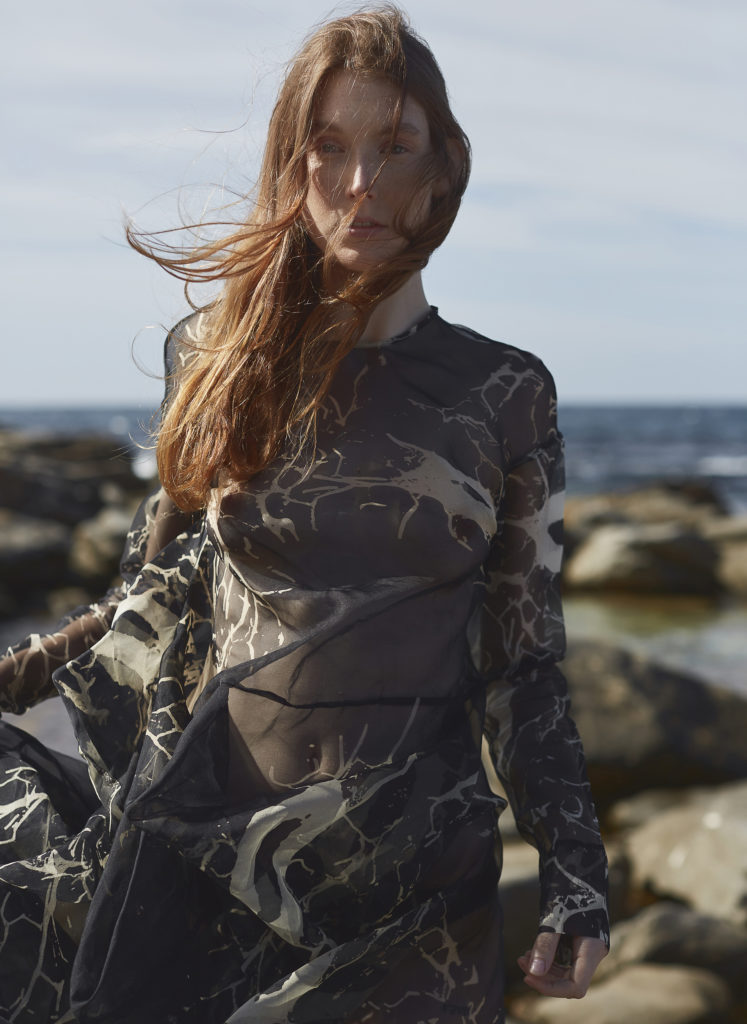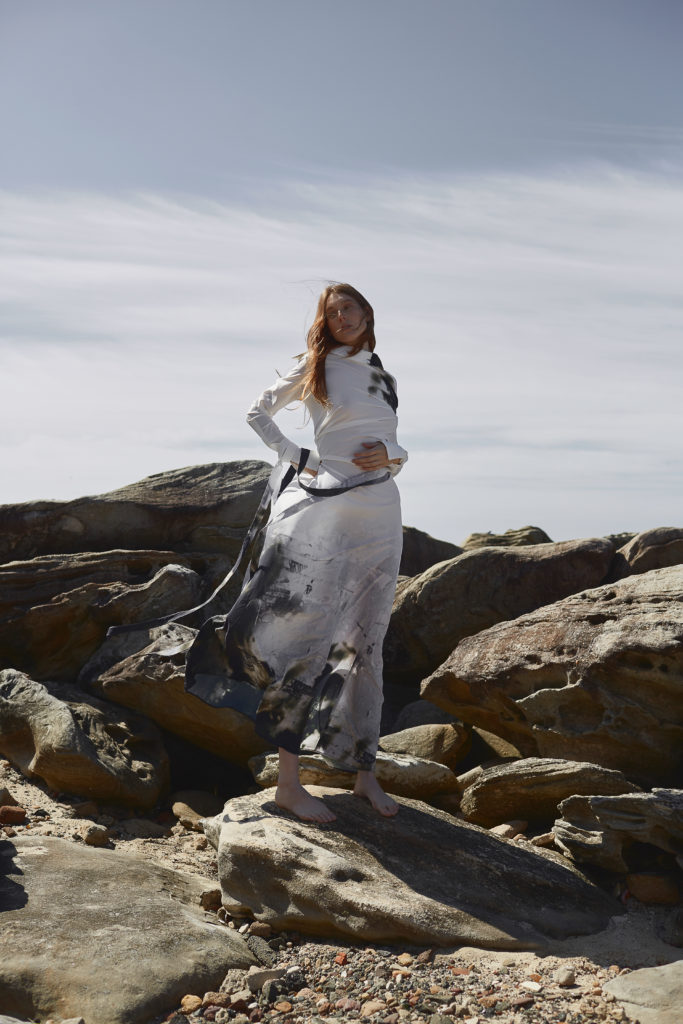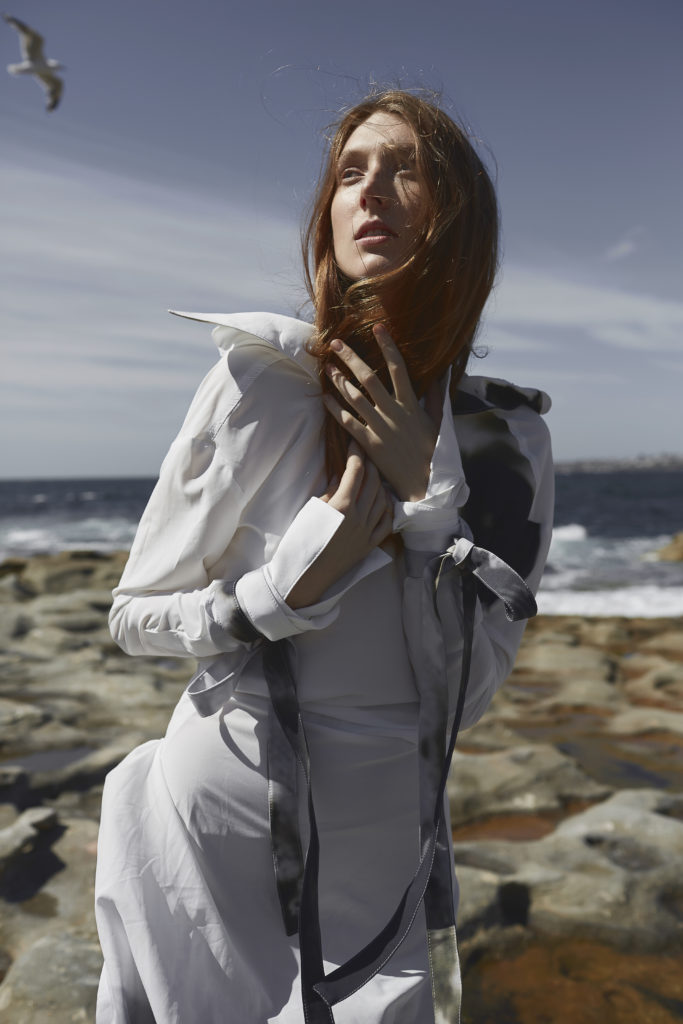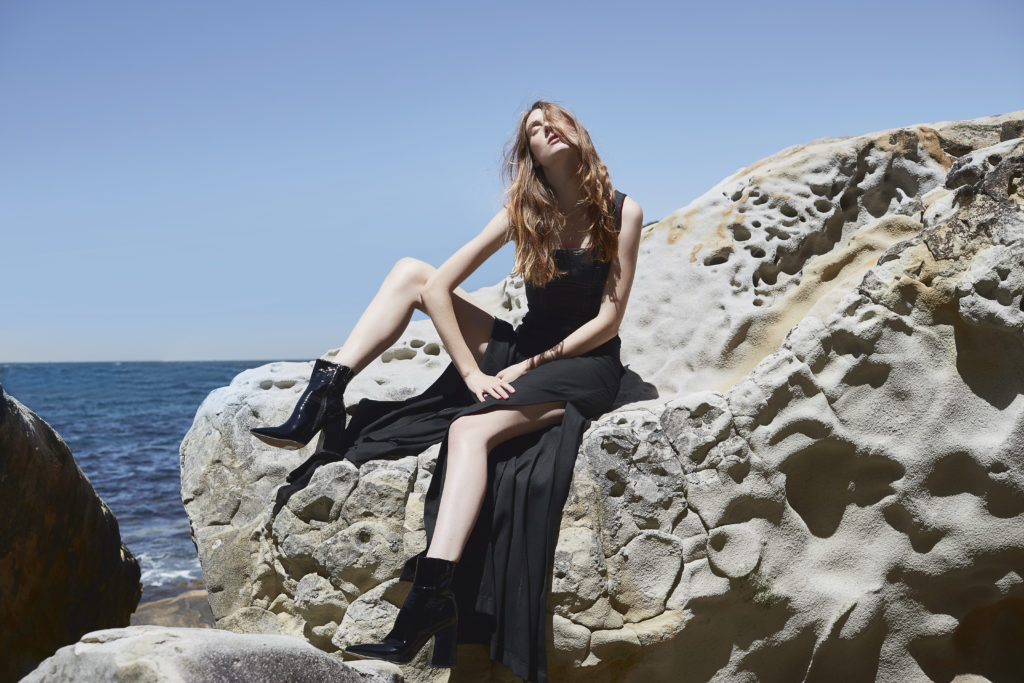 George Habibeh
It's very easy to learn to sew, design and create, but to take all this to a further level, requires an immense amount of well, sacrifice.
To manifest the dream of fashion week, every waking second must be devoted to the cause. For me being mentally prepared and strong is a very important aspect. Sitting in four walls, most days, can take its toll. Having systems in place to stay focused and motivated is important. Ted-Talks, fashion documentaries and fashion movies have kept me inspired. Strong support systems, family and my teachers at college with whom I could be open and honest were key.
Studying, FDS industry night, and now Fashion Week. My biggest anxiety was being able to juggle everything. I was never concerned about my skill of sewing, cutting or construction. I work 3-4 days in the industry and am blessed to have a brilliant team of hand sewers who did help me with hand work and embellishments.
Australian born to Lebanese parents, provided the combination of two very different cultures and has allowed me to break the mould of couture in Australian fashion. The excess and luxury of middle eastern fashion flows through my collections and my label is totally made in Australia.
This years collection "Azrael" is a narrative based on women and mental and emotional trauma. My demographic is women who have an appreciation for quality, handmade and intricately detailed garments. Couture is a very detailed, precise and tactile form of construction.
I've always loved the notion of a "Couture Maison". To create an empire, home based to live, work, and meet clients is my dream.
One of the few things that the Australian fashion platform is missing, is support.
Label Ministry and other similar platforms are a fundamental cog in the fashion machine. It is so important that there are people writing about designers, getting to know who they are, what they do, and how they get to the point of creating a collection.
I find that Australian fashion has long been extremely commercialised; the sad reality is that designers that once made it due to their innovation and creativity are slowing acquiescing to the demands of what sells.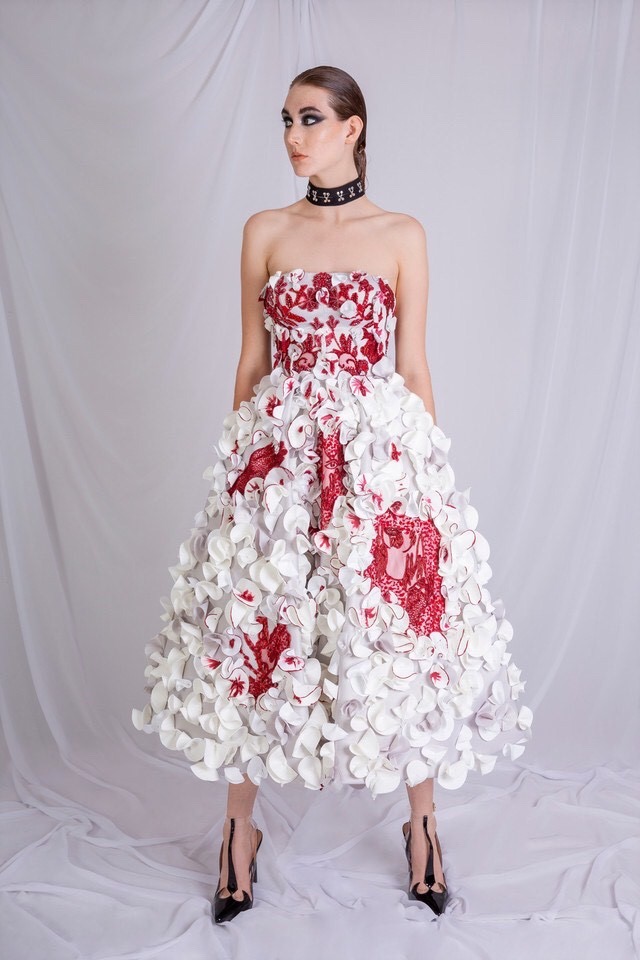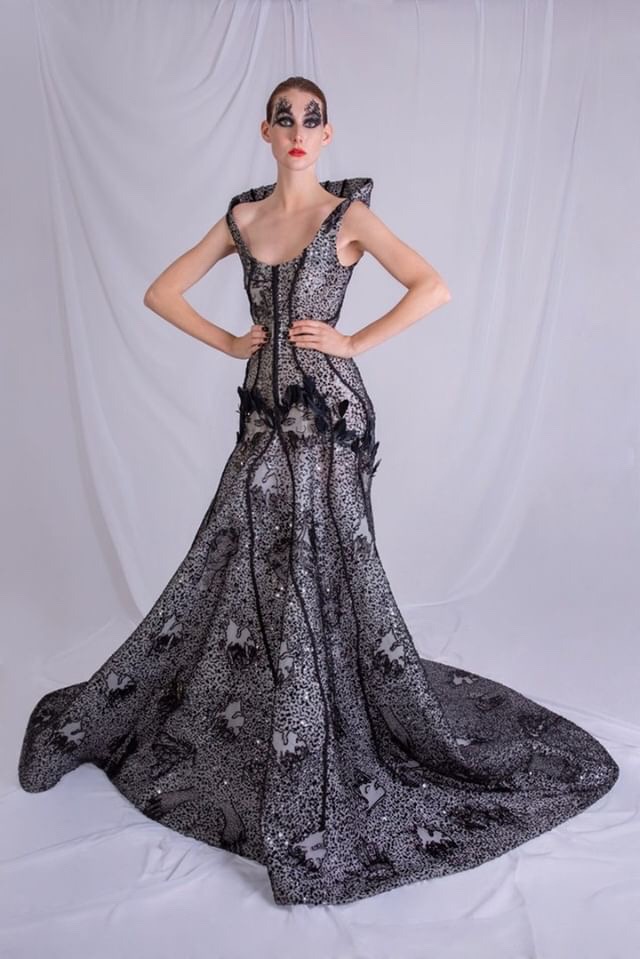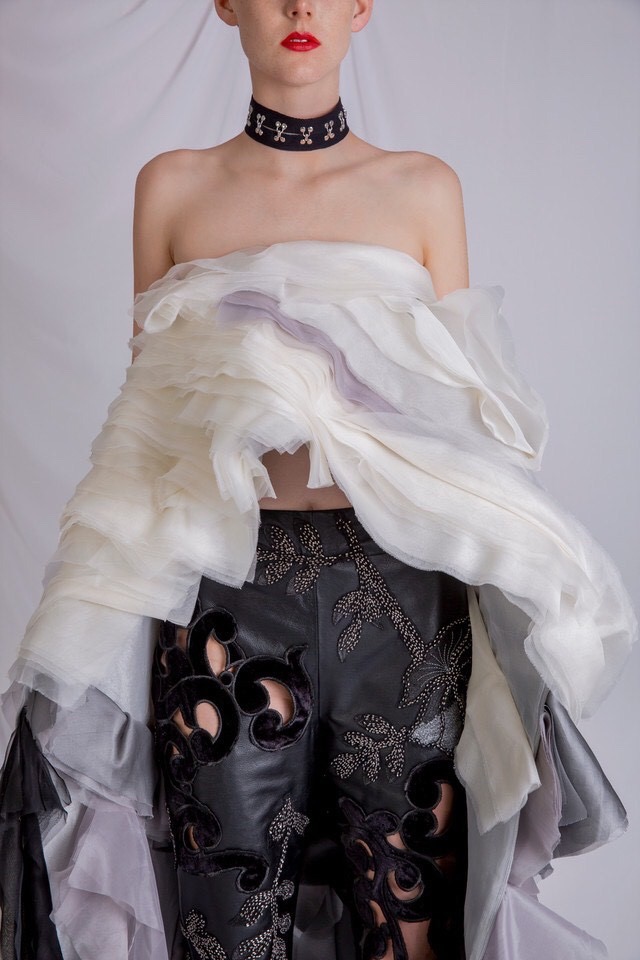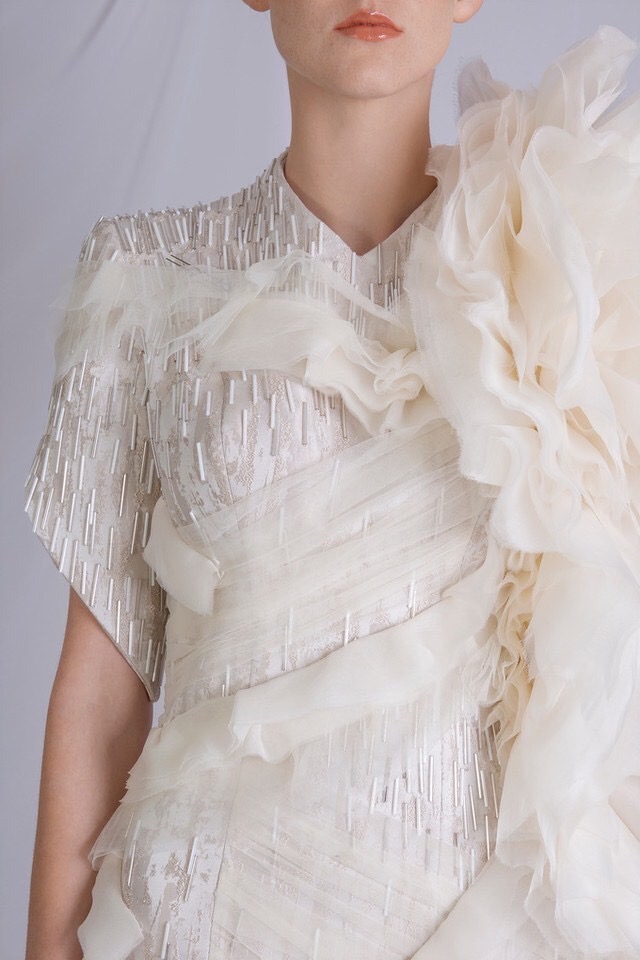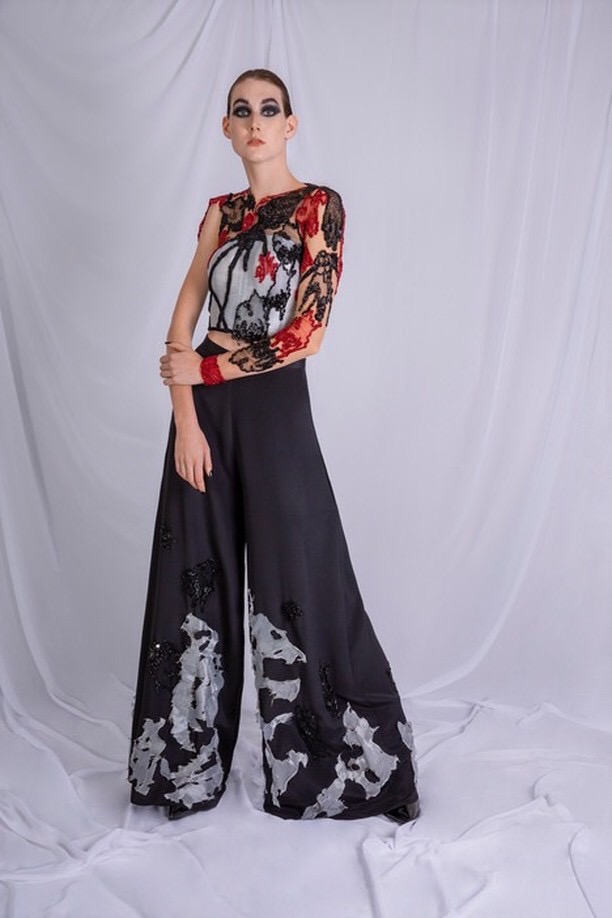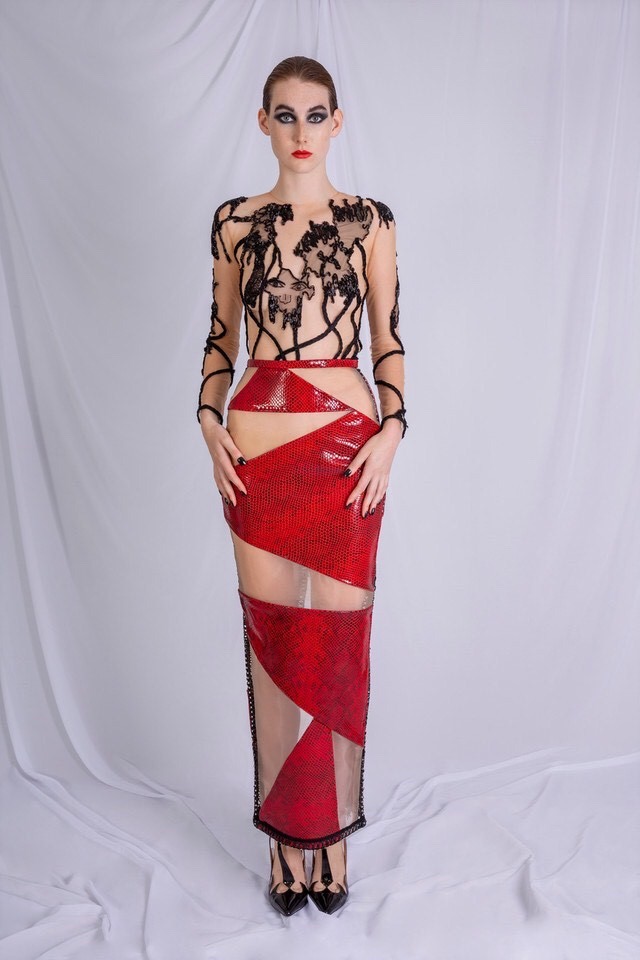 Mia Rodriguez – Mi'an'Mar
I've literally always wanted to be a fashion designer – right down to my early days in kindergarten where we asked to draw what we wanted to be. Mine said. Mia – Fashion Designer.
It means a great deal to be involved in Fashion Week. Long, long nights and hard work have paid off.
The opportunity is something I have been working towards for the last three years of my fashion life. I hope that literally everyone loves my collection.
Building dreams of a career in fashion is not an easy thing to accomplish and it is platforms like Label Ministry which help us to gain confidence in our careers, bringing publicity and attention through the coverage of our journeys, and to instil the importance in our minds of working hard and understanding that this equals success.
I have enormous confidence in my designs as I alone know, how much work goes into them. Naturally I hope that the industry at large will see this too. The fashion world is so hectic, but it is really a buzz to see  everyone gathering around a runway to see what I have been designing and creating. 
I've had a blast at FDS and looking back on it I have experienced such amazing moments. Our buying trip to China and India with our incredible design teacher, and then on to Paris and London for couture. Now Fashion Week! It's so incredible. 
I think the teachers at Fashion Design Studio … ROCK!
They care so much and they really push for all of us to succeed and excel!
In the lyrics of a song I liked, I remember the words …  "He is not fancy; he just wears black".
This epitomised the underlying basis of my brand aesthetic and largely formed the reason I use so much colour.
I think it's fun to be bold and to be seen! You only live once so why go under the radar?
I use illustrations for all my garments and I firmly believe the inside should be just as important as the outside. If you look inside of any of my garments you'll see hand drawn printed linings that tell a story. 
I think, being a part of the fashion industry it's so hard not to compare your designs and style to others, but I think my most brilliant moment was realising that there is no point comparing and now I can really embrace myself, my aesthetic and joyfully, my fashion future.
Mi'an'Mar … stands on its own.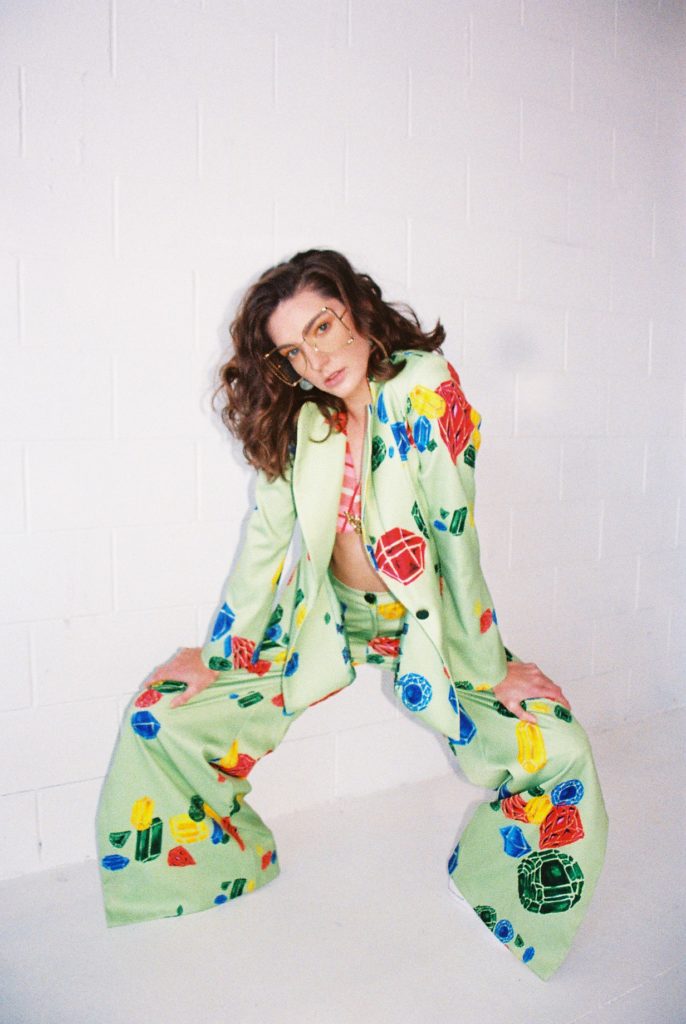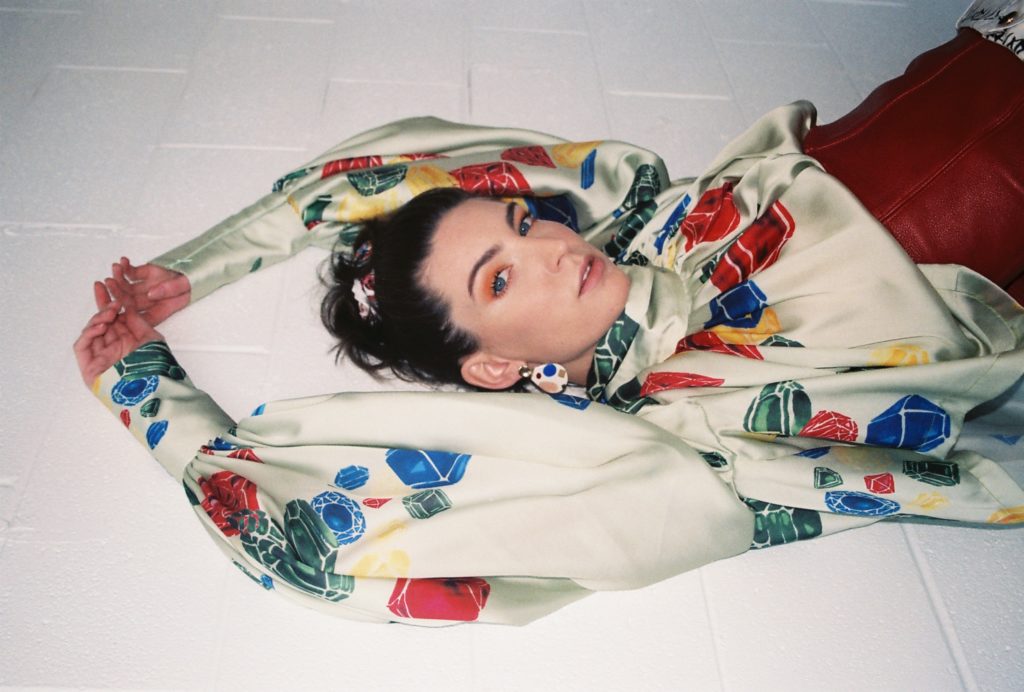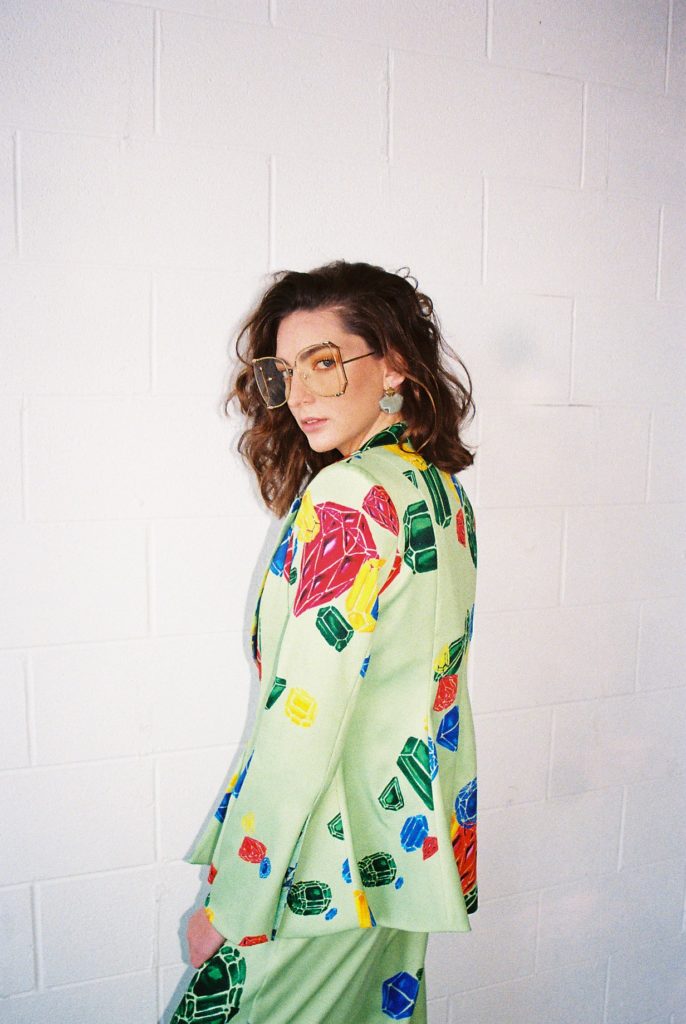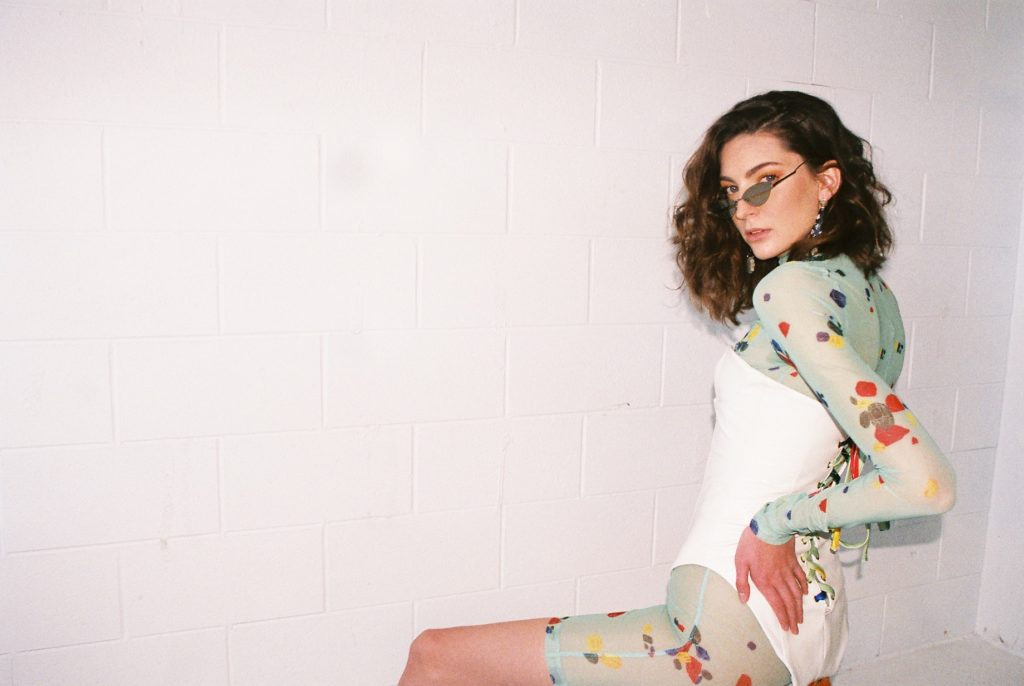 Kate Ineson
Ineson's aesthetic is refined, sophisticated, deconstructed, with a focus on tailoring, feminine draping and silhouettes designed to flatter the body.
The label, while highly conceptual, is firmly focused on remaining wearable and long lasting. It is designed for women of all ages, not trend focused. 
Ineson almost exclusively used natural fibres.
I am ethically aware, and where I have outsourced labour, it has been done in Australia and a fair wage has always been paid.
Once the label goes into production, I would need to produce overseas however I would strive to always seek ethical options.
I studied and continue to explore traditional and unique pattern making methods. My collection merges these processes and expands upon them. This experimental approach creates the innovative silhouettes and details that Ineson strongly identifies with.
I think my passion and skill in pattern making is what sets me apart. My design process is mainly pattern making. I am not a designer who can design through illustration – I design as I drape and pattern make.
The textiles for this collection are inspired by Kylie Minogue's music video, Slow, a pop-culture reference rich with elements which draw inspiration from a Barcelona skyline, rippling waters, and sunbathers upon pool tiles. 
I chose to study at FDS because of their incredible Alumni.
The intensity and fast pace of the course means that only the students with passion and talent are successful.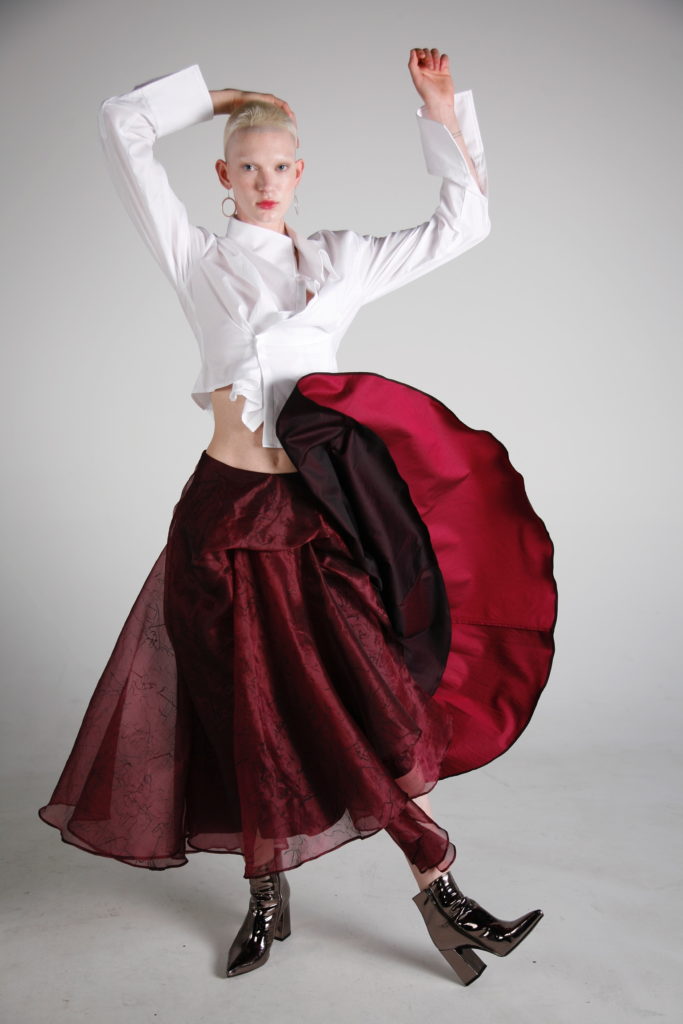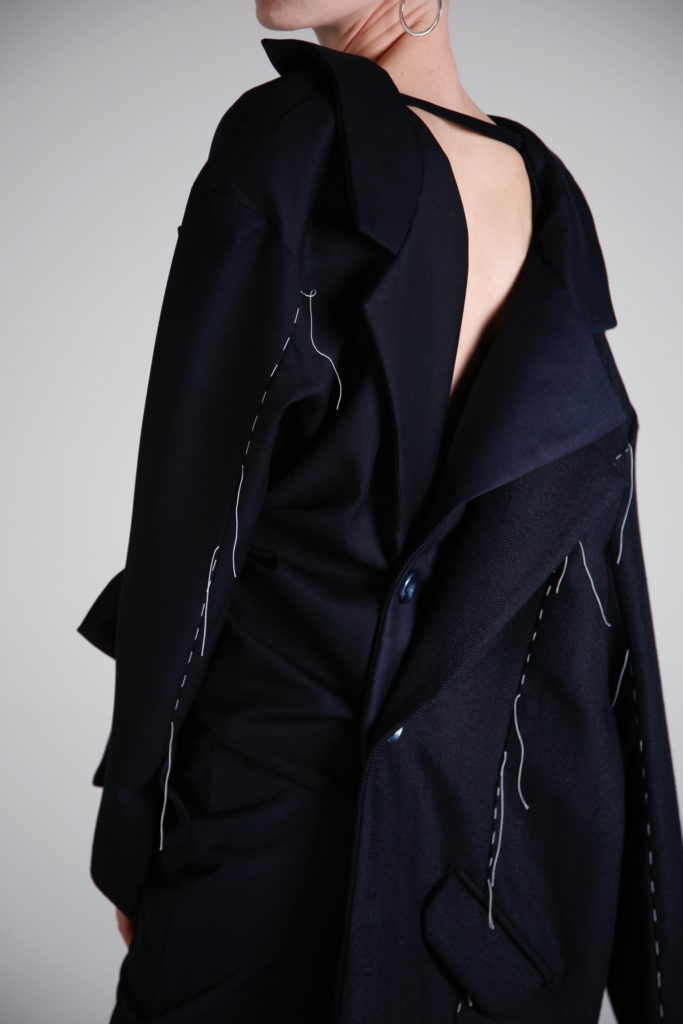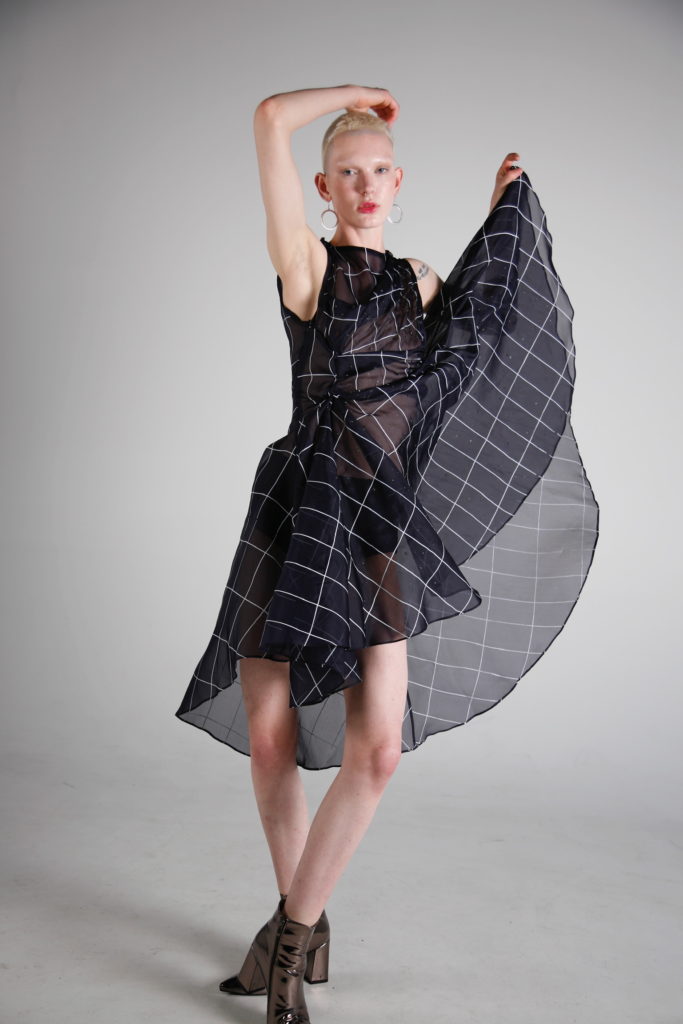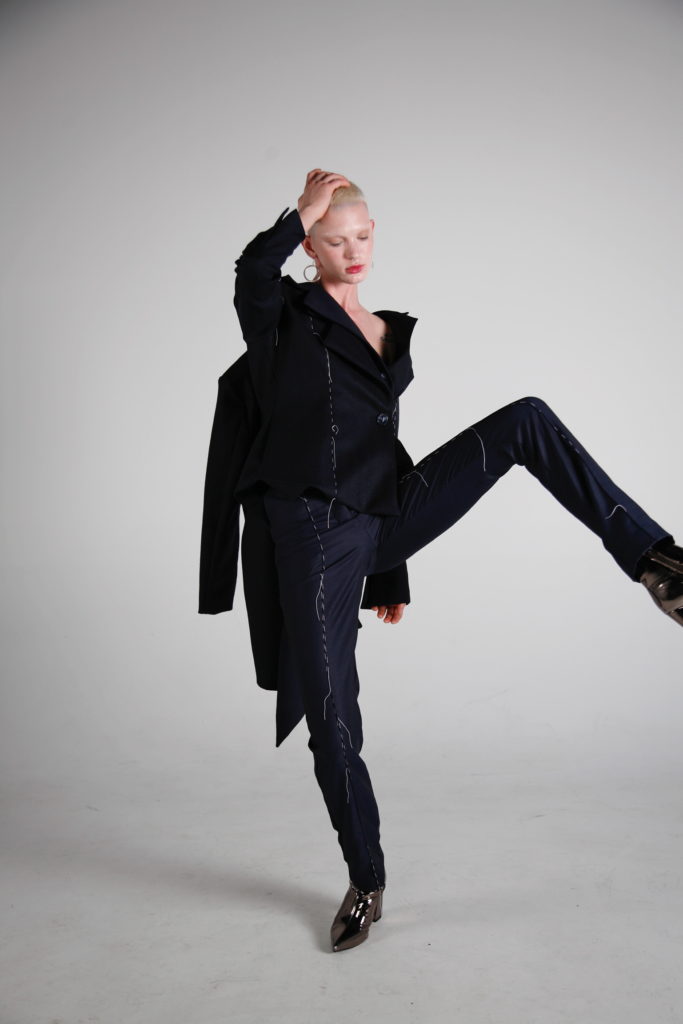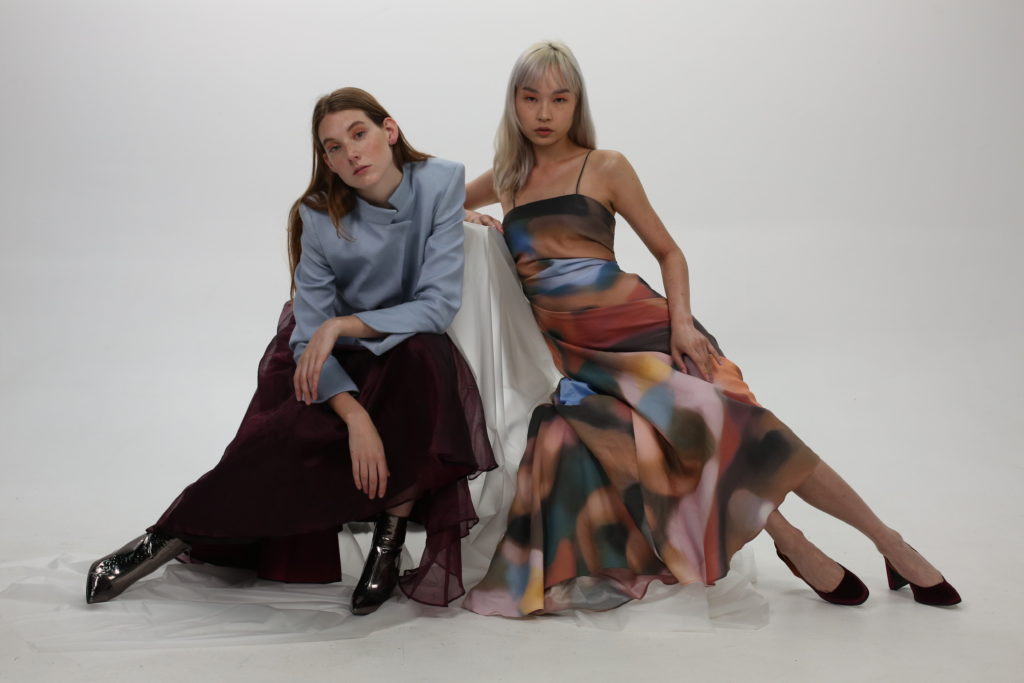 Meet the designers here |
Until next time,
Jade xx